Found January 04, 2012 on Pirates Prospects:
This is the first of a series covering the Pirates' minor league depth position by position. The idea is to take a look at the players the system has available at a position, level by level. No organization has prospects at every position and every level. It's interesting to see just how well the Pirates are covered at each spot by players who at least have some chance to turn into major leaguers, and how many spots will have to be manned by organizational players.
The first installment covers the catchers. As we all saw in 2011, a team can run through its catching depth in a hurry. This can happen in the minors as well as the majors; it's not unusual for a team to have to pick up a catcher or two late in the season to fill vacancies created by injuries and/or promotions. The Pirates have been especially active in the last couple years, adding quite a few young catchers who've been let go by other organizations. So far, those moves have worked out surprisingly well, leaving the system with impressive depth at the position, although it remains to be seen how much of that depth will translate to major league success. Catcher is one position where the Pirates haven't been hesitant to have two prospects at the same level, as young catchers probably shouldn't be playing every day anyway, and somebody can always DH. The system had two at-least-marginal catching prospects sharing the position for all or part of the year at all of the full season teams except Indianapolis in 2011.
NOTE: Players in parentheses are ones whose 2012 opening assignment is hard to project at this point in time.
Indianapolis (AAA)
Jose Morales, Eric Fryer, (Tony Sanchez), (Charlie Cutler), (Kris Watts)
The Pirates' primary concern with their AAA catching will be to ensure that they have somebody to step in at the major league level in the event of injury. The prime candidate to do so will be Morales, who'll be battling Mike McKenry in spring training to back up Rod Barajas. Either one could be sent to AAA, as Morales is on a minor league contract and McKenry has an option left. It's unlikely that the Pirates will send McKenry down, though, as he's the better defensive catcher and it would require a 40-man roster move. Of course, it's extremely unlikely the Pirates will make it through 2012 with just two catchers, especially since Barajas has gotten hurt in each of the last six seasons, so Morales has a good chance of appearing in Pittsburgh regardless.
Fryer will probably be the closest thing to a catching prospect at Indianapolis. He was outrighted to AAA after the season, an indication that neither the Pirates nor other teams have been convinced by some strong showings in the minors that Fryer is a real prospect. He may see some time in the outfield or at third base.
Sanchez is the wild card with the Pirates' upper level catching. He'll no doubt reach AAA some time during the season, but the betting is that he'll return to AA after a difficult 2011 season.
The Pirates added Cutler in the minor league phase of the Rule 5 draft. He's very similar to Watts, a long-time organizational catcher; he hits for average and gets on base, but isn't strong defensively. The two of them will probably battle for a more or less third string role, backing up wherever needed between Indianapolis and Altoona. It's possible only one of the two will have a job coming out of spring training.
Altoona (AA)
(Tony Sanchez), Ramon Cabrera, (Carlos Paulino), (Charlie Cutler), (Kris Watts)
The catching situation in Altoona will depend heavily on Sanchez' opening assignment. Cabrera and Paulino both played well enough at Bradenton to merit promotion, but if Sanchez is in Altoona there won't be room. Cabrera won a batting title in 2011 and will almost certainly be promoted, so he and Sanchez could share the catcher and DH spots. Paulino, who was acquired from the Marlins for Jim Negrych, may have to go back to Bradenton, but could come up once Sanchez heads to AAA. Cutler and/or Watts would be available to back up.
Bradenton (High A)
(Carlos Paulino), Elias Diaz, (Kawika Emsley-Pai), (Jairo Marquez)
The Sanchez Ripple Effect will probably be felt throughout the full season teams in the system. Lack of space in AA will probably mean that Paulino starts the season sharing the position with Elias Diaz at Bradenton. The latter struggled with the bat at West Virginia in 2011, but the Pirates are high on him and his defense is solid, so he's unlikely to get sent back to low A. Emsley-Pai, picked up when the Diamondacks let him go after just half a season, had a good year as Diaz' backup in 2011, but will probably have to go back to low A if Paulino is at Bradenton. All three are players who could conceivably reach the majors, at least as backups, as all have good defensive skills, so the Pirates will probably try to get them as much playing time as possible. Marquez is an organizational catcher who'll probably back up somewhere in class A as needed.
West Virginia (Low A)
Samuel Gonzalez, (Kawika Emsley-Pai), (Jonathan Schwind), (Francisco Diaz), (Matt Skirving), (Derek Trent)
Gonzalez was a New York-Penn League All-Star in 2011 and will almost certainly be the starter for the Power in 2012. Emsley-Pai is the most likely backup if he's not at Bradenton. Schwind had a big year in the Gulf Coast League in 2011, but he was a college player hitting against younger competition, and he was converted to catching after being drafted. He'll most likely go to State College. Diaz, Skirving and Trent will probably battle for whatever opportunities are available if Gonzalez and Emsley-Pai aren't doing all the catching. Diaz is a good defensive catcher who hasn't hit yet. The Pirates acquired him in the Rule 5 minor league phase, but he's still young. Skirving and Trent were college draftees, both of whom struggled at State College after being drafted. Skirving was drafted in 2010 and did better at State College in his second go-round, so he needs to move up. Trent, a 2011 draftee, was well regarded for his bat and could earn a promotion in spring training, as some college hitters take a few months to adjust to wood bats. The Pirates clearly have a logjam between West Virginia and State College, so it's hard to see what they'll do with all these catchers. One partial solution could be having Trent or Skirving back up at firstbase and DH for the Power.
State College (Short-Season)
(Jonathan Schwind), (Ryan Hornback), (Derek Trent), (Matt Skirving)
Schwind and Hornback shared the GCL catching chores in 2011 and could do so again in the NYPL. Hornback is a defense-oriented catcher who was drafted out of junior college in 2011. If Trent or Skirving returns to the NYPL, though, Hornback could get forced back to the GCL. The Pirates aren't very big on sending players back to the same level year after year, so Skirving probably needs to win a job in low A to stay in the system. The Pirates draft at least one college catcher every year, but with so many catchers already available for State College, 2012 could be an exception.
Gulf Coast League Pirates (R)
Jin-de Jhang, (Ryan Hornback), Dylan Child
The Pirates signed Jhang out of Taiwan and he appears likely to open 2012 in the GCL. He has power potential, but may still be very raw. If there's no room at State College, Hornback could end up sharing the starting job in the GCL. Child is an Australian who's spent two years in the GCL. He hasn't done anything to show he's ready to move up, so his spot in the organization could be in jeopardy. The Pirates may also bring one or more catchers up from the Latin American summer leagues, or they could draft a high school catcher, although they've seldom done so in recent years.
Original Story:
http://feedproxy.google.com/~r/BuccoF...
THE BACKYARD
BEST OF MAXIM
RELATED ARTICLES
Two Pittsburgh Pirates free agent rumors, after a few weeks of little to no news: -Dejan Kovacevic reports that the Pirates have had discussions with Paul Maholm, although a return seems unlikely. Kovacevic mentions that the Pirates are looking to upgrade the rotation, but that those additions will probably come from non-roster invitees, rather than a high profile addition. We heard...
Dejan Kovacevic is reporting this morning that the Pirates have "had talks" with Paul Maholm about a return to Pittsburgh, but that any such scenario is pretty "unlikely." I don't think that there's really anything too surprising about that report: bringing Maholm back makes sense to me in the same way that signing Jeff Francis would, and you can argue...
The Puerto Rican League season ends today, with their playoffs beginning over the weekend.  Meanwhile the other Caribbean leagues continue in playoff mode.  In other news, SS Pedro Ciriaco has signed a minor league contract with the Red Sox.   VENEZUELAN LEAGUE Navegantes del Magallanes  3,  Tigres de Aragua  2 Los Navegantes got things going with 2 runs on a walk and 3 singles...
The Pittsburgh Pirates announced the signing of left-handed pitcher Jo-Jo Reyes and right-handed pitcher Logan Kensing to minor league contracts, which include invitations to spring training.
"Firstbase prospect" isn't a concept that's highly popular with scouts. They tend to dislike players who are limited to first for a several reasons. One is that such a player has to hit extremely well to advance. Another is that athleticism does matter for hitters, so in many cases a player lacking it may not hit as well as needed at higher levels. A player with any athleticism...
A hospital visit in Pittsburgh last season left Pirates reliever Chris Resop searching for ways to use his standing as a public figure to assist other children battling cancer. His wife, Kara, suggested that they initiate some fundraising efforts to raise money for children's cancer research. That idea has since taken off.
The Pirates have signed lefty Jo-Jo Reyes to a minor league deal, which will likely include an invitation to spring training. Reyes is 27 and has been terrible in the big leagues. His career ERA is 6.05 and he just tied the major league record for most consecutive starts without a win (28 before snapping it with a complete game in May). Wins are a terrible indicator of a pitcher's...
The Pittsburgh Pirates have signed left handed pitcher Jo-Jo Reyes to a minor league deal, according to Jenifer Langosch of MLB.com. We heard the Pirates were interested in Reyes back in December. Reyes is 27 yeas old and had a career 6.05 ERA in 334.2 innings in the majors. In that time he has a 5.8 K/9, a 3.9 BB/9, and a 1.5 HR/9 ratio. He's a good flier to take on a minor league...
In announcing the signing of Jo-Jo Reyes to a minor league deal, the Pirates also announced that Logan Kensing will get a minor league deal and an invite to spring training. Kensing's a reliever who's spent most of his career with the Marlins, and he spent 2011 in the Yankees' system. He hasn't pitched in the Majors since 2009, as he missed all of 2010 with an injury...
Even before he became a YouTube sensation, Cuban outfielder Yoennis Cespedes was on the radar of Pirates general manager Neal Huntington.
Pirates News

Delivered to your inbox

You'll also receive Yardbarker's daily Top 10, featuring the best sports stories from around the web. Customize your newsletter to get articles on your favorite sports and teams. And the best part? It's free!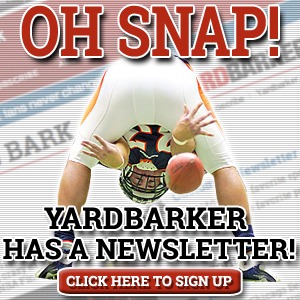 Latest Rumors
Best of Yardbarker

Today's Best Stuff

For Bloggers

Join the Yardbarker Network for more promotion, traffic, and money.

Company Info

Help

What is Yardbarker?

Yardbarker is the largest network of sports blogs and pro athlete blogs on the web. This site is the hub of the Yardbarker Network, where our editors and algorithms curate the best sports content from our network and beyond.