Found August 12, 2012 on Pirates Prospects:
Clay Holmes gets the start today for State College on the road. Away from home, he has made four starts, giving up no earned runs and just six hits in 20 innings. Bradenton was rained out yesterday. They will play a doubleheader today consisting of two 7 inning games.  Half of the teams are off today, a list that includes West Virginia, the GCL Pirates and both DSL teams. A full recap of yesterday's games can be found here.
Holmes is holding right-handed batters to a .121 average this year
Triple-A: Indianapolis (73-49) @ Columbus (64-58) 6:05pm
Probable starter: Daniel Cabrera (5-6 4.59)
Yesterday's Result: Indianapolis  4 Columbus 0  (game story)
Daniel Cabrera will make his 20th start for Indianapolis. He also made one rehab start for Bradenton. For Indy, Daniel has pitched a total of 102 innings, allowing 108 hits, six homers, 39 walks and he has 64 strikeouts, to go along with a 1.11 GO/AO ratio. In his last start, Cabrera gave up seven runs in 5.1 innings, allowing seven hits and five walks. On the road, he is 3-2 3.74 in eight starts.
Double-A: Altoona (57-61) vs Trenton (70-49) 6:00pm
Probable starter: Brandon Cumpton (10-9 3.82)
Yesterday's Result: Altoona 5 Trenton 4
Brandon Cumpton will make his 23rd start of the year for Altoona tonight. He has pitched a total of 122.2 innings, giving up 112 hits, six homers, 39 walks and he has 71 strikeouts, to go along with a 2.21 GO/AO ratio. In his last start, Brandon gave up six runs(three earned) in just two innings. In his previous start, he had also allowed six runs, that time in a four inning outing. At home this year, he is 8-4 3.44 in 13 starts.
High-A: Bradenton (53-64 overall 24-23 2nd half) @ Palm Beach (54-62 overall 24-25 2nd half) 3:05pm DH
Probable starter: Jhonathan Ramos (5-1 3.98) and Eliecer Navarro (4-6 3.44)
Yesterday's Result:  Bradenton was rained out
Jhonathan Ramos will make his first start of the year for Bradenton. He has pitched in relief 32 times this year, 19 with Bradenton and 13 with Altoona. On the season, he has pitched a total of 61.1 innings, allowing 55 hits, seven homers, 23 walks and he has 37 strikeouts, to go along with a 1.04 GO/AO ratio and a .239 BAA. For Bradenton, Ramos has a 7.80 road ERA and a 1.75 home ERA. He made six starts last year for Bradenton. Eliecer Navarro will get the start in the second game. He has pitched 27 times this year, nine as a starter. Navarro has pitched a total of 91.2 innings, allowing 89 hits, nine homers, 18 walks and he has 73 strikeouts. In his last start, he went five innings, giving up four runs on eight hits.
Low-A: West Virginia (50-69 overall 27-22 2nd half) vs Greensboro (71-48 overall 25-24 2nd half) 7:05pm 8/13
Probable starter: Zack Von Rosenberg (3-5 4.94)
Yesterday's Result: West Virginia 4 Lexington 3
West Virginia is off today. They will resume their schedule Monday night with a three game series at home against Greensboro, before going back out on the road for four games. The Power are currently tied for first place with Hickory for the second half title. Those two teams will meet four more times this year. They have 21 games left in their schedule.
Short Season A: State College (28-25) @ Jamestown (21-30) 1:00pm
Probable Starter: Clay Holmes (4-1 0.83)
Yesterday's Result: State College 5 Jamestown 2
Clay Holmes will make his tenth start of the season tonight. He has pitched a total of 43.1 innings, allowing 19 hits, no homers, 20 walks and he has recorded 30 strikeouts. Holmes has a 1.23 GO/AO ratio and a .132 BAA. In his last start, he allowed just one hit over five innings. It was the fifth time already that he has pitched one-hit ball in five innings of work. Clay is the NY-Penn League leader in ERA and no pitcher in the league, who has pitched 30 or more innings, has allowed as few hits as he has.
Rookie: GCL Pirates (27-21) vs GCL Yankees (29-19) 12:00pm 8/13
Yesterday's Result: Pirates 3 Phillies 2
DSL: Pirates1 (35-23) vs Rangers (37-22) 10:30am  8/13
Yesterday's Result: Pirates 10 Marlins 1
DSL: Pirates2 (26-31) vs Yankees1 (41-17) 10:30am 8/13
Yesterday's Result: Pirates 7 Mets 1
Original Story:
http://feedproxy.google.com/~r/Pirate...
THE BACKYARD
BEST OF MAXIM
RELATED ARTICLES
Below are the top Runs Created* totals in the Pittsburgh Pirates' farm system from the last week. The rankings include every hitter who had an at-bat for a Pirates' minor league affiliate, not including DSL teams, and with no limitations on whether the hitter has prospect eligibility. *Runs Created is a stat created by Bill James used to estimate how many runs an individual contributes...
Four former Pittsburgh Pirates players born on this date, including the man who held the single season AB record for 33 years. In his Jolly Roger Rewind, John Fredland covers a big comeback by the Pirates from the 1979 season. Al Pedrique (1960) Shortstop for the 1987-88 Pirates. He was signed by the Mets in 1978 as an amateur free agent out of Venezuela. For a time, it looked like...
Photo by Mark Olson James McDonald has struggled the second half of the season. The McDonald that Pittsburgh saw in the first half of the season was impressive. He entered the break with just a 2.37 ERA and looked to be the club's ace of the staff. His evolution drew so much attention that some were surprised he wasn't chosen to pitch in the All-Star game for the National League...
With eight former Pittsburgh Pirates players born on this date, and a few transactions of note, including a huge change in Pirates history on one particular date, we will break today's article up into two separate pieces. The first deals strictly with the players. Later today, we will have the transactions, as well as a Jolly Roger Rewind from John Fredland. Jonah Bayliss (1980...
Should the Pirates call up Gerrit Cole in September? In 2008, the Tampa Bay Rays had a surprising season, much like the Pittsburgh Pirates are having in 2012. The Rays went from worst to first, winning the highly competitive AL East in the process. Along the way they promoted top prospect David Price, who was taken with the first overall pick one year earlier. Fast forward to 2012...
TOP OF THE SYSTEM A look at how the current top 20 prospects did today.  Note that this list doesn't include players currently in the majors. Rankings are from the post trade deadline update. 1. Gerrit Cole, RHP, Altoona (3-4, 3.43) - DNP 2. Jameson Taillon, RHP, Bradenton (6-7, 3.91) - DNP 3. Luis Heredia, RHP, State College (2-1, 2.28) - DNP 4. Alen Hanson, SS, West Virginia...
I have been pretty brutal in my thoughts about the Pirates offense this year. I have checked in several times in several different ways to note that the offense came out of the gate in a putrid way. Six weeks in I was nothing short of convinced that the slow start the offense had was going to plague the club, resulting in yet another bad season. I'm happy to say that I was wrong...
Pittsburgh Pirates Live Game Chat ©2012 Raise the Jolly Roger. All Rights Reserved..
Source: FanGraphs ©2012 Raise the Jolly Roger. All Rights Reserved..
It was the third inning and the Pirates looked to be in a very familiar position that had plagued the last 19 seasons. They were losing -getting crushed- by a team that was out of the playoff hunt for three months now.  The Padres, winners of ten straight at PNC Park, took a quick 1-0 lead on the second pitch of the game thanks to a Chris Denorfia solo homer. The Padres plated three...
Today is a very light schedule, especially at the higher levels. Indianapolis, Altoona and Bradenton all have off today. They will each resume play Tuesday night. State College is now on their All-Star break.  They resume play at home on Wednesday night.  Four teams were off yesterday and resume play today, West Virginia, the GCL Pirates and both DSL teams. A full recap of yesterday's...
"One swing."That's what I told myself when the Padres took their 4-0 lead in the first inning today.  As I wrote earlier today, the Pirates are playing badly. I'm trying to take the long view of the season here, but they're not making it super-easy. A sweep to the Padres with Ross Ohlendorf on the mound? That'd be tough to stomach, wild card lead or no...
Pirates News

Delivered to your inbox

You'll also receive Yardbarker's daily Top 10, featuring the best sports stories from around the web. Customize your newsletter to get articles on your favorite sports and teams. And the best part? It's free!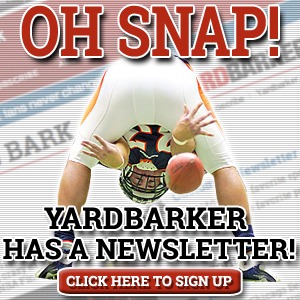 Latest Rumors
The Backyard

Today's Best Stuff

For Bloggers

Join the Yardbarker Network for more promotion, traffic, and money.

Company Info

Help

What is Yardbarker?

Yardbarker is the largest network of sports blogs and pro athlete blogs on the web. This site is the hub of the Yardbarker Network, where our editors and algorithms curate the best sports content from our network and beyond.