Found February 09, 2013 on Reading Between The Seams:
In the latest round of "he said / they said", "he did it / no I didn't", Major League Baseball and the Boston Red Sox concluded an investigation into Curt Schillings comments earlier this week that the Red Sox organization encouraged him to take PED's in 2008 while recovering from injury.  Two sources close to these investigations have told ESPNBoston.com writer Gordon Edes that Schilling's claims were found to be "completely baseless". Schilling fired back that this was just more cover up, implying that there were other players that heard the conversation (in 2008) and that he isn't sure who they interviewed to come to this conclusion. Curt Schilling, who has remained in the spotlight since retirement, both as a ESPN commentator, and a failed businessman as his video game firm is currently going through a significant bankruptcy protection to include $75M in a guaranteed loan from the state of Rhode Island that are in default.  During his active playing days, he was also summoned by Congress in 2005 to testify in the hearings on Steroids, which infamously led to stars like Rafael Palmeiro and Mark McGwire either denying, or refusing to discuss the issue, both of which were later found to have used PEDs in some form or another.  Schilling remains adamant that he never used any PED's during his career. And Schilling is likely to stay in the headlines in the years to come, as he will appeared on his first Hall of Fame ballot this year, garnering 38.8% of the vote, but was mixed in discussions with the likes of Sammy Sosa, Barry Bonds, and Roger Clemens, who all also first appeared on the ballot this year, and have been lighning rods for discussion of modern Hall of Fame credentials. -Dave (@lhd_on_sports) Follow us on Twitter @rbts_sk The post MLB and Red Sox call Schilling claims "baseless" appeared first on Reading Between The Seams.
Original Story:
http://sports-kings.com/readingbetwee...
THE BACKYARD
BEST OF MAXIM
RELATED ARTICLES
Heads began to spin earlier this week when Curt Schilling said during an interview with ESPN Radio that a member of the Boston Red Sox organization encouraged him to use performance-enhancing drugs back in 2008. Most of us assumed the revelation would lead to a major investigation from Major League Baseball, but as it turns out the matter was already addressed — more than four...
Curt Schilling lies and exaggerates about a lot of things. Bloody socks, video game profits and etc. So, it can't come as a surprised that he might have lied about the Red Sox telling him to do Roids. The Red Sox did an investigation and found some holes in Schilling's story. "Completely baseless," one source said. "It didn't happen. The staff member did not say it, and...
Curt Schilling rocked the baseball world when he claimed this week that a member of the Red Sox organization encouraged him to use performance-enhancing drugs back in 2008. Among those surprised was Red Sox president Larry Lucchino, who responded to the news Thursday, The Boston Globe reported. "Certainly, [the allegation] is something to look into, but it came from out of...
Curt Schilling is not holding back his feelings this week at all. On Wednesday he reached out to ESPN and discussed the Boston Redsox and in doing so made some allegations regarding PEDs. On Thursday he fired it up again with ESPN and took aim at Alex Rodriguez. Please Click Here To Read This Story The post Curt Schilling rips Alex Rodriguez for failing to be genuine. appeared...
While much of the attention around Curt Schilling's recent ESPN interview is on what Schilling said about his Red Sox days, those weren't the only comments the pitcher made about baseball's performance-enhancing drug culture. Schilling, who turned quite a few heads by talking about PEDs and the Red Sox this week, also had thoughts about the recent fall of Alex Rodriguez. The...
Well, you never know...Curt Schilling opened up on the Church of Fenway yesterday, telling a radio show that 2008, when his arm was turning into sauerkraut, some unnamed Redsock officials suggested he get a shot in the caboose from the Fountain of Youth. So I guess it's not just Yankees.And it's not just players.And who knows, maybe it's not just isolated private trainers...
Today on ESPN radio former Red Sox pitcher Curt Schilling decided to drop a bomb on the baseball and sports community when he discussed a conversation he and certain Red Sox "members" had in 2008.   "At the end of my career, in 2008 when I had gotten hurt, there was a conversation that I was involved in in which it was brought to my attention that this is a potential path...
Last week seemingly out of the blue, Curt Schilling went on The Herd with Colin Cowherd and revealed that a member of the Boston Red Sox organization urged him to use PEDs in 2008. Schilling did not reveal the name of the individual but did say that the he no longer worked for the organization. Since then, Schilling has done subsequent interviews where he ruled out many individuals...
Curt Schilling never mentioned Jed Hoyer or Theo Epstein when making his bold claims on Thursday, but Hoyer decided to clear the air before fingers start getting pointed. Schilling claimed during an appearance on ESPN Radio on Wednesday that he had been approached about using PEDs while recovering from an injury by someone working for the Red Sox in 2008. Schilling said those who...
Baseball, drugs, no big deal. Following the report from Curt Schilling saying that the Red Sox organization encouraged PED use, media has been chomping at the bit. Former Red Sox and current Phillie, Jonathan Papelbon is now on the list...but not for performance enhancing drugs. According to ESPN, Papelbon as well as many other teammates, took a drug called Toradol. Toradol is a...
                                            Image courtesy of Shelf3d Thursday was a busy day for Philadelphia sports. The Flyers played, the Sixers tried to answer the Jason Richardson injury, and the Eagles hired a defensive coordinator. Not to mention that Curt Schilling basically burned every bridge he has ever had with the Boston Red...
Red Sox News

Delivered to your inbox

You'll also receive Yardbarker's daily Top 10, featuring the best sports stories from around the web. Customize your newsletter to get articles on your favorite sports and teams. And the best part? It's free!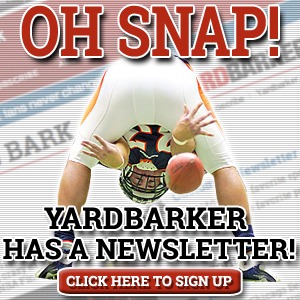 Latest Rumors
Best of Yardbarker

Today's Best Stuff

For Bloggers

Join the Yardbarker Network for more promotion, traffic, and money.

Company Info

Help

What is Yardbarker?

Yardbarker is the largest network of sports blogs and pro athlete blogs on the web. This site is the hub of the Yardbarker Network, where our editors and algorithms curate the best sports content from our network and beyond.