Found December 13, 2012 on Taking Bad Schotz:
Unlike in any other sport, MLB franchises constantly trade proven Major League talent for unproven Minor League players. This is completely different than trading for draft picks in the NFL or NBA. In baseball, a franchise is trading for a player based on what they did against sub-par competition and the promise of what they can do in the future, but most of which will never make it to the big leagues. The trade between the Kansas City Royals and the Tampa Bay Rays is one of those trades that warrant the question, "Now or Future?" The Rays traded their number 2 starter James Shields and forgotten starter Wade Davis to Kansas City. In return, the Royals will send top prospects Wil Myers and Jake Odorizzi along with Mike Montgomery and Patrick Leonard to Tampa. From the trade, the Royals now have the starting rotation they have coveted for so long as they add Shields and Davis with Ervin Santana and Jeremy Guthrie for a very solid 4-man rotation. The Rays will get an outfielder that they can control for at least 6 years at the Major League level. Royals Top Prospect Wil Meyers Photo Credit: THE ASSOCIATED PRESS Myers and Odorizzi were the number 1 and 5 prospect in the Royals system, respectively. Prospects ranked that high are typically viewed as sure things. But Montgomery used to be that player. He was the 5th ranked prospect in the Royals system before the 2011 season but the last 2 years he regressed. In 2011 and 2012 combined he had a 10-23 record with a 5.70 ERA. Montgomery was even named the 2010 "Top Prospect of the Decade" for the Royals, a title held in other years by Mike Moustakas, Alex Gordon, Billy Butler, and Zack Greinke. . Montgomery went from being someone seen as a sure thing to an unknown entity. You never know what the future holds, he could turn into the next David Price for Tampa, or he could turn into a pitcher like Rick Ankiel who lost the ability to throw pitches for strikes. Photo Credit: DAVID EULITT This could be that I have been alienated by the Yankees' moves of the last 15ish years, but personally I like the trade a lot for the Royals. They got James Shields who can be the ace of the Royals staff and Wade Davis who is a good Major League starter who simply got lost in the amazing depth of starting pitching the Rays have. Shields has thrown over 200 innings in each of his 6 full seasons in the majors. He has an 81-65 record with a 3.80 ERA in those 6 years. Shields has shown that he can pitch in big games, earning the nickname "Big Game James". Davis was moved to the bullpen last year after two years as a starter where he went 23-20 with a 4.26 ERA, respectable numbers for a 4th or 5th starter. Davis was not moved to the bullpen because he was under performing, he was moved to the bullpen because of pitchers like Matt Moore, Jeremy Hellickson and Jeff Niemann. With that being said, Davis had the best season of his career last year in the bullpen. He was 3-0 with a 2.43 ERA. After a year in the bullpen, he should have regained his confidence to be able to put up good seasons for the Royals. Also, Davis is the Royals control until 2016 when he becomes a free agent. And look at what they are giving up, 4 minor leaguers. Yes, Wil Myers was Baseball America's Minor League Player of the Year but how he will translate to the Majors is unknown. The same with Jake Odorizzi, he has thrown a total of 152 pitches and 7 1/3 innings in the show. How does anyone know if he will be a great or even OK starting pitcher? When the Yankees made the trade for Curtis Granderson a few years ago, they traded their top prospect Austin Jackson. I was a huge fan of the trade from day one. For the record, I said right away that Granderson would hit at least 40 home runs a year playing in Yankee Stadium. The scouting report on Austin Jackson said that at his best he would be… you guessed it, Curtis Granderson. So why risk it with the unknown commodity? Get what you know. So they did. You can debate whether the trade was good or bad because Jackson has shown that he can play at a major league level. But why would you wait and see that Jackson could be Granderson when you can go get Granderson. Yes, the Rays are getting a lot of potential in return. But that is what it really is, potential. Wil Myers, Jake Odorizzi, and Mike Montgomery could turn out to be the next Those are the trades that are remembered forever. Nobody ever remembers the trades that didn't work out. Fans look back now in disbelief when they see that the Mets traded one of the best pitchers of all time. Maybe Wil Myers will be a stud. But for every player like Mike Trout and Bryce Harper, there are a lot more that do not pan out, like Chad Mottola and Brien Taylor. -Goldberg
Original Story:
http://www.takingbadschotz.com/?p=10662
THE BACKYARD
BEST OF MAXIM
RELATED ARTICLES
by John Viril— In the aftermath of Sunday's Shields/Myers mega-trade (since upstaged by the Choo/Bauer 9-player deal between the Reds, Indians and Diamondbacks), most pundits have ignored the current makeup of the Royals' roster. With Wade Davis slotted to start, Kansas City now has four pitchers competing for one rotation slot. Yet, Royals GM Dayton Moore just signed two rehabbing...
Jeff Francoeur will again man right field for the Kansas City Royals. General manager Dayton Moore said Wednesday that while the Royals are open to adding players, Francoeur will again be a key part of the Royals in 2013. Francoeur had the worst season of his career in 2012 as he batted just .235 with 16 home runs and 49 RBI. Francoeur who is known as a free swinger managed an on...
If there's a fan base pessimistic about everything, it's the Kansas City Royals fan base. Not being in the playoffs since 1985 and not having a winning season since 2003 does that to you. And with all the other misfortunes the Royals experienced over the years, you can't blame fans for being pessimistic. So when the Royals traded top prospect Wil Myers, pitching prospects...
Xavier Nady and the Kansas City Royals have agreed to a minor league contract. The 34-year-old outfielder is a .270 career hitter with 101 home runs and 406 RBIs during 11 seasons in the majors. He has played for the Padres, Mets, Pirates, Yankees, Cubs, Diamondbacks, Nationals and Giants. Nady spent last season with Washington and San Francisco, hitting a combined .184 with four...
KANSAS CITY, Mo. The Kansas City Royals announced today that the club has signed outfielder Xavier Nady to a minor league contract for the 2013 season. The club plans to announce Major League Spring Training invitations at a later date. Nady, 34, has played 11 seasons in the Major Leagues with the Padres (2000, 2003-05), Mets (2006), Pirates (2006-08), Yankees (2008-09), Cubs ...
Whenever Dayton Moore makes a move, the press is sure to fire.
by John Viril— With word coming from NY that the Mets are on the verge of trading 2012 N.L. Cy Young winner R.A. Dickey, the question rises should the Kansas City Royals dig into their pool of prospects to land yet another starting pitcher? The answer is a resounding, YES! The Royals are already pot-committed to winning in 2013. They have already made the decision that their current...
Wil Myers On December 9th, the Tampa Bay Rays and Kansas City Royals swung a trade involving some notable players. In the late evening, starting pitchers James Shields and Wade Davis were dealt to K.C. for outfielder Wil Myers, pitchers Jake Odorizzi and Mike Montgomery, and third baseman Patrick Leonard.     The move added depth to a Royal starting rotation that appears to be...
The Kansas City Royals have signed Xavier Nady to a minor league deal. Nady appeared in 59 games in the 2012 season, splitting time between Washington and San Francisco. Nady batted .184/.253/.316 with four home runs in 152 at-bats last season. The last time Nady was a productive part of a team was the 2008 season. That year he set career highs with a .305 batting average, 25 home...
Royals News

Delivered to your inbox

You'll also receive Yardbarker's daily Top 10, featuring the best sports stories from around the web. Customize your newsletter to get articles on your favorite sports and teams. And the best part? It's free!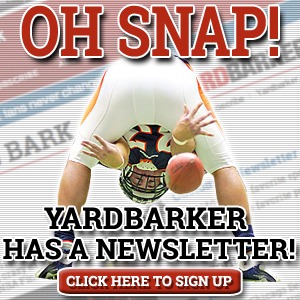 Latest Rumors
Best of Yardbarker

Today's Best Stuff

For Bloggers

Join the Yardbarker Network for more promotion, traffic, and money.

Company Info

Help

What is Yardbarker?

Yardbarker is the largest network of sports blogs and pro athlete blogs on the web. This site is the hub of the Yardbarker Network, where our editors and algorithms curate the best sports content from our network and beyond.