Found June 23, 2012 on Sports Blog Net:
PLAYERS:
CC Sabathia
,
AJ Burnett
,
Ivan Nova
,
Steve Phillips
,
Neal Huntington
,
Doug Fister
,
Jason Hammel
,
Mark Reynolds
,
Adam Dunn
,
Jair Jurrjens
,
Chris Heisey
,
Nick Blackburn
,
Ben Revere
,
Anibal Sanchez
,
Jose Bautista
,
Kelly Johnson
,
Ubaldo Jimenez
,
Roy Oswalt
,
Adrian Beltre
,
Carlos Beltran
,
Ike Davis
,
Frank Francisco
,
Zack Greinke
,
Chris Sale
,
Rickie Weeks
TEAMS:
New York Yankees
,
Pittsburgh Pirates
,
Detroit Tigers
,
Baltimore Orioles
,
Chicago White Sox
,
Boston Red Sox
,
Atlanta Braves
,
Minnesota Twins
,
Cincinnati Reds
,
Miami Marlins
,
Toronto Blue Jays
,
Cleveland Indians
,
Texas Rangers
,
St. Louis Cardinals
,
New York Mets
,
Milwaukee Brewers
This is the first installment of my "MLB Roundup" blogs, which will give a recap of every game.
Pirates: 4 vs Tigers: 1: 
Remember when you cringed that the Yankees signed both C.C. Sabathia and A.J. Burnett on that fateful day in December 2008.  They were trying to buy themselves another World Series it seemed.  And they did, the bastards.  Now fast forward to the next 2 seasons in which Burnett made Yankees fans so miserable with his inconsistency that Ivan Nova ended up taking his spot in the rotation.  I certainly remember the smile that brought to my face.  Just when it appeared that anybody not named Steve Phillips would trade for Burnett, Neal Huntington did the unthinkable, sending 2 prospects for the troubled pitcher.  Now, the enigma that is A.J. Burnett is, dare I say it,
dominating.
  Burnett picked up his 7th straight win against the disappointing Tigers, backed up by 2 Detroit errors and a Neal Walker RBI single.  The loss fell on Doug Fister, whose injury marred season and lack of run support block out his 2.72 ERA.
Orioles: 2 vs Nationals: 1: 
Speaking of pitchers with fantastic numbers despite twice as many losses as wins, Jordan Zimmerman pitched another great game, allowing 2 runs in 7 innings.  But it was O's righty Jason Hammel, fresh off a 1 hitter, who beat Zimmerman and the first place Nats by striking out a career high 10 batters.  Mark Reynolds, AKA Adam Dunn jr, replicated one of his counterpart's stat lines by striking out and hitting a solo shot to boost Baltimore.
Braves: 4 @ Red Sox: 1: 
After feasting on Miami, Boston's 5 game winning streak was snapped by Jair Jurrjens, who most people forget was a Cy Young candidate at this time last year.  Jurrjens, facing a loaded Boston offense, gave up just 3 hits over 7 and 2/3 innings after being in the minors nearly 2 months.  It seems crazy that just before the All Star Break, Boston is tied for last place and Atlanta is in third, while both are over .500. Twins: 5 @ Reds: 4: The Minnesota Twins are a ball club that appears dead on arrival.  Taking on the first place Reds on the road is not their idea of a good way to spend the weekend.  This became evident after Chris Heisey took Nick Blackburn deep, 2 batters into the game for the Reds.  But after chipping away at the Reds, moving runners over and using aggressive base running, Minnesota irked out a W on the road today.  It was a great sign to see Ben Revere go 4-4 at the plate, as any casual fan can see what a great athlete the outfielder is.
Blue Jays: 12 @ Marlins: 5: 
It certainly has been a roller coaster season for the new look Marlins.  They had an abysmal start to 2012, than became scorching hot.  Now it appears they've come crashing down to Earth harder than Iyaz did after "Replay."  Miami has lost 5 straight, not that anyone was paying attention to the baseball team this month.  Toronto's high powered offense beat up on Anibal Sanchez.  Brett "I throw helmets at umpires" Lawrie scored 4 times, and Jose Bautista and Kelly Johnson plated 4 apiece.  This is what can happen to you sometimes when you play Toronto.  Just ask the Mets.
Indians: 2 @ Astros: 0: 
In what has a chance to be the most boring interleague series this weekend, Ubaldo Jimenez and
first place
Cleveland handled the Astros.  The pitchers for both squads allowed only 4 hits, but Cleveland cashed in for two.  I don't know what else you want me to write about here.  That Jimenez trade was still a bad one for Cleveland in my eyes.
Rangers: 4 vs Rockies: 1: 
ATTENTION:  Ballplayers, readers, and living species everywhere beware.  The Texas Rangers have won 7 in a row and 9 out of 10.  Roy Oswalt pitched some solid 1 run ball in his debut.  The scariest team just got scarier.  Plus, Adrian Beltre is batting .444 over his last 10 games.  Hide ya kids.  Hide ya wives.  Cause the Rangers be rapin errybody up in here.
Cardinals: 11 @ Royals: 4: 
The I-70 series is less known to most people, but the Royals and Cardinals prepare for these 6 games every year.  It's still state bragging rights, even if that state is Missouri.  This one was over before the first 9 outs of the game were made, as the Cards had already scored 10 runs before the bottom of the second inning.  Carlos Beltran is loving it in St. Louis and he plated 4 in the rout tonight.
Mets: 6 vs Yankees: 4: 
Everybody knows that the Yankees have been absolutely
abusing
the National league teams they've played this year, and rightfully so.  Meanwhile, the Mets have gotten swept twice and swept someone else twice in their past 12 games.  Here you have the white-hot Yankees coming in against an on and off, and rather confident Mets team.  The result was this:  the young lefty Jonathan Neise outpitched the wily veteran Andy Pettite.   Pettite gave up 5 runs in the 1st, all with two outs.  Ike Davis has the Mendoza line in his sights and appears like it is not a lost season for him.  And while Frank Francisco never makes it easy, he slammed the door on the crosstown Chickens.  Season Series:  Yanks 3 vs Mets 1. Brewers: 1 @ White Sox: 0:  GAME OF THE NIGHT: The Game Of The Night award goes to the Brew Crew and Chi Sox.  Zack Greinke and Chris Sale (who could be a Hall of famer some day) were pitching like it was 1948, matching each other for scoreless inning after scoreless inning.  The teams combined for 9 hits, with Chicago never getting an extra base hit.  Rickie Weeks knotted the lone RBI in the top of the 10th, securing Milwaukee's victory.
PPD:  Rays @ Phillies
Current Games:
Cubs: 1 @ Diamondbacks: 6 in the Top Of The Ninth
Dodgers: 5 @ Angels: 8 in the Bottom of the Seventh
Mariners: 5 @ Padres: 9 in the Top Of The Ninth
Giants: 1 @ Athletics: 3 in the Bottom Of the Eight.
Original Story:
http://theteenagesportswriter.sportsb...
THE BACKYARD
BEST OF MAXIM
RELATED ARTICLES
PITTSBURGH (AP) -- A.J. Burnett pitched six shutout innings to win his seventh consecutive start and the Pittsburgh Pirates won for the fifth time in six games, 4-1 over the Detroit Tigers on Friday night. Burnett (8-2) allowed two hits and three walks and struck out four to extend his streak of starts that resulted in victories to the longest for a Pirates pitcher in 38 years....
The Pirates grabbed hold of an early lead on Friday night and hung on to it the rest of the way, defeating the Tigers 4-1 in front of a sellout crowd at PNC Park. A.J. Burnett won his seventh start in a row–the longest such streak by a Pirate since Dock Ellis. Burnett went six scoreless and allowed just two hits (although he walked three) while striking out four. After A.J. worked...
A.J. Burnett pitched six shutout innings to win his seventh consecutive start and the Pittsburgh Pirates won for the fifth time in six games, 4-1 over the Detroit Tigers on Friday night. Burnett (8-2) allowed two hits and three walks and struck out four to extend his streak of starts that resulted in victories to the longest for a Pirates pitcher in 38 years. Doc Ellis won eight...
AJ Burnett is the best pitcher on the New York Yankees' payroll, but he's pitching in Pittsburgh, for the Pirates.  Tonight was AJ Burnett's 7th straight win, a career high.  He pitched 6 shutout innings, giving up 2 hits and walking 3.  The Pirates' offense gave him the help he needed, pounding out 9 hits [...]
A.J. Burnett is in position to match the longest winning streak of his career. His current string of winning starts began with a victory over the Detroit Tigers. The right-hander tries to win his seventh consecutive start Friday night when the Pittsburgh Pirates face the surging Tigers at PNC Park. Burnett (7-2, 3.52 ERA) is 6-0 with a 2.19 ERA in eight starts - all Pittsburgh...
Final: Pirates 4, Tigers 1 WP: A.J. Burnett (8-2, 3.24 ERA) LP: Doug Fister (1-4, 2.72 ERA) SV: Joel Hanrahan (18, 2.33 ERA) You know things are going well when Rod Barajas, owner of a 4.5 40-yard dash (4.5 is in minutes, of course), somehow comes around to score from first base on a bunt. With the Pirates already up 2-0 in the 2nd, Pedro Alvarez and Barajas hit back-to-back singles...
The Pirates open a three-game series with Detroit on Friday at PNC Park. Right-hander A.J. Burnett will pitch for the Bucs. The Tigers will counter with lefty Doug Fister.
One of the things that I've really liked about the last few games for the Pirates (and if it wasn't already clear, I've liked quite a few things) is that the Pirates have been playing opponents that have made mistakes, and the Pirates have seriously cashed in on them. Against the Indians, Asdrubal Cabrera booted balls all over the field on Saturday and Sunday and the...
The Pirates/Tigers series in Comerica did not go so well last month. Hopefully, PNC will make a difference. In the opener, Doug Fister is going up against AJ Burnett. We've got some pitcher's duel potential with this matchup. First pitch is at 7:05. 
Tigers (34-35) at Pirates (36-32) 7:05 PM EST–PNC Park, Pittsburgh Here is the MLB.com Gameday TV: ROOT Sports The Bucs take on the Tigers this weekend in round two of their interleague matchup (Detroit took 2 of 3 at Comerica Park a few weeks ago). This will be the final interleague series of the season; the Bucs are 8-7 against AL opponents this year. Detroit is still somehow...
So far this season the Tigers bats have been more hype than actual punch and Friday night was another example of that as Detroit fell to the Pittsburgh Pirates 4-1 in the opening game of the weekend series from PNC. Tigers starter Doug Fister although shaky to begin the game settled down allowing 4 runs (2 earned) on 8 hits in 6 innings pitched. Fister also struck out seven and...
MLB News

Delivered to your inbox

You'll also receive Yardbarker's daily Top 10, featuring the best sports stories from around the web. Customize your newsletter to get articles on your favorite sports and teams. And the best part? It's free!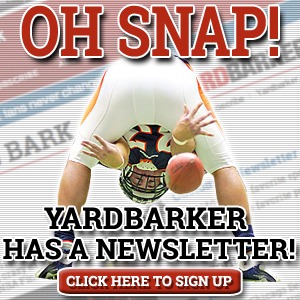 Latest Rumors
The Backyard

Today's Best Stuff

For Bloggers

Join the Yardbarker Network for more promotion, traffic, and money.

Company Info

Help

What is Yardbarker?

Yardbarker is the largest network of sports blogs and pro athlete blogs on the web. This site is the hub of the Yardbarker Network, where our editors and algorithms curate the best sports content from our network and beyond.