Found December 11, 2012 on hardballchat.com:
PLAYERS:
Justin Upton
,
Josh Hamilton
,
James Shields
,
Wade Davis
,
Wil Myers
,
Elvis Andrus
,
Jurickson Profar
,
Adrian Beltre
,
Zack Greinke
,
Anibal Sanchez
,
RA Dickey
TEAMS:
Texas Rangers
,
Arizona Diamondbacks
,
Kansas City Royals
,
Tampa Bay Rays
,
Seattle Mariners
,
Los Angeles Dodgers
,
Detroit Tigers
,
New York Mets
The Texas Rangers have not made any noise this offseason, which is very unlike them, especially when you look at what they have done in recent years. But with two weeks still to go before Christmas, expect the Rangers to give themselves and their fans a big present sooner rather than later. Whether that comes in the form of Justin Upton or Josh Hamilton remains to be seen. But it is highly unlikely that Texas will fail to land either of them. In fact, there is a greater chance that the Rangers end up with both of them, although it will be much more difficult following the trade between the Tampa Bay Rays and Kansas City Royals, in which James Shields and Wade Davis were traded for Wil Myers and other high level prospects. It was thought that Texas and the Arizona Diamondbacks would need a third and perhaps even fourth team to make a deal for Upton a possibility. Still, the Diamondbacks want a top shortstop in return for Upton, which the Rangers possess in Elvis Andrus. They also have Jurickson Profar in the minor leagues, although the Rangers have not been willing to move either player to this point. Of course, that could all change, especially if Texas is unable to re-sign Hamilton. If he lands with the Seattle Mariners or another team outside of the American League West, the Rangers will need to do something in order to protect Adrian Beltre's bat in the lineup. That may still most likely be trading for Upton. Then again, Zack Greinke has signed with the Los Angeles Dodgers. The Rangers could still sign a starting pitcher such as Anibal Sanchez, or even attempt to make a push to acquire R.A. Dickey from the New York Mets, but they may decide that if they cannot acquire a top flight starting pitcher, they may do everything possible to beef up their lineup, even if it means breaking the bank to sign Hamilton and deal for Upton.     The post MLB Rumors: Do Texas Rangers Prefer Justin Upton To Josh Hamilton? appeared first on Hardball Chat Baseball Blog.
Original Story:
http://www.hardballchat.com/2012/12/m...
THE BACKYARD
BEST OF MAXIM
RELATED ARTICLES
Anthony Gargano Says, Per Source, Phils Offered Hamilton $80 Million For 3 Years   My radio partner, Anthony Gargano, has it from a good source that the Phils have offered Josh Hamilton a three-year contract. — Glen Macnow (@RealGlenMacnow) December 11, 2012 @gfraley of Dallas Morning News tells us Phils could get Josh Hamilton at…
Could there finally be some smoke to indicate a fire burning with the Phillies and free agent outfielder Josh Hamilton? Glen Macnow of 94 WIP FM tweeted that his broadcast partner Anthony Gargano (who does not have twitter) says that an offer has been made: My radio partner, Anthony Gargano,...
Coaches usually have some say in the players that come and go on a team.  However, when the player in question is about to command an incredible sum of money, the coach may have a little less input.  Ron Washington, manager of the Texas Rangers, may not be able to convince the front office of how they should handle Josh Hamilton, but he wants the slugger back in Texas. Washington...
The longer Josh Hamilton stays on the market, the better the chances are of him landing in Boston. Hamilton, who went into the offseason looking for a deal of at least six years, has found few teams willing to give him an offer past three or four years. That means the Red Sox, who are reportedly interested in Hamilton to the tune of three years and as much as $25 million a year ...
Josh Hamilton is still on the market, and this year's supposed free-agent prize has fewer suitors than you'd think. Something surprising still could happen. The Red Sox are still out there and probably have more money to spend even once they address their pitching needs. Perhaps unsurprisingly, the Yankees have reportedly done their due diligence on Hamilton, as well. However...
Consider the Phillies part of the hunt for Josh Hamilton. Philadelphia has offered Hamilton a three-year deal, according to radio station WIP, as reported by CBS Philly. While the report did not specify terms of the deal, it did cite a report speculating that Hamilton could be had for three years and around $80 million. That's around what the Red Sox are said to be willing to give...
  Josh Hamilton – Photo by Keith Allison Josh Hamilton would look great in a Padres uniform… in 2013.  I ask before you react, at least hear me out on this one. Is it late?  Yes Am I drinking?  Yes, milk. Have I lost my mind?  Always a possibility. Do I think Hamilton is Mr. Right?  No Do I think Hamilton is Mr. Right Now?  YES!   I do believe that Padres fans are...
Every morning, we compile the links of the day and dump them here... highlighting the big storyline. Because there's nothing quite as satisfying as a good morning dump. The Red Sox, according to a baseball source, remain in a holding pattern on Josh Hamilton, the free-agent outfielder who reportedly has designs on a long-term contract of at least six years. He won't get...
A lot of Phillies fans are unimpressed with the Phillies two latest additions – CF Ben Revere and 3B Michael Young. While both players fill huge holes for the Phillies, many don't think they are the type of impact players that can help the Phillies climb back into the NL East race that they coughed up last year. Ben Revere, whom the Phillies acquired in a trade that sent Vance...
The Red Sox don't sound like they're done making moves this offseason, and they may not be done putting the finishing touches on what would be their 2013 lineup. ESPN.com reports that the Red Sox are indeed interested in free-agent outfielder Nick Swisher, who remains on the open market. According to the report, Swisher is being viewed as a "fallback plan" in case the Sox...
A rival executive, assessing the Texas Rangers on Monday, said, They're going to overpay Hamilton or they're going to overpay 'KT.'" That's Hamilton as in free-agent outfielder Josh Hamilton. And that's KT" as in Arizona general manager Kevin Towers, who is dangling right fielder Justin Upton, a hitter whom the Rangers covet maybe even more than...
News on R.A. Dickey, Josh Hamilton, Scott Rolen, and Ryan Dempster.
MLB News

Delivered to your inbox

You'll also receive Yardbarker's daily Top 10, featuring the best sports stories from around the web. Customize your newsletter to get articles on your favorite sports and teams. And the best part? It's free!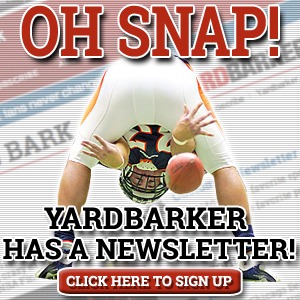 Latest Rumors
Best of Yardbarker

Today's Best Stuff

For Bloggers

Join the Yardbarker Network for more promotion, traffic, and money.

Company Info

Help

What is Yardbarker?

Yardbarker is the largest network of sports blogs and pro athlete blogs on the web. This site is the hub of the Yardbarker Network, where our editors and algorithms curate the best sports content from our network and beyond.