Found October 04, 2012 on hardballchat.com:
It is widely assumed that we should expect to see the Boston Red Sox fire Bobby Valentine as the team's manager after one extremely disappointing season. The Red Sox just completed their second last-place finish in the last 80 years, which does not bode well for the outspoken manager who seemingly lost the faith and respect of his players months ago.
Some never had any to begin with even prior to the start of the 2012 regular season. Many Red Sox were never on board with the decision to hire Valentine. As the season progressed, it clearly showed.
The Red Sox may be the most dysfunctional franchise in all of baseball right now. They lack the respect necessary to put together a winning season, and it goes far beyond the manager. It starts with the ownership and front office and trickles down to the players and the fans. While Valentine may not be the solution, he is only one of many problems.
Either way, the Red Sox have been cryptic about the future of Valentine over the past couple of months, but nobody expects him to manage the team in 2013. His firing could very well become official as soon as the next couple of days.
At this point, even Valentine has to see what is coming.
"I'm waiting to hear," Valentine said. "It's bothered me the last six weeks that I've been asked that question without [having] an answer."
Boston GM Ben Cherington has hinted for weeks now that he wants this offseason's managerial search to take less time than it did last year. That is an odd thing to say if you had no intention to fire your current manager and conduct a new search. It would appear that Valentine is as good as gone, much to the relief of many players and fans.
Of course, Valentine figured if he is going down and close to being ousted, why not go down swinging.
Before the regular season finale, in which the Red Sox lost to the New York Yankees, 14-2, Valentine accused some of his coaches of not showing him any loyalty this season. When asked about if he felt his coaches were loyal, Valentine said "No," and whether he felt undermined by the same people, Valentine answered "Yes."
"I had just a feeling, I don't have any facts, just a feeling once in a while that we weren't all on the same page," Valentine said.
The coaches did not respond too much to valentine's comments, although when asked about what he said, one anonymous coach replied, "Typical."
One happy family in Red Sox Nation, is it not?
That family appears close to excommunicating on of their members, and it could happen as soon as today or this weekend.
Original Story:
http://www.hardballchat.com/2012/10/m...
THE BACKYARD
BEST OF MAXIM
RELATED ARTICLES
It's been a long first season with the Red Sox for Bobby Valentine. He has encountered issue after issue almost from the day he took over in Boston. So it's fitting that his final days of his first season included him ending up in a ditch after falling off his bicycle in a texting and cycling accident. Valentine was busy reading a text message from Red Sox second baseman Dustin...
Shortly after claiming the coaching staff undermined him, Bobby Valentine didn't back down from his stance. He reiterated that he felt the staff wasn't on the same page. Although Valentine declined to provide names, all indications point to underlying friction with bench coach Tim Bogar, bullpen coach Gary Tuck and former pitching coach Bob McClure. From the get-go, Valentine...
BOSTON -- Bobby Valentine was the king of passive, aggressive remarks. On one hand, Valentine contended that he -- not the front office -- selected his coaching staff. Later on, he described the process of choosing coaches "as fine, but difficult" and cited communication issues with his staff. "I just think there's an information flow that's needed in any organizational...
One could reasonably argue that Bobby Valentine's brief tenure as the manager of the Boston Red Sox has been an unmitigated disaster. And that might be putting it mildly. The Red Sox essentially have been irrelevant for the entirety of the season and that's only half of the story of Valentine's sublimely craptastic odyssey he has endured [...]
One year later, the Red Sox have fired another manager –– yet again. While Bobby Valentine deserves to share his brunt of the blame, he isn't entirely responsible for the team's failure. When he was hired last December, the Red Sox wanted to change the culture. After the Red Sox had taken advantage of Terry Francona's laissez-faire attitude, Valentine was tapped as...
The Boston Red Sox has announced that manager Bobby Valentine would not return for the 2013 season. This comes as no surprise as the Red Sox struggled mightily this season and Valentine clashed with veterans, coaches, and front office officials. The Red Sox finished last in the AL East and had the team's worst record since 1964. Red Sox team president Larry Lucchino said...
Editor's note: NESN.com is going to tell the story of the 2012 Red Sox in Bobby Valentine's words. Each game day, we will select a Valentine quote that sums up the day for the Red Sox. The torture has ended. With a 14-2 loss to the Yankees on Wednesday, the Red Sox finished the 2012 regular season with a record of 69-93 and the franchise's worst winning percentage (.425...
After a looooooooooong season in Boston, the Red Sox announced that they have fired manager Bobby Valentine. Valentine went 69-93 in his only season in Boston which was plagued by poor decisions and comments he made both on and off the field Red Sox President/CEO Larry Lucchino said in a press release, "This year's won-loss record reflects a season of agony." From Spring Training...
As everyone probably knows by now, Bobby Valentine is out as manager of the Red Sox. If this is news to you, welcome back to Earth. With Valentine's departure, Boston now needs to begin its search to find a new skipper. Following a 100-year Fenway Park celebration that yielded very little to celebrate about in terms of this year's team, the Sox are headed in another direction...
Bobby Valentine had a tumultuous first season in Boston, a season that could end up being his only season as Red Sox manager. He confirmed Wednesday what many had suspected -- that he had problems with his coaching staff, thus making his job even more difficult than it already was. Valentine was asked on WEEI on Wednesday afternoon whether or not he felt his coaching staff was loyal...
BOSTON, MA - The Boston Red Sox today announced, following a meeting among team leaders and Manager Bobby Valentine, that Bobby will not return in 2013. A search for a new manager will begin immediately."Our 2012 season was disappointing for many reasons," said Executive Vice-President/General Manager Ben Cherington, who made the announcement and who will lead the search...
For Red Sox fans, this season cannot end soon enough. Decimated by injuries, plagued by constant turmoil and negative news stories, declines by formerly good pitchers and a manager controversy that never ended all mark a season that started off on the wrong foot and ended without any legs at all. Every bad situation needs a scapegoat. There has to be a villain in a story like this...
MLB News

Delivered to your inbox

You'll also receive Yardbarker's daily Top 10, featuring the best sports stories from around the web. Customize your newsletter to get articles on your favorite sports and teams. And the best part? It's free!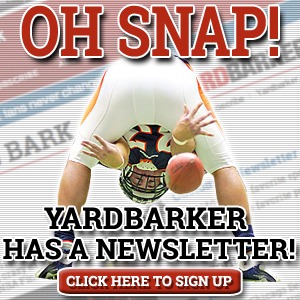 Latest Rumors
Best of Yardbarker

Today's Best Stuff

For Bloggers

Join the Yardbarker Network for more promotion, traffic, and money.

Company Info

Help

What is Yardbarker?

Yardbarker is the largest network of sports blogs and pro athlete blogs on the web. This site is the hub of the Yardbarker Network, where our editors and algorithms curate the best sports content from our network and beyond.