Found October 22, 2012 on Pirates Prospects:
PLAYERS:
Joel Hanrahan
,
Casey McGehee
,
Garrett Jones
,
Ross Ohlendorf
,
Charlie Morton
,
Jose Veras
,
Chris Resop
,
Evan Meek
,
Jason Grilli
,
Heath Bell
,
James McDonald
,
Neil Walker
,
Gaby Sanchez
TEAMS:
Pittsburgh Pirates
,
New York Yankees
,
San Diego Padres
,
Milwaukee Brewers
,
Arizona Diamondbacks
Matt Swartz of MLB Trade Rumors came out with a system last year to project expected arbitration prices. Here were the projections last year, and what the players actually received. Player (Projection/Actual) Joel Hanrahan ($4.0/$4.1) Casey McGehee ($3.1/$2.5375) Jeff Karstens ($2.8/$3.1) Garrett Jones ($2.4/$2.25) Ross Ohlendorf ($2.1/Non-Tendered) Charlie Morton ($2.1/$2.445) Jose Veras ($2.5/$2.0 with Milwaukee) Chris Resop ($1.1/$0.85) Evan Meek ($0.9/$0.875) Jason Grilli ($0.8/$1.1) For the most part, the predictions were accurate. Almost all of them were within $300 K of the MLBTR prediction. The exceptions were Casey McGehee, Jose Veras, and Charlie Morton, who was just barely outside of $300 K. Today, MLBTR previewed the arbitration eligibles for the Pirates, along with the expected arbitration prices. Below are the expected prices, along with what we had a few weeks ago. The MLBTR projections will be added to the 2013 40-man payroll projection. Our projections don't go as in-depth, mostly looking at similar players and WAR-based values. I included some notes below for the few players who had a big difference between their projection and ours. Player (MLBTR/Pirates Prospects) – Notes Joel Hanrahan ($6.9/$7.5) – We've been using Heath Bell as the comparison for Hanrahan. Bell received $1.255/$4.0/$7.5 in his three years of arbitration. So far Hanrahan is at $1.4/$4.1, which is slightly higher than Bell's first two years. To keep things uniform, we'll be changing to the $6.9 M projection, but I wouldn't be surprised to see Hanrahan end up closer to $7.5 M. Jeff Karstens ($3.8/$4.8) – A big factor with Karstens will be his injury history. His numbers when healthy warrant the higher price, but his lack of innings could bring that down. I'm guessing the lower MLBTR number looks closer at the injuries. Garrett Jones ($4.4/$4.6) – $200 K difference. Charlie Morton ($2.6/$2.7) – $100 K difference. Chris Resop ($1.3/$1.1) – $200 K difference. James McDonald ($3.0/$2.3) – McDonald will be an interesting arbitration case. It's hard to pinpoint his value. He looked like an ace in the first half last year, and was horrible in the second half. His overall numbers from the last two years are identical (4.21 ERA in 171 IP each year), but if you look at the advanced metrics he was better this year. MLBTR has the higher number here. Neil Walker ($2.9/$2.7) – $200 K difference. Gaby Sanchez ($1.8/$2.9) – In arbitration you look at a player's career, and not the most recent season. Sanchez had a 2.3 WAR in 2010 and a 3.0 WAR in 2011. In 2012 he had a -0.1 WAR. We placed equal value on all of the years. MLBTR could be looking more at the most recent year. The projected payroll before these updates was $63,101,800. After the updates it is $61,201,800.
Original Story:
http://feedproxy.google.com/~r/Pirate...
THE BACKYARD
BEST OF MAXIM
RELATED ARTICLES
The 2012 season for Alex Presley wasn't what he, nor the Pirates expected from him. After an impressive rookie season in 2011, where he finished with a .298 average over 52 games in the Majors, Presley broke spring training with the starting job in left field. But the 27-year-old struggled in his sophomore year, and was demoted, not once, but twice to Triple-A Indianapolis to...
For the last year and a half, I've been talking about how the Pittsburgh Pirates should trade Joel Hanrahan. To sum up the reasoning, Hanrahan is a great reliever and a great closer, but the value of a closer is small, the trade value of closers is usually huge, and the Pirates would benefit more from the potential impact a Hanrahan trade could bring, rather than the value of having...
The Navy SEALs discussion is back. Dejan Kovacevic brought the topic up for the third time tonight, this time mentioning a possible injury by Gregory Polanco. I say possible, because there's some conflicting information. Here is what Kovacevic had to say. Polanco's ankle was sprained in mid-August, and it cost him most of his final month of play. But the Pirates still saw fit...
Here are the updates from the winter leagues over the last two days. **Daniel McCutchen made his debut in the Dominican League on Sunday, throwing four innings in a start. McCutchen gave up one earned run on six hits and three walks in the four innings, striking out three. The lone run came in the third inning, when McCutchen gave up a leadoff double, and an RBI single three batters...
Last year the Pirates sent two of their top prospects to the Arizona Fall League. Gerrit Cole was the best prospect in the system, and Robbie Grossman was one of the top ten prospects in the system, and the third best hitting prospect at the time. The combination gave something to look forward to with every AFL game recap. It's not that the 2012 group doesn't have interesting...
Right-hander Bryan Morris got a taste of the big leagues late in the 2012 campaign. He appeared in five games for the Pirates and posted a 0-0 record in five innings of work with a 1.80 ERA. Morris posted a 2-2 record with five saves and 2.67 ERA with 79 strikeouts in 46 relief appearances for Triple-A Indy. PiratesDugout.com's George Von Benko caught up with Morris at the end of the season.
The Scottsdale Scorpions lost 5-1 to Phoenix. Here is how the Pirates prospects did today. **Matt Curry went 0-for-2 with two walks and a run. Curry started at first base and hit fourth, which has been a trend so far. **Gift Ngoepe went 0-for-4 with a strikeout. He was playing second base tonight. **Brandon Cumpton pitched two shutout innings, allowing one hit, striking out two,...
Back in January I took a look at the early results of the 2008 draft. At the time, only eight players from the entire draft had a career 2.0 WAR or better. I pointed out that the 2012 season should start to see results from this draft, especially for the Pirates, who had some poor results heading in to the year. Pedro Alvarez managed to turn things around, and the club traded Robbie...
Look at the Pittsburgh Pirates as constructed. Be brutally honest with yourself. What are the strengths of this team? What are their weaknesses. What can you say about them for sure entering 2013?  If we're starting with strengths, we can say for sure that the Pittsburgh Pirates do not need a center fielder. Andrew McCutchen has that job locked down until 2018, and if he...
"Manny Machado is awesome."  That's the tweet I sent out during the Yankees/Orioles series after the 20-year old infielder hit his first playoff home run. There was no deeper meaning to it than the words I typed. The reason I like watching the playoffs so much is to see players I don't regularly watch for all of my regular-season Pirate-watching. Machado was...
The World Series starts tomorrow night, and the Pirates are not in it. To be honest, this is the least interest I have had in the baseball playoffs in years. There's no doubt in my mind that the Pirates collapse had everything to do with that. I haven't been writing on here or tweeting about baseball since August, and I'm sure nobody has really missed either of those...
MLB News

Delivered to your inbox

You'll also receive Yardbarker's daily Top 10, featuring the best sports stories from around the web. Customize your newsletter to get articles on your favorite sports and teams. And the best part? It's free!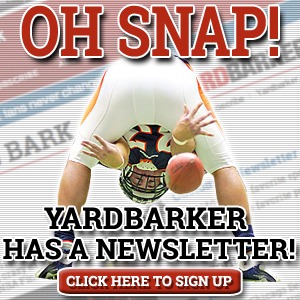 Latest Rumors
Best of Yardbarker

Today's Best Stuff

For Bloggers

Join the Yardbarker Network for more promotion, traffic, and money.

Company Info

Help

What is Yardbarker?

Yardbarker is the largest network of sports blogs and pro athlete blogs on the web. This site is the hub of the Yardbarker Network, where our editors and algorithms curate the best sports content from our network and beyond.