Found September 12, 2012 on NorthWest Sports Beat:
PLAYERS:
Felix Hernandez
,
Jason Vargas
,
Luis Jimenez
,
Kevin Millwood
,
Eric Wedge
,
Justin Smoak
,
Franklin Gutierrez
,
Eric Thames
,
Dustin Ackley
,
Carlos Triunfel
,
Casper Wells
,
Mike Carp
,
Alex Liddi
,
Shawn Kelley
,
Hector Noesi
,
David Letterman
TEAMS:
Seattle Mariners
,
Toronto Blue Jays
Back to the loss column
After a 2-5 homestand, the Seattle Mariners take off for Toronto and Texas this week, in a trip that can hopefully see them get back to winning some ballgames.
With the wild card race seemingly out of the picture, the Mariners can now focus on some developing talent that was brought up for September.
Not only that, but hopefully we can play spoiler a bit too with the Orioles and Angels series' upcoming in the next two weeks.
With that, I give you my top 10!
10: The king finally falls
After a month with no losses, and a subsequent AL Pitcher of the Month Award for August, Felix Hernandez finally met his match against Oakland on Friday, his second straight loss since the month of August.
Kings court still had a good go of it in the month of August though.
It has been a long time since we have seen dominance like that in Seattle.
9: Two in a row!
Speaking of dominance, Felix Hernandez's POM award was the second consecutive for the Mariners franchise.
If you all remember, Jason Vargas took home the award for the month of July.
Not too shabby for a cellar dweller if I do say so myself.
8: Hanging around
Luis Jimenez finally gets a big league start after 13 years in the minors (photo prorumors.com)
Seems like I should just keep following the trend of leading into my next category; Jason Vargas and Kevin Millwoodare still here!
So much for the waiver trades, which both surprises me and elates me at the exact same time!
7: Smoak or fired?
M's skipper Eric Wedge has given 1B Justin Smoak a bit of an ultimatum, to say the least.
This off season Smoak needs to get better, and in more ways than one, if he wants to remain a member of the Seattle Mariners.
Good for Wedge. It's managerial instincts like this that will turn this club around for the better.
6: Guti-ng it out
If we say nothing more about Franklin Gutierrez, it will be that he sure has a tenacity about him to make it in the big leagues.
Gutierrez finally made it back into the starting lineup for the M's after his latest setback, a concussion suffered a couple months back.
Good luck Guti, hopefully this is the last of the injuries for you!
5: ET going home
Okay, it's his old home, Safeco Field is now where he resides, but the trip to Rogers Centre will be a special one for Eric Thames this week.
He get's another chance to show the Blue Jays they were fools for giving up on him at the trade deadline.
Thames went yard against the Jays in his first start as a Mariner, hopefully that magic can be continued this week.
4: Ack Attack up 1st?
This was the sight that cemented Felix's Pitcher of the Month for August (photo  Oakland Press
Eric Wedge has been heard saying that he thinks Dustin Ackleycan be used effectively in the 1,2, 0r 3 spots in this lineup in the future, but he is most surprised with his leadoff skills this year.
I look for Ackely to be the leadoff man come next April.
3: See, we are getting better
With less than a month to go in the 2012 season, the Mariners have already tied their win total from last year, giving hope to us fans that management does really have a plan to turn this team around.
67 wins is nothing to write home about, but there is only one way to go when you are in the basement, and that seems to be the case in point for the Mariners.
2: It's about time!
Feel good story time.
Luis Jimenez finally got to see his name on a big league lineup card after 13 years in the Minors.
Jimenez batted 8th as the DH, a night after making his MLB debut by popping up in a late inning at bat.
Congrats Luis! Hopefully this is a start of a great big league career!
1: September call-ups
It's that time of year again when the MLB squads get to expand, and the fans get to see some promise of the future.
Of course this time around, only two players who had never been up before were added, Carlos Triunfel, and Luis Jimenez.
Others that were added to the big league team were; Casper Wells, Mike Carp, Alex Liddi, Shawn Kelley, and Hector Noesi.
There you have it folks, another week in the books for the Mariners.
Tune in next week for some more insight and knowledge about you favorite big league ball club.
CLICK HERE CHECK OUT THE SEATTLE MARINERS CLUBHOUSE AT NWSB!
© Clinton Bell for North West Sports Beat, 2012. | Permalink | No comment |
Follow NWSB on Twitter or join US on Facebook for real-time updates OR... | Share This on Twitter | Share NWSportsBeat.com on Facebook
Post tags:
2012 MLB Season
,
2012 Seattle Mariners
,
David Letterman
,
Felix Hernandez
,
Jason Vargas
,
King's Court
,
M's
,
Mariners
,
Mariners blog
,
Mariners News
,
Moments In Time
,
My Oh My
,
Oakland A's
,
Safeco Field
,
seattle
,
Seattle Mariners
,
Seattle Mariners blogs
,
Toronto Blue Jays
,
Week That Was
Original Story:
http://www.nwsportsbeat.com/mariners/...
THE BACKYARD
BEST OF MAXIM
RELATED ARTICLES
Diamond in the rough It's hard to get excited about the Mariners after their seemingly playoff bound run has all but been extinguished. Thought's of '95 will have to remain in our fondest memory bank, as we look towards next season with the glimmer of hope that we actually are getting better. Record wise that is. A tough weekend series with Oakland didn't supply much on...
The Deal is Awesome! Here's Why… Words cannot express how excited I am to file this story under the category: "Seattle Supersonics." Let's break down the arena deal for the city of Seattle. 1. The Return of The NBA to Seattle Everyone's first thought. The Sonics left partially because Key Arena just couldn't cut it anymore, but now Seattle will be getting a brand spanking...
Seattle Mariners first baseman Justin Smoak didn't play Tuesday in Toronto, which is no surprise given that his average has been under .200 virtually the entire second half of the season. He's been out of the lineup three times in five games since Sept. 5, which is what happens when a middle-of-the-lineup hitter has a .189 average and a .312 on-base percentage in September...
The 2012 season has been better for Seattle Mariners veteran Kevin Millwood than his record -- 6-12 with a 4.25 ERA -- might suggest. He's been part of a combined no-hitter, and he has 14 quality starts among his 28 starts. However, given that the Mariners have a crop of pitchers rated among the best in baseball, the 37-year-old right-hander, who will be a free agent at season...
The structure of the Seattle Mariners' rotation, which was already in flux with manager Eric Wedge and pitching coach Carl Willis factoring recent call-ups Erasmo Ramirez and Hector Noesi into the puzzle, is up in the air. Kevin Millwood, who came out of Wednesday's game with shoulder tightness, isn't certain if he's going to be healthy enough to make a start next...
Kyle Seager homered and came within a triple of the cycle, Erasmo Ramirez pitched seven innings for his first major league win and the Seattle Mariners beat the Toronto Blue Jays 4-3 on Tuesday night. Starting for the first time since June 30, Ramirez (1-2) allowed two runs and six hits, setting down nine straight at one stretch. He walked one and struck out six. Four relievers...
North of the Border September 11-13 After being swept the Mariners (67-74) retreat North and take on the Blue Jays (64-75) who just  finished sweeping the Red Sox. The M's just need one more victory to surpass their winning record from last season. Pitching match ups: Game 142: RHP – Erasmo Ramirez vs. RHP – Brandon Marrow Matchup | Preview Ramirez gets a chance to make...
Miguel Olivo hit a solo home run, Kevin Millwood won consecutive starts for the first time since May and the Seattle Mariners beat the Toronto Blue Jays 3-2 on Wednesday night. Edwin Encarnacion hit his 39th homer, a two-run drive into the second deck, but it wasn't enough to keep Ricky Romero from losing his 13th straight decision. Millwood (6-12), who entered 1-6 in nine...
It's the little things that count, that matter, that build things up so that they can't be taken down. I mean, no one can stop an earthquake, or a tsunami, but bunts typically advance runners, having your manager reach your game on time is a plus, and strength and conditioning workouts in between rotations keep your pitchers fit. These "little things" were called into question...
Chris Hansen has a ticket to shop. His list is short: Find an NBA franchise willing to sell and bring professional basketball back to Seattle. Hansen, the investor trying to build a new arena, said Thursday that the league has been closely watching what's taking place in the Pacific Northwest and a renegotiated memorandum of understanding between Hansen and the city council...
Felix Hernandez lit up for third loss in a row Seattle Mariners 3, Toronto Blue Jays 7 When: 7:07 ET, Thursday, September 13, 2012 Where: Rogers Centre, Toronto Temperature: 73 degrees Umpires: Home — Jerry Meals, 1B — Scott Barry, 2B — Gary Darling, 3B — Paul Emmel Attendance: 13,756 Love 'em 1. Powering up The Mariners continue to flash strong power numbers away from...
MLB News

Delivered to your inbox

You'll also receive Yardbarker's daily Top 10, featuring the best sports stories from around the web. Customize your newsletter to get articles on your favorite sports and teams. And the best part? It's free!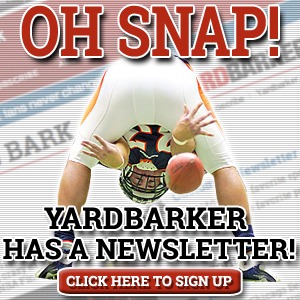 Latest Rumors
The Backyard

Today's Best Stuff

For Bloggers

Join the Yardbarker Network for more promotion, traffic, and money.

Company Info

Help

What is Yardbarker?

Yardbarker is the largest network of sports blogs and pro athlete blogs on the web. This site is the hub of the Yardbarker Network, where our editors and algorithms curate the best sports content from our network and beyond.