Found April 23, 2012 on Death, Taxes, and Rebuilding:
PLAYERS:
Josh Tomlin
,
Casey Kotchman
,
Jason Donald
,
Chris Perez
,
Michael Brantley
,
Jason Kipnis
,
Jack Hannahan
,
Nick Hagadone
,
Asdrubal Cabrera
,
Dan Wheeler
,
Justin Smoak
,
Dustin Ackley
,
Jesus Montero
,
Cliff Lee
,
Michael Pineda
,
Jesus Aguilar
,
Tony Wolters
,
Bryce Stowell
TEAMS:
Cleveland Indians
,
Seattle Mariners
,
Philadelphia Phillies
,
New York Yankees
Follow @ClevelandDTR
By: Eric Grinnell
The Indians just finished their road trip, where they were an impressive 7-2. On the week, the Tribewas 4-2 to put there overall record at 8-6, good for 3rd in the AL Central. There were lots of good things this week, so let's get to them!

1. I got on Josh Tomlin pretty good in last week's MMTT. I said that I was really worried about him due to his 2011 post-All-Star break traditional stats and 2011 full season advanced stats. But he pitched a hell of a game on Thursday against King Felix and the Mariners. Tomlin essentially matched King Felix, and went 8.0 strong innings, giving up 5 hits, 0 walks, 1 earned run, and striking out 7 (keep in mind the Mariners offense isn't all that bad anymore). Tomlin's performance kept the Tribe in the game and provided them the opportunity to win the game in the 9th. He got some help with some really nice plays by Casey Kotchman and Jason Donald, but overall, it was probably Tomlin's best performance since early April or May last season.
2. I also got on Chris Perez pretty good after his blown save on Opening Day. But Perez has been awesome since Opening Day. He's pitched 6.1 scoreless innings, only allowed 3 hits, 2 walks, struck out 5, and been a perfect 6/6 on save opportunities. His low K-rate is still a little concerning, but otherwise, Perez has been lights out.
3. In last week's MMTT, I wrote that I thought Michael Brantley looked a little lost with his approach. But I think he looked much better this week. He still takes a lot of pitches, some that seem very hittable, but that's his MO. But his numbers over the last week have been much better. In the last week, Brantley has hit .292/.346/.375/.721 with 2 doubles, 3 RBIs, and a stolen base. Overall, I think he is putting up much better at bats and I think we'll start to see his numbers come around in the next couple weeks.
4. One thing that I haven't heard many people talk about is that the Indians defense has been really solid. The stats don't really show it (the Indians rank 15th in the league with 9 errors, but the 7th team only has 7), but I think the defense has been really solid. There were multiple nice plays made on the road trip and I think many players have been really solid.
5. The first person that I think has been solid on defense is Jason Kipnis. Kipnis was seen as a question mark defensively coming into the season, but Kipnis has been solid. Kipnis has 1 error, a fielding percentage of .986, and a UZR of -.7. He's not going to make anyone forget about Robbie Alomar, but he has been solid and better than expected.
6. Casey Kotchman's defense has been as advertised. Kotchman has 1 error, a fielding percentage of .993, and a UZR of -1.2. Kotchman made several nice plays in the Mariners series. Although Kotchman has been pretty disappointing on offense, I can't say I have any complaints on defense.
7. I thought Jason Donald did a decent job filing in at shortstop this week. Again, Donald hasn't been amazing by any stretch, but he did a solid job. People have always questioned whether or not Donald could play short effectively, and while I don't think he could ever be a regular shortstop, I think he showed that he can play the position well enough to give Asdrubal a rest every week or so. Donald also had a couple nice plays against the Mariners, making a nice leaping catch and a nice play deep in the hole.
8. If there is one person that has been disappointing on defense so far it's surprisingly Jack Hannahan. Hannahan already has 4 errors on the season, and he only had 5 all last year. So Hannahan hasn't been his normal self. But luckily, Hannahan has been a monster on offense. He again had several clutch hits and still has a crazy line of .341/.429/.488/.916 with 1 homer and 11 RBIs. It's crazy to say, but I think Hannahan has been the MVP so far.
9. I was really impressed with Nick Hagadone. Hagadone got called up when Asdrubal Cabrera got put on the bereavement list, and pitched really well. In his 3 appearances, Hagadone allowed 2 hits, 1 walk, 1 earned run, and struck out 4 over 3.1 innings. Hagadone showed off his mid 90s fastball and impressive slider. I really hope the Indians keep Hagadone up and DFA Dan Wheeler once Asdrubal Cabrera comes back next week.
10. I was pretty excited to watch the Mariners and A's. I've always enjoyed west coast trips and I always love watching teams play that we only see 2 or 3 times a year. But this year, I was especially excited to see the Mariners. I wrote in My MLB Preview that the Mariners have a really interesting collection of young talent in Justin Smoak, Dustin Ackley, and Jesus Montero. Smoak was acquired from the Rangers in the Cliff Lee deal, Montero was acquired from the Yankees in the Michael Pineda deal, and Dustin Ackley was the 2nd overall pick in 2009. All were highly regarded prospects and are finally in the bigs together. After watching the 3 game series, the one thought I took away is that Montero needs to switch to DH. There have always been questions about his ability to catch throughout his minor league career, and boy did I see why in the series—Montero just did not look like a big league catcher. He didn't get in front of balls well, seemed like he got changed up with a few calls, and just didn't make simple catches that a big league catcher makes.
On the other hand, man are the A's bad. Their roster is honestly one of the worst I can remember in recent years. The only player that was exciting to see was Yoenis Cespedes. Cespedes was the Cuban defect that made a bunch of noise this past winter with his Crazy Promotional Video. The A's were able to sign him to a 4-year $36 million dollar deal. I was pretty impressed with Cespedes and look forward to seeing more of him.
11. One sad observation from this week's games was the poor attendance in nearly every game. Everyone knows that the Indians are struggling to get people into the stands, but we saw this weekend it is not just a Cleveland problem. In the 3 game series with the Mariners, the high attendance was 12,942 (on Thursday). In fact, the game on Wednesday had the lowest attendance (11,343) in Safeco Field history.
In the 3 game series with the Athletics, the high attendance was 25,000+. This isn't a bad number, but consider that these were weekend games. On Friday, attendance was only 14,000+. Oakland is pretty unique, because they have a notoriously awful stadium and a similarly awful team. But still, it is sad to see these numbers.
12. Last week I talked about a couple minor league players at Lake County and Columbus so I figured this week I'd talk about a few players at Carolina (A+) and Akron (AA). Most of the Indians big name prospects are at Lake County or Columbus, but there are still a few in Carolina and Akron. One of those names at Carolina is first baseman Jesus Aguilar, who is off to a great start. The Carolina Mudcats play in the Carolina League, which is know to be very pitcher friendly, but Aguilar has an impressive line of .353/.433/.529/.962 with 6 doubles and 1 home run. Aguilar also has an impressive walk to strikeout rate, 6:8. Aguilar really broke out in 2011, flashing a ton of raw power with the Captains, and it is really encouraging to see him start off well with Carolina. Another big name at Carolina is shortstop Tony Wolters. I rated Wolters as the Indians #9 prospect, but some have them as high as #3. Unlike Aguilar, Wolters is off to a slow start. Wolters has a line of .102/.159/.136/.295. Wolters spent all of 2011 at short-season Mahoning Valley, so the Tribe really challenged him by sending to Carolina. Wolters is still 19, and playing in A+ for a 19 year old is really a tough challenge. I have to imagine that if Wolters continues to struggle the Tribe brass will send him down to Lake County once short-season ball starts.
Akron is probably the weakest Indians minor league team. There are a few guys there that were once highly regarded prospects, but no one to get really excited about. But one of those once highly regarded prospect is off to a great start. Reliever Bryce Stowell was a big name back in 2010, when he blew through the Tribe system. Stowell has a live arm, and has even reportedly touched triple digits. But injuries led Stowell to a really disappointing 2011. But it appears Stowell is back. So far, Stowell has pitched 7.0 scoreless innings, where he's only allowed 3 hits. But what's really impressive, is that Stowell has struck out 15 and walked none. Look for him to be moved up to Columbus soon. Another once highly regarded prospect at Akron is Nick Weglarz. Weglarz was a fixture of Top 10 Indians Prospect lists the last few years. But constant injuries have really caused him to drop. Weglarz season so far has furthered the disappointment. He has an ugly line of .171/.293/.286/.579 with only 1 home run and 1 double. Weglarz also has an ugly walk to strikeout rate of 5:16. Weglarz is 24 and has spent time at Akron since 2009, so you really have to wonder if he's reaching the end of the line.
Follow @ClevelandDTR
Original Story:
http://www.ClevelandDTR.com/2012/04/2...
THE BACKYARD
BEST OF MAXIM
RELATED ARTICLES
It's easy to forget that Jack Hannahan is still a Major League Baseball player—at least in part—because of Gavin Floyd. Because until Floyd broke Jason Donald's left hand with a high-and-tight fastball on March 6 of last year, Donald was slated to be the Indians' bridge to Lonnie Chisenhall.  The best laid plans of Mark and Chris… Of course, even after Donald's injury...
The Cleveland Indians sent left-handed pitcher David Huff to Class AAA Columbus after activating him from the 15-day disabled list Sunday. Huff had been in Class AA Akron on a rehabilitation assignment. He was placed on the disabled list March 30 after sustaining a strained right hamstring. He made one start for Akron, throwing four innings and allowing one hit, one walk and striking...
Cleveland Indians pitcher Derek Lowe was a member of the 2004 Boston Red Sox team that won a World Series. Asking him to show you the ring might be a touchy subject today- "The Lee County Sheriff's Office is investigating the theft of a 2004 Boston Red Sox World Series ring and a gold World Series trophy from Major League Baseball pitcher Derek Lowe's Fort Myers residence...
When a team is locked in offensively, even when they go quiet for a few innings, you have an overwhelming feeling that they're just waiting for an opening to burst things wide open. The Indians had 10 hits in the first seven innings of this one with only two runs to show for it. But, in the turning point that was the eighth inning, Jason Kipnis had the biggest hit of the game with...
The Tribe offense was getting plenty of hits, but for the second straight night, they specialized in leaving guys on base. That is, until the eighth inning. The Indians broke this game open in the top of the eighth with a two-run triple by Jason Kipnis and a wild pitch which allowed him to score. Kipnis had four hits and drove in three runs. Four other Indians (Hafner, Donald, Choo...
A few weeks back we wrote about the contest they're having over at Uni Watch to re-name and re-brand the Cleveland Indians. The first batch of results was posted on Saturday and while one of the concepts is genuinely horrifying, folks have come up with some interesting ideas. Relatedly, some good work by Frowns regulars (including Kanicki and NeedsFoodBadly) and some other folks...
OAKLAND, Calif. (AP) -- Jason Kipnis drove in three runs and scored twice, Jeanmar Gomez pitched into the sixth inning for his first win of the season and the Cleveland Indians extended their best road trip in more than 20 years with a 5-1 victory over the Oakland Athletics on Saturday night. Jason Donald had two hits and also scored twice while Travis Hafner and Jack Hannahan added...
CLEVELAND (AP) -- Derek Lowe allowed one run over six innings and the Cleveland Indians handed the Kansas City Royals their 12th straight loss, 4-3 on Tuesday night. The Royals have been outscored 73-44 during the streak, which ties for third-longest in team history. They also lost 12 in a row in 1997 and 2008. Kansas City lost 13 straight in 2006 and had a team-record 19 consecutive...
They have been playing Seattle, Oakland, and Kansas City. Will they be able to play with the cream of the league: They still have to play Texas, New York, Tampa, and Detroit? The Angels who are coming up soon will be a major test. The Red Sox will not be down forever and the Orioles have gotten off to a good start. We like what we see so far with the Tribe. Time will tell.
Yesterday, UniWatch had their first post of submissions for their new running contest. Their goal is to find the most creative idea for name changes for two of the more ridiculed Native American-based team names in all of sports: The Cleveland Indians and The Washington Redskins. With 35 entries in all for the Cleveland baseball team alone (the first half were revealed yesterday...
Derek Lowe allowed one run over six innings and the Cleveland Indians handed the Kansas City Royals their 12th straight loss, 4-3 on Tuesday night. The Royals have been outscored 73-44 during the streak, which ties for third-longest in team history. They also lost 12 in a row in 1997 and 2008. Kansas City lost 13 straight in 2006 and had a team-record 19 consecutive losses in 2005...
A series against the Kansas City Royals provided just what the Cleveland Indians needed to break out of a slow start to this season and get some momentum going for a successful road trip. When they return home, the Indians will try again to add to the Royals' misery. Cleveland will seek its eighth win in 10 games Tuesday night by continuing its recent mastery of the Royals...
MLB News

Delivered to your inbox

You'll also receive Yardbarker's daily Top 10, featuring the best sports stories from around the web. Customize your newsletter to get articles on your favorite sports and teams. And the best part? It's free!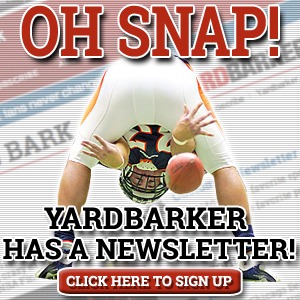 Latest Rumors
The Backyard

Today's Best Stuff

For Bloggers

Join the Yardbarker Network for more promotion, traffic, and money.

Company Info

Help

What is Yardbarker?

Yardbarker is the largest network of sports blogs and pro athlete blogs on the web. This site is the hub of the Yardbarker Network, where our editors and algorithms curate the best sports content from our network and beyond.