Found April 05, 2012 on Fantasy Baseball 365:
At this time, I would like anyone who thought Kyle Lohse would take a no-hitter into the 7th, raise their hand...I thought so. What else happened?
David Freese picked up where he left off in October getting 3 hits, 2 RBI and a run. He's a popular pick for sleeper at 3B this year, we just wonder if he can stay healthy.
Rafael Furcal got himself 3 hits, an RBI and a steal. It's a good start, but he's old. Despite the talent pool at SS, I wouldn't rush out and pick him up based on one game.
Josh Johnson gave up 10 hits in 6 IP, walking 2 and ringing up 4. Not great for the WHIP or ERA, but at least losses aren't usually a category in fantasy, right?
Looking ahead to the action tonight, we have seven games on tap. It's opening day again! Everyone is throwing aces on the mound so if you have a pitcher on your roster throwing tonight, start him, chances are he's a really really good player...except for Volquez.
Bos vs. Det - Lester vs. Verlander - Two of the top pitchers in the game facing off... two of the best lineups as well. 
ATL vs. NYM - Hanson vs. Santana - Hanson only threw 13 innings this spring, totaling 6 K's and walking 1. I haven't seen anything about a pitch count or innings limit for him to start the season. Santana, however, is on a 90 pitch limit for April. You can start both guys, but I wouldn't be surprised if the Mets came out with a W here. Hanson gives up a fair amount of fly balls, and while the Mets don't have household names, they certainly have guys that can drive the ball with shortened fences at Citi Field. The Mets also don't have to face Chipper Jones, who has killed them so badly over the years he named his daughter Shea.
PHI vs. PIT -
Halladay vs. Bedard - I like Bedard here. He isn't hurt yet, he has always been a god strikeout pitcher and without Howard and Utley, the Philly offense isn't scary. Halladay is Halladay... if you are questioning if you should be pitching him any time he starts you need to read more about this game...maybe you should follow us on twitter... @charliesaponara, @bchad50, @fbhotstove and @mattmcmillen365.
WSH vs. CHC - Straburg vs. Dempster - Once again, start both guys. Strasburg is on an innings limit, use him while you can. Dempster is a K machine, just make sure you also play some pitchers this week who can lower the inflated WHIP that accompanies each Dempster start.
TOR vs. CLE - Romero vs. Masterson - I would actually stay away from Masterson here. He was solid enough last year, but Toronto is coming out of spring tearing the cover off the ball. Masterson is more of a streaming option to me until further notice.
MIA vs. CIN - Burhle vs. Cueto - Buhrle isn't a guy that will win games for your team, but he isn't going blow up your ratios to make you lose it.
LAD vs. SD - Kershaw vs. Volquez - This is a dream game for Kershaw... big park, horrible lineup... as for Volquez, it's not gonna get any better for him unless he is playing the Astro's (he can't pitch against is own team...) If you have him and you aren't going to play him here, when will you?
Original Story:
http://www.fantasybaseball365.com/201...
THE BACKYARD
BEST OF MAXIM
RELATED ARTICLES
Opening Day 1.5 featured a one-game series with the defending world champs, the St. Louis Cardinals, and the league's latest makeover recipient, the Miami Marlins. Righty Kyle Lohse earned the Opening Day honors for the Cardinals on the merit of being not recently or presently injured, and much to the surprise of many, Lohse took a perfect game into the 7th inning. His line from...
MIAMI (AP) -- Kyle Lohse didn't allow a hit until the seventh inning and pitched into the eighth Wednesday night to help the World Series champion St. Louis Cardinals spoil the Miami Marlins' debut in their new ballpark, 4-1. The Marlins' new animated home-run sculpture never budged. It was the fourth inning before they managed a baserunner, and but the time they scored...
Every morning we recap the previous night's games, news and notes so that you are up-to-date on everything baseball. As always you can follow us on Twitter (@BaseballProf) and like us on Facebook to get updated, fantasy-relevant news, tidbits and analysis. 1. Kyle Lohse was masterful, taking a no-hitter into the seventh inning before surrendering a single to Jose Reyes. Lohse isn't...
MIAMI (AP) -- Kyle Lohse didn't allow a hit until the seventh inning and pitched into the eighth Wednesday night to help the World Series champion St. Louis Cardinals spoil the Miami Marlins' debut in their new ballpark, 4-1. The Marlins' new animated home-run sculpture never budged. It was the fourth inning before they managed a baserunner, and but the time they scored...
Kyle Lohse stole the spotlight from the opening of Marlins Park, holding Miami hitless for the first six innings as St. Louis won its season opener 4-1 on Wednesday. David Freese, the MVP of last season's NLCS and World Series, drove home two first-inning runs and finished 3-for-5 for the defending world champion Cardinals (1-0). St Louis banged out 13 hits, three from Rafael...
Well played, Kyle Lohse. Well played indeed. And doesn't this picker look like a dope. To pull up the old saw by the hemp rope, "That's why they play the game." If you count the two preseason games against the Yankees, the Marlins are now 0-3 in their new ballpark. That's not good. And what a drag that they didn't get to shoot off that home run contraption...
Friends, that was a surgical deconstruction of a Marlins team that isn't as bad as they looked Wednesday night. Kyle Lohse came out dealing and went 7 innings before giving up a run. David Freese shook off a poor spring for 3 hits and 2 RBIs. The bullpen got called on and delivered, including Jason Motte who has somehow gained a bit of velocity on his fastball during the off...
The sellout crowd in the Miami Marlins' new ballpark cheered the introduction of their starters, who were accompanied by women dressed as Latin showgirls. There was another roar for Muhammad Ali, who delivered the first pitch. Then Kyle Lohse and the World Series champion St. Louis Cardinals went to work, and the place grew quiet. Lohse held Miami hitless until the seventh...
St. Louis Cardinals third baseman and World Series MVP David Freese has seen an increase in popularity of his jersey as he ranks 20th in MLB among jerseys sold. - Photo courtesy of Getty Images Fresh off of his heroic and improbably post-season miracle and World Series MVP, St.  Louis Cardinals third baseman David Freese is seeing his popularity rise to an all-time high. Since...
Last night, the MLB officially kicked off the season....well, barring those two silly games in Japan last week. The Cardinals defeated the Marlins 4-1, with St Louis starter Kyle Lohse no hitting the hometown bunch through six innings. The Marlins would finish with just four hits, two by Jose Reyes, and no walks. Some initial thoughts from the first game at the new stadium... -Giancarlo...
MILWAUKEE (AP) -- David Freese hit a two-run drive for one of four St. Louis homers off Yovani Gallardo, and the Cardinals spoiled the Milwaukee Brewers' opener with an 11-5 victory on Friday. Yadier Molina, Carlos Beltran and Matt Holliday also connected for the Cardinals, who are in Milwaukee for a three-game series after opening with a victory over the Marlins in Miami on...
Our friends at A&E are expanding their Baseball's Greatest Games set to include a game near a dear to all of our hearts. From A&E: BASEBALL'S GREATEST GAMES: 2011 WORLD SERIES GAME 6 Bluray/DVD Combo Pack The St. Louis Cardinals thrilled Cardinal Nation with a game full of heart-stopping comebacks, including a spectacular 11th inning walk-off home run. Hometown hero...
MLB News

Delivered to your inbox

You'll also receive Yardbarker's daily Top 10, featuring the best sports stories from around the web. Customize your newsletter to get articles on your favorite sports and teams. And the best part? It's free!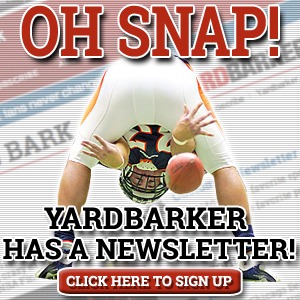 Latest Rumors
Best of Yardbarker

Today's Best Stuff

For Bloggers

Join the Yardbarker Network for more promotion, traffic, and money.

Company Info

Help

What is Yardbarker?

Yardbarker is the largest network of sports blogs and pro athlete blogs on the web. This site is the hub of the Yardbarker Network, where our editors and algorithms curate the best sports content from our network and beyond.