Found March 19, 2013 on Fox Sports Kansas City:
PLAYERS:
Luke Hochevar
,
Dayton Moore
,
Ned Yost
,
James Shields
,
Ervin Santana
,
Jeremy Guthrie
,
Wade Davis
,
Dave Eiland
,
Kelvin Herrera
,
Aaron Crow
,
Greg Holland
TEAMS:
Kansas City Royals
KANSAS CITY, Mo. If the Royals don't in fact trade Luke Hochevar before the regular season starts, they just might find that switching him to the bullpen was a move long overdue. Hochevar just might excel in his new role. To be fair, general manager Dayton Moore and manager Ned Yost didn't really have the option of switching Hochevar to the bullpen the past few years. Their starting rotation was so thin and weak, they virtually had to take a chance that Hochevar, a former No. 1 overall pick in 2006, would eventually live up to his potential. Now with a rotation bolstered by James Shields, Ervin Santana, Jeremy Guthrie and Wade Davis, the Royals have the luxury of placing Hochevar in a position where he actually might succeed. I've always thought that Hochevar was best suited for short relief, based on his history of overpowering opponents over short stints, then inexplicably losing it altogether during his characteristic blow-up innings. Consider that in his 128 major-league starts, Hochevar has had 33 innings in which he has given up four or more runs. Royals fans are all too familiar with this sequence: Hochevar looks like a Hall of Famer for three or four innings, overmatches his opponents, then unravels completely in devastating fashion. His last start of 2012 was a perfect example. He was cruising through four innings against Cleveland, allowing just one run. In the fifth inning, the Indians posted a "10" spot. That is, or was, Luke Hochevar. Now, however, Hochevar hopefully can condense his repertoire and simply focus on a few hitters each outing. Most observers have agreed that when Hochevar has gotten in trouble, it's when he tries to experiment with too many pitches. Pitching coach Dave Eiland told me that often in 2012, noting that by his count, Hochevar had up to seven different pitches he sometimes used. "I don't know many guys in this league who can have all of those pitches working on the same night," Eiland said. "Sure, once in a while you'll just have one of those dream nights, and they're all working, and you dominate. "But mostly, you'll be inconsistent. The best pitchers rely on their two or three best pitches, and then they bring out a fourth or fifth pitch only when they need it." This likely now will be Hochevar's approach out of the bullpen. If not traded, he'll likely join forces with Tim Colllins, Kelvin Herrera, and Aaron Crow to set up closer Greg Holland. Hochevar's presence in the back of the bullpen could strengthen an already deep and impressive unit. Hochevar can benefit by using the less-is-more philosophy. Eiland would love to see Hochevar stick with his fastball, curveball and sliderchange, and be in complete command of those pitches. Another potential bonus to Hochevar's new role is what often happens when starting pitchers transition into late-inning bullpen guys -- they pick up a few mph of velocity. This happened most noticeably with Herrera, who came up through the Royals' system as a starter. The Royals switched him full-time to the bullpen in 2011, and Herrera became a different pitcher. Herrera posted a 1.60 ERA in the minors that season with 14 saves. His velocity climbed to nearly 100 mph. "It was incredible," said assistant general manager J.J. Picollo. "He was a guy who threw in the low 90s as a starter. He got to the bullpen and he really let it rip. Suddenly he was hitting 100 on the gun." Hochevar has the arm and athleticism to do the same. His fastball now tops out in the 94-95 mph range. If he focuses on being a one-inning guy and therefore forgets about having to conserve his energy for six or seven innings, Hochevar could increase his velocity to perhaps the upper 90s. That could make a huge difference, and perhaps make Hochevar a dominating strikeout pitcher. The move to the bullpen, especially in a significant setup role, also could rejuvenate Hochevar's demeanor. Let's face it: Hochevar has taken a beating from the media and the fans over the last few years, and deservedly so considering he was a No. 1 overall pick. But too often we dismiss a player's mental makeup, and we simply assume players are always smiling all the way to the bank. Hochevar, by all accounts, is a good teammate who wants to help his team win, and he no doubt was bothered by the criticism. Now, Hochevar has a chance to join in the Royals' party for 2013, and do the one thing he has always wanted to do in Kansas City contribute.
Original Story:
http://www.foxsportskansascity.com/ml...
THE BACKYARD
BEST OF MAXIM
RELATED ARTICLES
by John Viril— The Royals sent pitchers Yordano Ventura and Will Smith to minor-league camp on Monday, leaving thing the no.5 rotation job between Bruce Chen and Luis Mendoza. While the competition is still officially continuing, I think the decision has already been made: Bruce Chen will be the no. 5 starter and Mendoza will become the long man. There are $4.5 million reasons...
KANSAS CITY, Mo. While it is certainly true that you can never have enough pitching, there are two other positions of need perhaps even harder to stockpile: Shortstop and catcher. "When we got here (in 2006), we didnt really have a single shortstop in the system we thought could help us at the major-league level," Royals general manager Dayton Moore said. "That...
Left-hander Will Smith and rookie right-hander Yorando Ventura, candidates for Kansas City's final rotation slot, were among seven cuts made by the Royals before Monday night's game against the Texas Rangers. Smith, 1-0 with a 1.64 ERA while holding opponents to a .179 batting average in four outings, was optioned to Triple-A Omaha. Ventura, a non-roster invitee who has...
Organizational Talent Rankings via Baseball America 2012 (3) | 2011 (1) | 2010 (16) | 2009 (11) | 2008 (24) 2012 Affiliate Records MLB: [72-90] AL Central AAA: [83-61] Pacific Coast League – Omaha AA: [58-81] Texas League – Northwest Arkansas A+: [66-74] Carolina League – Wilmington A: [68-72] Midwest League – Kane County (SAL Lexington beginning 2013) Graduated Prospects...
The whole process surrounding MLB teams and how they construct their team-specific Hall of Fame tends to be pretty arcane and arbitrary, but the Kansas City Royals look to have taken that to a whole new level with their voting process for their 2013 class. Today, they posted the Royals Hall of Fame ballot online so fans could vote on it via Twitter. As you might expect, things have...
SURPRISE, Ariz. (AP) -- Mike Moustakas keeps hitting home runs and the Kansas City Royals keep winning. Moustakas went 3 for 3 and homered for the second consecutive day to help Kansas City beat the Los Angeles Dodgers 7-2 on Wednesday. The Royals lead the Cactus League with an 18-6 record. "I'm just seeing the ball good right now," Moustakas said. "It's...
Mike Moustakas keeps hitting home runs and the Kansas City Royals keep winning. Moustakas went 3 for 3 and homered for the second consecutive day to help Kansas City beat the Los Angeles Dodgers 7-2 on Wednesday. The Royals lead the Cactus League with an 18-6 record. ''I'm just seeing the ball good right now,'' Moustakas said. ''It's still spring...
The Kansas City Royals would like to add a left-handed-hitting outfielder who could help spell Jeff Francoeur against tough right-handed pitchers, according to Ken Rosenthal of FOX Sports. It was reported earlier this month that the Royals were in the market for another outfielder, but it wasn't specified that they were hoping to acquire a player to help Francoeur...
Royals News

Delivered to your inbox

You'll also receive Yardbarker's daily Top 10, featuring the best sports stories from around the web. Customize your newsletter to get articles on your favorite sports and teams. And the best part? It's free!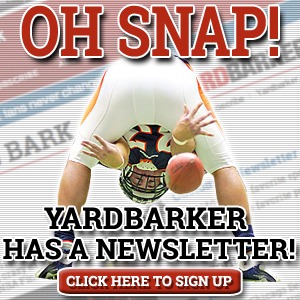 Latest Rumors
The Backyard

Today's Best Stuff

For Bloggers

Join the Yardbarker Network for more promotion, traffic, and money.

Company Info

Help

What is Yardbarker?

Yardbarker is the largest network of sports blogs and pro athlete blogs on the web. This site is the hub of the Yardbarker Network, where our editors and algorithms curate the best sports content from our network and beyond.