Found February 13, 2013 on NorthWest Sports Beat:
A Living Legend Edgar Martinez is, without one single doubt, my favorite player in any sport throughout history. Making his MLB debut just two years before I was born in 1989, I grew up watching the King of doubles over countless summer nights when he and a cast of Jay Buhner, Ken Griffey Jr., Joey Cora, Norm Charlton, and Randy Johnson propelled the Seattle Mariners to new heights. I even went so far as to emulate his batting stance during portions of my baseball career, earning the appropriate nickname of 'Edgar' when I would sometimes step up to the plate. Yes, it was indeed evident that Martinez was, by far, my favorite player to ever call himself an athlete. Over the course of his career, Edgar was a statistical monster. He played in a total of 2,055 games, collecting 2,247 hits in 7,213 at-bats while crushing 309 home runs and accounting for 514 doubles. Edgar also drove home 1,261 runs and even collected 15 triples and 49 stolen bases during his younger days. Edgar Martinez with long-time friends Jay Buhner, Dan Wilson, Randy Johnson, and Ken Griffey Jr. The awards that Edgar received throughout his career also paid tribute to how great and consistent of a player he was.  He won five Silver Slugger Awards (1992, 1995, 1997, 2001, 20013), seven American League Player of the Month awards (07/1992, 08/1992, 06/1995, 05/2000), and was elected to seven All-Star games (1992, 1995, 1996, 1997, 2000, 2001, 2003). The lifetime Mariner also racked in the most doubles in the league in 1992 and 1995 while taking home the Roberto Clemente Award in 2004, an award given to the player who "best exemplifies the game of baseball, sportsmanship, community involvement and the individual's contribution to his team". Edgar was the exact description of what it means to be both an athlete and a community leader. Always the most personable and caring athlete, it was hard to find anything wrong about this great individual. After his retirement in 2004 Major League Baseball decided to rename the Outstanding Designated Hitter Award to the Edgar Martinez Outstanding Designated Hitter Award, cementing him as one of the greatest DH's to ever play the game. Continuing our stroll down Edgar Martinez memory lane, here are my top 5 Edgar Martinez moments throughout his illustrious career. 5. The Retirement Trot Possibly the saddest moment in Edgar's career, his retirement was everything that it should have been. Though he would fail to collect a hit in his final game at Safeco Field in a 3-0 loss to the Texas Rangers, the emotions and atmosphere surrounding the stadium as Edgar took a final jog along the warning track felt as though he had won the World Series in stunning fashion for Seattle. I'll never forget the moment I saw Edgar running around Safeco Field, giving high fives and acknowledging the sellout crowd that had come to pay their respects to a Seattle legend. Added to the fact that it was the day before my birthday made this a very special event. 4. Edgar Takes Third for the Final Time Admittedly these first two posts are relatively sentimental moments. While Edgar's final game came on October 3, 2004, his last time playing third base–and the first time since 1997–came in the 9th inning of Seattle's game against Texas on October 2nd. While it was for just one pitch (curse you, Bob Melvin!), the symbolic move gave Mariners' fans a final chance to see their beloved player at the position he had originally played for Seattle (though he did see some brief time at first base as well). Crowds saluted Edgar with his signature "ED-GAR" chant that echoed throughout Safeco and even made him come out for a curtain call. 3. Any of the Commercials Watch any of the commercials Edgar was in and you'll instantly notice he was born for the camera as well.  2. First At-Bat How appropriate and ironic is it that Edgar's first at-bat resulted in a triple for the budding star. Though he would be sent back down to the minors and eventually sustain injuries that would place him in the DH spot, Martinez definitely had all the tools to be a great, well-rounded player from very early on in his career. Plus, this was the moment that started them all. 1. The Double The single greatest moment in Seattle sport's history. That is until the Mariners and Seahawks win their respective championships this year. Obviously. CLICK HERE CHECK OUT THE SEATTLE MARINERS CLUBHOUSE AT NWSB!
Original Story:
http://www.nwsportsbeat.com/mariners/...
THE BACKYARD
BEST OF MAXIM
RELATED ARTICLES
Who needs the Olympics? When the International Olympic Committee decided to vote baseball and softball out of the 2012 London games, the world baseball community was left in shock. Behind the scenes, though, the major world baseball powers were trying to organize a tournament to showcase all their talent. This began the World Baseball Classic. The WBC is a 16 team tournament where...
$175 Million. The Seattle Mariners walked through every door and jumped through every hoop that they had to.   By the end of last-minute elbow evaluations and the like, they ensured that their $175 million investment in pitcher Felix Hernandez was a wise one. On Wednesday both Hernandez and the team made the pact official and he is now the highest paid pitcher in the history...
It was the same old story in 2012 for the Mariners. Another season of major disappointment including an embarrassing 17-game losing streak and pathetic offense sparked something of a sea change in Seattle who come into 2013 with a re-configured ballpark and a re-stocked, hopefully, lineup. They are still stuck in the ultra-competitive AL West, but the M's think they might finally...
What else can baseball fans do in January but dream of October? In You May Say I'm a Dreamer, the Outside Corner staff will imagine the route to a World Series in 2013 title for all 30 teams. While a World Championship for the Mariners seemed like a tall order coming into the 2013 season, Jack Zdurencik's squad managed to achieve the impossible and not only win the franchise...
After hemming and hawing for a few days, the Seattle Mariners and ace right-hander Felix Hernandez have reportedly finalized the seven-year, $175 million contract the two sides essentially agreed to last week. Over the weekend it was reported that the deal was being held up because of concerns about the soundness of Hernandez's pitching elbow. The alleviate concerns about his arm...
An elbow "issue" was reportedly behind the delayed and ultimately adjusted agreement reached between the Seattle Mariners and right-hander Felix Hernandez. While this unknown ailment that was discovered during Hernandez's MRI following the initial agreement, the former Cy Young Award winner has now received a clean bill of health from team doctors, general manager Jack...
In the This Is My Nightmare series, we'll take a look at what the absolute worst case scenario for each team would be in 2013. Think of it as the negative complement to our You May Say I'm A Dreamer series that we'll be running during our preview series. It's actually pretty easy to envision a nightmarish season for the Mariners. This is a team that lost 87 games...
In Seattle, all eyes are (justfiably) always on Felix Hernandez. He's one of the best pitchers in baseball, he's close to agreeing to a huge contract extension with the team, and he's the face of the franchise. There's also a lot of attention being placed on new acquisition Michael Morse, former top prospects Justin Smoak, Dustin Ackley, and Jesus Montero, and on...
Ben and Sam preview the Mariners` season, and Pete talks to Seattle Times Mariners writer Geoff Baker (at 18:53).
• The 2013 Kate Upton SI swimsuit photos • 2013 SI Rookies: Get to know the girls • Gulp: Kate Upton nearly naked SI GIF • Buy 'Tebow for Pope' shirts • Otis Nixon running ATL jail scam? • 1-year, $175 million baseball contract • Chicks in lingerie battle Nemo blizzard • Canadian Model of the Day: Danielle   Blake Griffin Switches Hands Dunk of the Day Filed under: Daily Dump
The Seattle Mariners reached an agreement on what amounts to a seven-year, $175 million contract extension with right-hander Felix Hernandez last week. However, the deal was delayed when an elbow issue was discovered during an MRI taken on Friday. While the Mariners are seeking protective language in the agreement, a deal is "still on track" and may come in the next day or...
Finalizing his record extension with the Mariners hit a bit of a snag, but Seattle and Felix Hernandez have made their new pact official, guaranteeing King Felix $175 million over the next seven seasons in the Pacific Northwest. It seems risky to lock up so much money to a starting pitcher, but it's clear that Mariners GM Jack Zduriencik wants to make his ace the centerpiece of...
MLB News

Delivered to your inbox

You'll also receive Yardbarker's daily Top 10, featuring the best sports stories from around the web. Customize your newsletter to get articles on your favorite sports and teams. And the best part? It's free!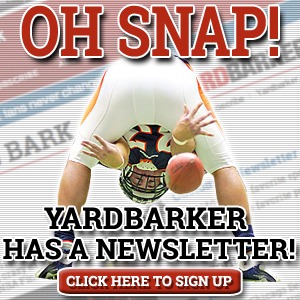 Latest Rumors
Best of Yardbarker

Today's Best Stuff

For Bloggers

Join the Yardbarker Network for more promotion, traffic, and money.

Company Info

Help

What is Yardbarker?

Yardbarker is the largest network of sports blogs and pro athlete blogs on the web. This site is the hub of the Yardbarker Network, where our editors and algorithms curate the best sports content from our network and beyond.