Posted October 04, 2012 on AP on Fox
PLAYERS:
Ozzie Guillen
,
Jose Reyes
,
Hanley Ramirez
,
Omar Infante
,
Anibal Sanchez
,
Heath Bell
,
Jeffrey Loria
,
Mark Buehrle
,
Justin Ruggiano
,
Donovan Solano
,
Adam Greenberg
TEAMS:
Miami Marlins
,
Chicago White Sox
,
Los Angeles Dodgers
,
Detroit Tigers
The nightclub near the Miami Marlins' bullpen drew capacity crowds. The fish tanks behind home plate, the Cuban sandwiches in the food court and the air-conditioned comfort under the retractable roof also won raves. The team? Not so much. While Miami's new ballpark was a hit this year, the ballclub was a flop. The Marlins rebranded their franchise, changing the name as they moved into a new home and raising hopes with an uncharacteristic spending spree. They failed to change their losing ways, however, leaving celebrity manager Ozzie Guillen's job in jeopardy after only one season. ''I want to be the manager here,'' Guillen said. ''Am I going to be? I don't make that decision. With the job I did this year, do you think I deserve to be back here? Of course not. But I'm not the only one. ... ''Let's start from the top. The front office failed, Ozzie failed, the coaching staff failed, the players failed, everybody failed.'...
Original Story:
http://msn.foxsports.com/mlb/story/My...
THE BACKYARD
BEST OF MAXIM
RELATED ARTICLES
THAT'S THE TOPPS
0-1, 1 Strikeout, 0.000 BA. That is how Miami Marlins one at bat pinch-hitter Adam Greenberg's Topps rookie baseball card will read on the back. Topp's announced on Wednesday that they will make a baseball card for Adam Greenberg. Their claim, "Adam Greenberg @Marlins embodies dedication, hard work & persistence." They also left out the [...]
MIAMI It seems the only argument about what sort of season the Miami Marlins had is which grading system to use. Marlins manager Ozzie Guillen was asked how he would rate the campaign. By numbers or by letters? he said. How about both? Letters, Z, Guillen said. Numbers, minus-0. We failed in every department. We failed. Very sad and very embarrassing and a very tough situation...
THE BELL TOLLS FOR THEE
Reports out of Miami indicate that Marlins owner Jeffrey Loria is under pressure from team executives to fire Ozzie Guillen after only one season.
It was brief, but it was oh so sweet. Arguably the most amazing strikeout of just about anyone's career, Adam Greenberg will remember Tuesday night for the rest of his life. After a seven-year hiatus, Greenberg was given the opportunity to dig back into the batters' box. A member of the Cubs seven years ago, Greenberg was drilled in the back of the head on the first pitch...
The Miami Marlins are rumored to be looking for Ozzie Guillen's replacement despite the fact he still currently holds the job.   Names that have floated around included Brad Ausmus, Mike Lowell, and Bo Porter before the latter signed with the Houston Astros.   One name that hasn't been mentioned is Jack McKeon and that is unfortunate as he may be the best man for the job...
Adam Greenberg's trek back to the major leagues will result in more than a recorded strikeout in the record books against R.A. Dickey. The 31-year-old Greenberg, who recently signed with the Miami Marlins to a one-day contract after his career was derailed in 2005 after being hit in the head with a pitch, struck out...Read the Rest...
A young fan made an impressive backhand catch of a foul ball with his glove as he leaned over a railing during Tuesday night's Miami Marlins game against the New York Mets. It happened in the ninth inning as Mets batter Jordany Valdespin hit a foul ball into the stands in short left field at Marlin Park. The young man reached over the nearby railing with his glove and made...
Back on Tuesday night, the catch of the night in Major League Baseball didn't come from player but from a 7-year-old boy attending the Miami Marlins/New York Mets game. Watch as he makes this insane over-the-railing backhanded catch: Your browser does not support iframes. (Courtesy of Bob's Blitz)
Things really are getting bad down in Miami. The Dolphins suck and the Marlins, at a record of 69-92, are a whopping 28 games behind Washington going into today's season finale. Fans gave up, Ozzie Guillen lost control and players mailed it in back in August. Last night, as Carlos Lee was trotting out to the field in the 9th inning, he went for a friendly fist pound with teammate...
Wednesday, October 3, 2012 • 4:10 PMMarlins Park • Miami, FLRHP Jeremy Hefner (3-7, 5.32) vs. RHP Tom Koehler (0-0, 5.40)The Mets end their 2012 season, for better or for worse, today in Miami. It's been an interesting ride and even though it has been exhausting for a while, there were moments of pure exhilaration and at the start of the season until June, there was a lot...
Adam Greenberg finally had his dream recognized with the Marlins in last night's 4-3 routing of the Amazin's. After years and years of perseverance, over 22,000 signatures, nearly 2,400 minor and independent league at-bats, Greenberg beat the odds for one one-day contract and a second chance at achieving his childhood dream: getting an at-bat in the big leagues.The left hand...
Ozzie Guillen may join Joe Girardi on the list of managers who lasted one year in Miami. According to ESPN's Buster Olney, the Marlins are "seeking a replacement" for Guillen, which would lead to Guillen's firing after just the first year of a four-year, $10 million contract. The Marlins finished 69-93 and in the National League East cellar, despite entering...
MLB News

Delivered to your inbox

You'll also receive Yardbarker's daily Top 10, featuring the best sports stories from around the web. Customize your newsletter to get articles on your favorite sports and teams. And the best part? It's free!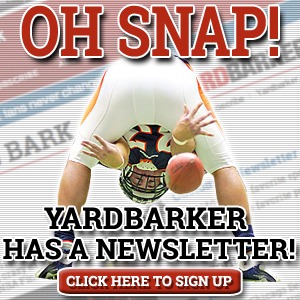 Latest Rumors
Best of Yardbarker

Today's Best Stuff

For Bloggers

Join the Yardbarker Network for more promotion, traffic, and money.

Company Info

Help

What is Yardbarker?

Yardbarker is the largest network of sports blogs and pro athlete blogs on the web. This site is the hub of the Yardbarker Network, where our editors and algorithms curate the best sports content from our network and beyond.