Found August 13, 2012 on The Nats Blog:
As of this writing, the Washington Nationals have the best record in baseball, and are the only team in the Major Leagues to reach the 70-win plateau. The squad is 4.5 games up on the Atlanta Braves, and Baseball Prospectus is predicting that there is over a 97% chance that the Nats will make the playoffs for the very first time in their history. Baseball fans in Washington D.C. are fixated on just that, the historic shift of their still young franchise from being a seller dweller to arguably the best team in all of baseball. Washingtonians are excited; they are coming to the park, and wearing their Curly "W" with pride.
The national media, however, seems to be fixated on a simple truth that Washington fans accepted as an inevitable occurrence back in March. Stephen Strasburg will be shut down sometime after he pitches about 160 innings, regardless of whether or not the team has a chance to compete for a World Series. ESPN, Yahoo! Sports, Fox Sports, and other outlets, however, have asserted that not only is the Nats' decision to shut down their hurler questionable (an arguable point), but also that Nationals fans should be outraged by the decision.
Take a look at this quote from ESPN's Stephen A. Smith on ESPN's First Take as transcribed by D.C. Sports Bog:
"I just don't know what's happened to the sport. I'm not in a position to argue about it. I just don't understand how these guys are so coddled, and the need to protect these guys. I know he's less than two years removed from Tommy John surgery. I understand that. I truly do. But I'm thinking about those paying customers."
"It's not like you've (The Nationals) been relevant any time before. And now the citizens of the nation's capital have got an opportunity to be competitive, and you're talking about taking this guy out? It makes me sick to my stomach. I almost feel like the fans are totally getting robbed here."
Personally, I have been very surprised to hear not only the national media, but many of out of town friends express how upset I must be at the team I love for making this decision. That Rizzo is somehow stealing something great from Washington for being responsible, and that the Nats aren't getting a fair shake and wasting a great opportunity. Many have hypothesized bogus tactics on how the team could conserve Strasburg, perhaps by shutting him down now and reviving him later, showing a complete lack of understanding of the principles of arm conservation. For whatever the reason, people outside of the beltway are outraged for us...
Perhaps its just me...but as someone who has a pretty tight pulse on the thoughts and emotions of Nationals fans, I have not felt or heard any of this rhetoric locally. In fact, it seems to me that most people in our nation's capital, while disappointed, have fully accepted the fact that Strasburg will in no way be part of Washington's push for a World Series in 2012. My personal feelings are pretty straight forward on the matter. It was decided, expressed and widely accepted before we knew that the Nats would be the best team in baseball that Strasburg would not finish out the season with Washington. Now that the Nats have a chance to win a World Series, only the unreasonable, as well as those who want to create ratings by concocting controversy, want the Nationals to change their strategic plans on one of their two most valuable assets as opposed to airing on the side of caution.
I polled my Twitter and Facebook following today and asked them their feelings on the matter. While only several dozen people answered, only two noted that they wished Washington would reconsider their decision. The others expressed both that they are confident in the team's rotation without Strasburg, and that since we knew this all along, we really are ready for it to happen. It was hardly a scientific poll, but it seems to me that Nats fans were prepared for this and have accepted it.
Does doing the right thing by benching Stephen Strasburg mean we won't win a World Series this season? It's possible. But those who have been paying attention each and every night to this team know that while Stephen Strasburg may be the sexiest name in Washington right next to Bryce Harper, the Nats are the best team in baseball not because of one absolutely electric arm. This is not a Justin Verlander situation where one stellar ace seems to be the pulse of a very good club. This is a wonderfully constructed TEAM that has great hitters one through nine, versatility in the field, and a starting pitching staff that even without its number one hurler is very likely the best in baseball.
Quite simply, no matter how great he is, this team is more than Stephen Strasburg. 
Yes, losing Strasburg does suck. But it's not a surprise, it's not overwhelmingly demoralizing, and for every single Washington Nationals fan that has tuned in this year, they know it is far from a death sentence. The Nationals are a team loaded with talent, and if they must go to the playoffs with a four-man rotation of Zimmermann, Gonzalez, Jackson, and Detwiler, I have no question whatsoever they have the ability to still win it all.
Original Story:
http://www.thenatsblog.com/2012-artic...
THE BACKYARD
BEST OF MAXIM
RELATED ARTICLES
MASN's F.P. Santangelo sat down with Strasburg, Gio, and Zimmermann in a segment that aired before last night's Nats-Giants game. All smiles. Video here. Go ahead, watch this thing; we dare you to try watch this without smiling. Here's the part about approaching Stras on the day he's pitching: Zimmermann: When Stras is pitching, like to stay away...Gio: Bring...
We've heard the rumbles regarding the innings limit that the Nationals have Steven Strasburg on. The whole idea sounds fine until you're in the thick of a pennant race. That's when you have to decide just how serious you are about keeping arguably your best pitcher on an innings limit. And with the Nationals leading the NL East and poised to make the playoffs, one would think...
Various scenarios have been mentioned regarding the Washington Nationals' plan to limit Stephen Strasburg's work load this season after undergoing Tommy John surgery in September 2010. It appears that now, according to MLB.com, that Strasburg will miss two or three starts at the end of the season based on the team's plan. Strasburg has thrown 133 1/3 innings this...
The Washington Nationals are in first place in the National League East with 45 games remaining in the 2012 MLB season. Entering play today, the Nats have a 4.5 game lead over the Atlanta Braves in the division, and stand a great chance at earning their first postseason berth since moving to Washington, even if they cannot hold onto the division and have to settle for...
On Aug. 15, the Washington Nationals woke up with the best record in all of Major League Baseball. They have one of the best starting rotations in baseball. Their lineup scores enough runs. In short, they have a chance to do some real damage in this year's playoffs. However, as everyone knows by now, there seems to be a real good chance that the Nats are going to have to chase...
The toughest decision facing any General Manager as the season winds down will be Mike Rizzo's decision of whether or not to shut down Stephen Strasburg, and if so, at what point.  Strasburg has been one of the best pitchers in the league to this point, putting up a 2.97 ERA, a 2.69 FIP, and a WAR of 3.7.  Unfortunately, he is also coming off of Tommy John Surgery, and at the...
Over the last week or so, the talk about Stephen Strasburg's innings limit has been talked about ad nauseum. The newest tidbit states that Nationals GM Mike Rizzo has vowed that he *won't* continue to let Strasburg throw once his innings limit is reached, playoffs be damned. The limit has also revealed at 180 innings, more than the 160 innings that were rumored before the...
As the world treats the ace like a business commodity, the true debate is lost.   It's the backyard, baseball fantasy for every boy that falls in love with the ball and the mound. It's the bright lights, the cold sweats of October, the pressure, the packed house, and the promise of a ring. It's the World Series. Every boy that dreams of pitching dreams of pitching on baseball's...
Nats players understand Strasburg's shutdown, aren't happy about it. [WaPo] Nats fans don't seem the least upset about Stras' innings limit. [Nats Blog] But what do Stephen A. Smith and Skip Bayless think about it?!?1?! [Bog] The Nats pounded the Giants, Vogelsong 14-2 in San Francisco. [WaPo] Jayson Werth is getting an MRI on his ankle today. [Nats Journal] Manny Machado...
Stephen Strasburg outpitched Tim Lincecum, Danny Espinosa hit a go-ahead two-run homer in the third inning and the Washington Nationals beat the San Francisco Giants 6-4 on Wednesday. One hitter Strasburg (14-5) didn't have to face: All-Star game MVP Melky Cabrera. He was suspended 50 games earlier in the day for a positive testosterone test. Jayson Werth drove in three runs...
sodahead.com     I have taken the point of view of not agreeing with the so called "babying" of pitchers now a days. I feel whole heartedly that the Nationals are doing an injustice to the game by choosing to shutdown ace RHP Stephen Strasburg in a pennant race. Using examples such as Strasburg and Yankees RHP Joba Chamberlain, its not like that approach worked as both pitchers...
MLB News

Delivered to your inbox

You'll also receive Yardbarker's daily Top 10, featuring the best sports stories from around the web. Customize your newsletter to get articles on your favorite sports and teams. And the best part? It's free!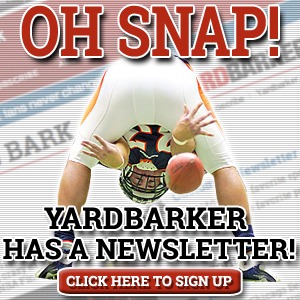 Latest Rumors
Best of Yardbarker

Today's Best Stuff

For Bloggers

Join the Yardbarker Network for more promotion, traffic, and money.

Company Info

Help

What is Yardbarker?

Yardbarker is the largest network of sports blogs and pro athlete blogs on the web. This site is the hub of the Yardbarker Network, where our editors and algorithms curate the best sports content from our network and beyond.