Found August 31, 2013 on Bush League Chronicle:
This season hasn't exactly gone as planned for the Washington Nationals.In 2012, the Nationals finished the regular season with the best record in baseball. With nearly every key piece returning from that squad, the Nationals were expected to post a similar record in 2013.Unfortunately, that hasn't been the case, and part of the blame has been directed toward young outfielder Bryce Harper.For example, bench coach Randy Knorr called out the 20-year-old phenom following Washington's 3-2 loss to the New York Mets Friday night by questioning his hustle, or lack thereof.Knorr was referring to a play in the bottom of the eight inning when Harper hit a weak grounder to second base and failed to run out the ball at full speed. Instead, Harper put his head down in disgust while jogging lightly toward first, only to have second basemen Daniel Murphy bobble the ball, and recover just in time to nip Harper at first base for the out."The thing about Bryce right now that's tough: He gets frustrated," said bench coach Randy Knorr, who had to take over for an ill Dave Johnson mid-game. "I don't think he does it intentionally, but he's gonna have to start picking it up a little bit, because we've got everybody else doing it. He gets frustrated at times and it just comes out of him. It's something we've got to fix.""It's hard for me to say," Knorr said. "I'm not 20 years old in the big leagues and all this stuff going on around me. Something that we've got to get to the bottom of and keep talking to him, because eventually we're just going to have to take him out of the game."The comments came one day removed after teammate Jayson Werth told reporters that he would really like to see Harper "focus in for a month and see what he could do." Harper noted the eighth inning play after the game by saying, "I guess I'll learn from it."There has been a lot of problems with the Nationals this year. However, Harper's refusal to run out a routine grounder at 100 percent is not the biggest. But it certainly seems like an issue and a player the media has choosen to fixate on.Via Hardball Talk
Original Story:
http://www.theblcblog.com/2013/08/nat...
THE BACKYARD
BEST OF MAXIM
RELATED ARTICLES
Up above, video of Bryce Harper's 2-run home run last night, which got the Nats started on their way to a 9-0 beatdown and series sweep of the Marlins. Below, a kid holding up a "BRYCESANITY" sign moments after Harper made his trip around the bases. That'll be on a t-shirt in 5...4...3...2... (Screencap via MLB.com/MASN video) Befriend Nats Enquirer on...
You have to love Bryce Harper. His team has not had the best of seasons. Yes, they've appeared to find their winning way late in the season, but with 30 games left they are still seven games out of the wildcard. It will take a lot of things falling into place for his team to make the post season. Is there a chance they make it? Yes. Is it likely? Well.... But that doesn...
Johnny Manziel made his much-anticipated return to the field on Saturday, and he didn't disappoint. Manziel managed to throw for 3 touchdowns in less than a half of play, and also taunted Rice with "show me the money" and autograph signing gestures. Of course, the extracurricular activities drew a lot of attention, as many fans were hoping that Johnny would just let his play...
This was Bryce Harper's 41st career big league big fly. The Wasghington Nationals are one of baseball's hottest teams. Bryce Harper is playing his best baseball of the season. Davey Johnson even cracked a few grins tonight. After what's been a season in quicksand, it's all good to see. Bryce Harper extended his hitting streak to 11 games with this home run off Tom Koehler...
Nationals outfielder Bryce Harper missed more than a month with left knee buristis earlier this season and it's possible it is still preventing him from playing at full speed. If things don't improve in the coming weeks offseason surgery could be an option according to Dan Kolko of MASN Sports. "[Surgery] was talked about a while back" said manager Davey Johnson...
Up above, Bryce Harper moments after his slow trot to first on his rally-killing ground out in the eighth inning last night against the Mets. Video here. And now it seems tha Harper, who earlier in the season was questioned for playing "too hard" after running face-first into that wall in LA (Charlie Hustle himself said Harper played "too recklessly") is having...
Bryce Harper was at the plate in the eighth inning with men on first and second and two outs in a one-run game. Jayson Werth, one of the hottest hitters in the majors for more than a month, was on deck. Nevertheless, Harper swung at an inside 3-0 pitch from Scott Rice and fouled it off. He swung again at 3-1 - ''probably ball four,'' he called it - and hit a grounder...
Bryce Harper was at the plate in the eighth inning with men on first and second and two outs in a one-run game. Jayson Werth, one of the hottest hitters in the majors for more than a month, was on deck. Nevertheless, Harper swung at an inside 3-0 pitch from Scott Rice and fouled it off. He swung again at 3-1 -- "probably ball four," he called it -- and hit a grounder...
Be careful, Washington Nationals fans. If you want Bryce Harper to stick around for the duration — if not the entirety — of his career, you might want to fill more seats at Nationals Park in the future.  OK, that's not a direct implication that Harper made when discussing recent attendance at Nationals home games with CSN Washington's Mark Zuckerman. But it's...
  Is baseball on the brink of seeing yet another massive mega deal transpire? Blame A-rod. Scott Boras is reportedly making a case for Bryce Harper to sign a 12-year deal. Harper, who is 20, would be locked with the team until his early 30′s. Washington Post reporter Adam Kilgore tweeted: Scott Boras at the yard today. He laid out a not-so-abstract case for the Nats signing Bryce...
Four outs away from being swept by an utterly depleted division rival the Washington Nationals may have saved any dying hope for their season. The Nationals topped the New York Mets 6-5 before a national TV audience on Sunday thanks to a dramatic comeback in the eighth inning that was capped by Jayson Werth's run-scoring double to right-center field. The rally hinged on a crucial...
MLB News

Delivered to your inbox

You'll also receive Yardbarker's daily Top 10, featuring the best sports stories from around the web. Customize your newsletter to get articles on your favorite sports and teams. And the best part? It's free!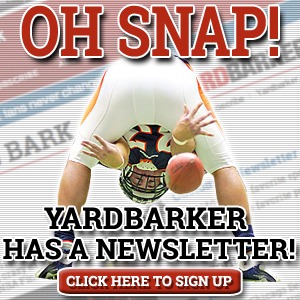 Latest Rumors
Best of Yardbarker

Today's Best Stuff

For Bloggers

Join the Yardbarker Network for more promotion, traffic, and money.

Company Info

Help

What is Yardbarker?

Yardbarker is the largest network of sports blogs and pro athlete blogs on the web. This site is the hub of the Yardbarker Network, where our editors and algorithms curate the best sports content from our network and beyond.