Found March 13, 2012 on The Nats Blog:
Washington Nationals pitcher John Lannan continues to be heavily mentioned in trade rumors across the league, and with good reason.  He's a lefty starter who can eat innings and be solid at the back of the rotation, and that's exactly why the Nationals shouldn't trade him... yet.
Lannan is essentially the only starting pitcher remaining on the Nats 40-man roster eligible to be sent down to Triple-A Syracuse.  Chien-Ming Wang likely has a lock on the fifth rotation spot with Ross Detwiler ending up in the bullpen, since he's out of options.  On the surface, it seems logical that Lannan would have to be traded considering he was the Opening Day starter for the Nats for two years, he's due $5 million this season, and the team doesn't have a spot for him on the big league club.  Not to mention trade rumors continue to swirl around the possibility of a Lannan trade from local and national media.
This may not be the best decision for the Nationals at this moment, though.  The Nats are entering their most promising season in team history, and it's largely due to pitching.  From top to bottom, the Nationals pitching staff, both in the rotation and in the bullpen, is one of the most impressive in baseball.  However, two of the big names in the rotation are still recovering from major surgeries.
Stephen Strasburg, the team's ace and one of the most heralded young pitchers in the game, is still less than two years removed from Tommy John surgery that sidelined him for a year.  Though GM Mike Rizzo says Strasburg doesn't have a set innings limit, it's safe to assume he'll be shut down at some point during the regular season.  Chien-Ming Wang is years from shoulder surgery in 2009, but the unique nature of the procedure still leaves some doubt in his future durability.
Those two pitchers have known injuries in the past, and you can add Jordan Zimmermann to that list, though by all accounts he is 100% this year.  Meanwhile, there's one inevitability in baseball: pitchers get hurt.  It may not be Strasburg or Wang, but at some point during the 162 game grind of the 2012 season, a starter is going to go down.  If John Lannan is sent down to Triple-A Syracuse, he will be a wonderful option for the team to call on in case of injury on the MLB roster.  At $5 million for next year, it's not the cheapest insurance policy in the world, but it's a better option than having no back up plan at all.
After losing Brad Peacock and Tommy Milone to the Oakland A's in the Gio Gonzalez trade, the Nationals starting pitching depth in the minors isn't quite what it used to be.  Detwiler could end up sliding into the rotation if someone goes down with an injury, but Lannan provides a little extra insurance that the team will need if they plan to push for a playoff spot this season.  It's easy to say "well he won't have an impact in April, so let's get something for him," but that's a mentality of a team that's not expecting to win.  Winning teams win not only because of top-of-the-line talent, but because of depth at every position.  At just $5 million per year, John Lannan could help provide that depth.  After all, pitching wins titles.
Original Story:
http://www.thenatsblog.com/2012-artic...
THE BACKYARD
BEST OF MAXIM
RELATED ARTICLES
MEAT OF THE ORDER
Nothing puts the stamp on legendary potential like having a burger the size of a fat newborn baby named after you. The Washington Nationals are pulling out all the stops in driving up attendance this season from the 'Take Back the Park' campaign, the #FUphilly campaign by local radio stations, and now the 'Eat this Gigantic Burger named After Stephen Strasburg so that...
The Red Sox are still trying to figure out who will be their fifth starter this season, but the Nationals' John Lannan might not be the guy. Despite a recent report stating otherwise, the team has not made an offer to the Nats for Lannan, according to WEEI.com's Alex Speier. This news comes on the heels of a report by ESPN's Jim Bowden that essentially stated Boston was...
Since moving over from Montreal, the Washington Nationals have not had a winning season. They have come close a couple times and are improving as of late, but they still leave a lot to be desired. Nationals fans are waiting on Stephen Strasburg and Bryce Harper to take over the franchise, but more often than not they leave the ballpark with an empty feeling in their stomachs. This...
Projected lineup SS - Ian Desmond 2B - Danny Espinosa 3B - Ryan Zimmerman LF - Michael Morse 1B - Adam LaRoche RF - Jayson Werth C - Wilson Ramos CF - Rick Ankiel/Roger Bernadina SP - Stephen Strasburg SP - Jordan Zimmermann SP - Gio Gonzalez SP - Edwin Jackson SP - Chien-Ming Wang CL - Drew Storen Five things to think about: - Nineteen-year-old super-prospect Bryce...
Rather than get hung up on a bad spring training start by Stephen Strasburg on Wednesday night against the Braves, let's focus on more positive things. Like, Bryce Harper returning to the lineup after spending time on the shelf with a left calf strain, and handling his surprise start in CF without incident (through six innings, anyway). Why CF, Davey? "He runs good. He's...
I don't know a lot about the Washington Nationals. That's a relative statement of course. I know alot more than the average person about the Washington Nationals. I know that they've been a mediocre team since the franchise moved from Montreal, never reaching the playoffs. I know that they just signed Ryan Zimmerman to a large contract extension that seems somewhat questionable...
The Nationals decided this afternoon to give two of their top prospects in big league camp a chance to get acclimated with the team's minor league program as they optioned starting pitcher Matt Purke and infielder Anthony Rendon. The team also removed seven other players from their spring roster, including Corey Brown, Jarrett Hoffpauir, and Sandy Leon. Bryce Harper, Washington...
VIERA, Fla. (AP) -- Washington right-hander Edwin Jackson struggled through three-plus innings Tuesday, and the Detroit Tigers defeated the Nationals 6-3. Jackson allowed four runs, two earned, while giving up five hits, walking two and striking out two in 3 1-3 innings. The two-run homer he gave up in the first inning to Detroit's Ryan Rayburn came with two outs, one batter...
As we approach the midpoint of spring training and cast a wanting eye towards opening day, it is probably fair to wonder about the status of currently unsigned free agents. One such free agent is future Hall of Famer Ivan Rodriguez, whose dalliances with the Mets a week or so ago proved fruitless, and thus may be pushing the legendary backstop towards retirement whether he wants...
With the 2012 MLB season on the cusp, here's a look at the Washington Nationals from an attendance perspective. 2010 Total Attendance: 1.82 million 2010 Average Attendance & Sell-Thru: 22,568 (54% of capacity) 2010 Record: 69-93, Missed Postseason 2011 Total Attendance: 1.94 million 2011 Average Attendance & Sell-Thru: 24,877 (60% of capacity) 2011 Record: 80-81...
Ryan Zimmerman homered for the second time this spring and added a double in the Washington Nationals' 8-4 victory against a St. Louis Cardinals split squad on Monday. Zimmerman is hitting .587 this spring, going 7 for 12 with three doubles. Nationals starter Jordan Zimmermann had a rocky outing, allowing four runs - including three in the first inning - seven hits and one...
While reading Tyler's post this morning on what if anything the Mets should do with Mike Pelfrey moving forward, I couldn't resist the temptation of comparing him to the National's John Lannan who is apparently available according to Danny Knobler of CBS Sports, yet too rich for the Mets taste which is rather unfortunate. Red Sox, Tigers, Astros among teams watching Lannan...
MLB News

Delivered to your inbox

You'll also receive Yardbarker's daily Top 10, featuring the best sports stories from around the web. Customize your newsletter to get articles on your favorite sports and teams. And the best part? It's free!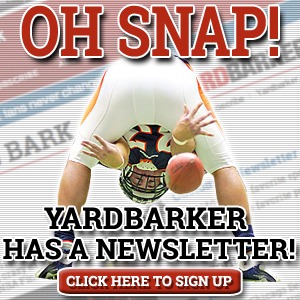 Latest Rumors
Best of Yardbarker

Today's Best Stuff

For Bloggers

Join the Yardbarker Network for more promotion, traffic, and money.

Company Info

Help

What is Yardbarker?

Yardbarker is the largest network of sports blogs and pro athlete blogs on the web. This site is the hub of the Yardbarker Network, where our editors and algorithms curate the best sports content from our network and beyond.