Found July 23, 2012 on The Nats Blog:
PLAYERS:
Stephen Strasburg
,
RA Dickey
,
Gio Gonzalez
,
Chris Young
,
Jordany Valdespin
,
Daniel Murphy
,
David Wright
,
Lucas Duda
,
Ramon Ramirez
,
Jordan Zimmermann
,
Jeremy Hefner
TEAMS:
Washington Nationals
,
New York Mets
,
Chicago Cubs
,
Atlanta Braves
,
Houston Astros
,
Los Angeles Dodgers
,
Kansas City Royals
Just like last week, the Washington Nationals (55-39) are gearing up to face the New York Mets (47-48) after finishing a four-game series split against a division rival to hang on to first place. And just like last week, the Mets are still in third place and in the midst of a terrible losing streak that has gotten even worse.
The Mets are on a serious downward spiral, and have little hope of breaking out of it this week if their record against the Nationals holds true. The Nats have taken six of nine from the Mets this season, and they won two of three when they last visited Citi Field in April. The Nationals are now at the 11-7 mark for July, and their offense has really come alive this month. With the way the Mets pitching staff has been struggling lately, they will need to really pull themselves together if they want to stand a chance at winning this series.
The Cruelest Month
Although it is said that April is the cruelest month, the Mets would argue that July holds that title. In July alone, the Mets have been swept by the Chicago Cubs, the Atlanta Braves and the Los Angeles Dodgers, and were nearly swept by the Nationals. They have won just four games out of  16 this month, and are 8.5 games behind the Nats.
The Mets' pitching has been mostly responsible for this slide, as they hold the third worst team ERA for the month (5.68). They have allowed their opponents to score seven or more runs nine times, and have the second worst WHIP so far in July (1.53). They have the third highest opponent batting average (.291), and have only converted one of four save opportunities. In almost every category, only the Houston Astros and the Kansas City Royals have been having worse months.
However, their lack of success hasn't been for lack of trying on the part of their offense; their pitchers have just dug them into holes they couldn't escape.
The Mets' offense has scored five or more runs eight times this month, and have only won three of those games. They have a team slash line of .281/.332/.439 for the month, and have scored 75 runs, all of which are in the top half of the rankings.  Unfortunately for the Mets' hitters though, they are scheduled to face the Nationals' three best pitchers.
Aces and Second Chances
All three of Washington's aces are set to start against the Mets this week. Two of the matchups will be exactly the same as in the last series, with Stephen Strasburg added to the mix on this trip.
Last time, the only Nationals loss to the Mets came in the form of an R.A. Dickey knuckle ball and a rare botched performance from Gio Gonzalez. Although Dickey emerged as the winner in the Mets' 9-5 victory, all things point to a better chance at beating him this time around.
First of all, Gio hasn't had a worse start this year, and it's doubtful he would have back-to-back face plants, considering his past performances and the fact that he has the third highest WAR in the National League (3.2 - Strasburg and Dickey are tied for second at 3.3). After some of Gio's worst outings, he has come back and dominated in his next one, and he is going to be raring to redeem himself when he gets back on the mound on Tuesday.
Secondly, Dickey didn't completely shut down the Nationals' offense last time they saw him. They put the ball in play ten times off him - Zim even homered -, but they left 12 guys on base in that game. The Nats know they can hit him (they are collectively batting .255 against him), so if they can tighten up their situational hitting, they have a good chance at preventing Dickey from becoming the first pitcher to reach 14 wins this season.
Worth Noting
- The Mets have lost both of the games Chris Young has pitched in against the Nationals this year, and the Nats are currently batting .286 against him.
- In 20 at bats, Strasburg has only given up two hits to the Mets this season, limiting them to a .100 batting average off him.
Who's hot?
Jordany Valdespin (2B) .500 AVG, .538 OBP, 1.000 SLG, 4 HR (July – 24 AB) – has moved his batting average up 77 points since July 1.
Daniel Murphy (2B) .444 AVG, .464 OBP, .667 SLG, 8 2B (July – 54 AB)
David Wright (3B) .323 AVG, .400 OBP, .615 SLG, 5 HR (July – 65 AB)
Who's not?
Lucas Duda (RF) .140 AVG, .260 OBP, .233 SLG, 16 SO (July – 43 AB)
Ramon Ramirez (RP) 5.23 ERA, .400 OBP, 9 BB, 1 L (July – 10.1 IP) – allowed five earned runs on five hits and three walks in 1.2 innings during his last outing.
Probable Starters
Jordan Zimmermann (7-6, 2.35 ERA) vs. Chris Young (2-4, 4.11 ERA)
Gio Gonzalez (12-5, 3.32 ERA) vs. R.A. Dickey (13-1, 2.84 ERA)
Stephen Strasburg (10-4, 2.85 ERA) vs. Jeremy Hefner (1-3, 5.85 ERA)
Original Story:
http://www.thenatsblog.com/2012-artic...
THE BACKYARD
BEST OF MAXIM
RELATED ARTICLES
Oh no, not another Joe D. game recap… Embrace the horror my friends. Nothing we do now will change anything. The time to strike was when the Mets were winning and they needed a general manager who could sustain that glorious run when the Mets never spent a day under ,500 and staked a solid claim on the National League Wild Card. You snooze, you lose. Sandman fell asleep at the...
"Ummm, hello there. Could you tell me….is this Kingsport, Tennessee?" Charlotte 11, Buffalo 0 By Connor O'Brien The Charlotte Knights beat the Buffalo Bisons last night by a score of 11-0. Matt Harvey took the mound looking to impress the big league club with a solid performance. Instead, Harvey had a very rough night. Harvey was decent early on, allowing only a first-inning...
The Mets announced that Matt Harvey will be on the taxi squad for tomorrows game, he will be activated on Tuesday, and will start Thursday's game against the Diamondbacks in Phoenix. Who Love's Ya Baby! Joe D Original Post 7/21 Many Mets fans who are anxiously awaiting for the team to promote pitching prospect Matt Harvey from Triple-A Buffalo to join the Mets rotation, may...
Congratulations to this week's MMO Player of the Week… Through the use of the scorecard, let's take a look at how Daniel Murphy did during the week ending Sunday, July 22nd: G AB H R 2B 3B HR RBI BB K AVG 6 21 13 4 6 1 0 3 1 1 .615 Murphy showed us again why he is a valuable piece to our club. Aside from David Wright he...
Matt Harvey (credits below) The Mets promote two young hurlers and a rookie has become the most consistent starting pitcher in Cleveland. SP- ZACH McCALLISTER (CLEVELAND)- The 6'6" 24 year old righty has been solid since he was recalled to the majors in late June. In his last five starts he is 3-1 with a 2.61 ERA. For the season Zach is 4-2 with a 3.21 ERA avearaging...
  The New York Mets entered Sunday's game having won one of their previous eight games since the ALl Star Game in Kansas City. The game made it tied into the top of the 12th inning tied at three until the Los Angeles Dodgers scored five times in the inning to win by a score of 8-3. With the loss the Mets fall below the .500 water mark for the first time in 2012 after starting...
NEW YORK -- One hit came after the other in the top of the 10th inning for Washington, suddenly leaving the New York Mets so far from a win it became hard to see how close they once had been. Just like the defeats that have piled up recently, Monday night's 8-2 loss to the Washington Nationals left the Mets trying to recognize the team that once threatened to challenge Washington...
They fought as they always do, but this time a ninth-inning rally to tie the game prevent an inevitable loss, or the humbling reality that came along with the defeat. The New York Mets, a feel-good, scrappy story throughout the first half, have fallen below .500 for the first time all season. The players were left grasping for answers after Sunday's 8-3, 12-inning loss to...
I think it's safe to say the Dog Days have arrived – that all-too-familiar time when one day runs into the next and it seems like no one has any energy. People get edgier this time of year, tempers shorten and frustration lengthens. If you're a fan of the Mets, the Dog Days started just before the All-Star Game. Talk about being edgy and frustrated… The Mets have returned...
Rick Ankiel is looking for a new home.  Should the Cardinals bring him back to help out in the outfield? -  (Photo credit: Wikipedia) Rick Ankiel and the St. Louis Cardinals have a very long and interesting past.  The once high-prized pitching prospect turned outfielder has one of the most interesting stories in the history of Major League Baseball and last week his story took...
The Mets look to return to the win column today as they take on the Dodgers for game three of the series. Yesterday's game was rather "blah" so no point in recapping it. Anyway, Niese gets the start today as he takes on Nathan Eovaldi of the Dodgers: Niese is 7-4 on the season with a 3.58 ERA over 18 starts and 110.2 innings of work. Jon rebounded really nicely in his last...
MLB News

Delivered to your inbox

You'll also receive Yardbarker's daily Top 10, featuring the best sports stories from around the web. Customize your newsletter to get articles on your favorite sports and teams. And the best part? It's free!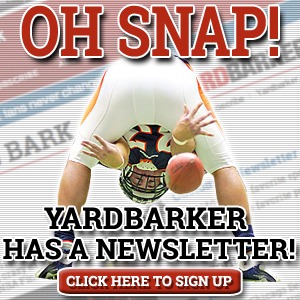 Latest Rumors
Best of Yardbarker

Today's Best Stuff

For Bloggers

Join the Yardbarker Network for more promotion, traffic, and money.

Company Info

Help

What is Yardbarker?

Yardbarker is the largest network of sports blogs and pro athlete blogs on the web. This site is the hub of the Yardbarker Network, where our editors and algorithms curate the best sports content from our network and beyond.