Found April 01, 2013 on The Nats Blog:
PLAYERS:
Logan Morrison
,
Mike Redmond
,
Ozzie Guillen
,
Stephen Strasburg
,
Kurt Suzuki
,
Wilson Ramos
,
Gio Gonzalez
,
Bryce Harper
,
Ricky Nolasco
,
Kevin Slowey
,
Jordan Zimmermann
,
Wade LeBlanc
TEAMS:
Washington Nationals
,
Miami Marlins
The Washington Nationals will open their highly anticipated 2013 campaign today at Nationals Park against the Miami Marlins, a team which is on the opposite end of the prognosticated success spectrum from the Nats. When Sports Illustrated elected the Nationals as its World Series victor, and nearly every other set of predictions has the Nats going nearly as far, it became expected that they will beat teams like Miami, which finished last in the National League East last year. However, the Nationals have a history of struggling against the Marlins. Since 2005, the Nats are 56-84 against the Fish (.392 winning percentage). They split 18 games evenly last season, and won six of nine at Nationals Park. This year's Marlins are rebuilding after trading in nearly their entire roster in exchange for prospects, while the Nationals are already built, and ready to win. So despite their past, there is no reason to think that the Nationals won't be able to finish this season with their first winning record against the Marlins since 2007. Marlins Makeover The Marlins that the Nationals will play today are a nearly unrecognizable version of the team the Nats faced last year. After an off-season fire sale, just one of the Marlins' Opening Day starters from last year is slated to start this season, and only two of last season's starters remain with the organization at all (Logan Morrison and Giancarlo Stanton). Talk about a makeover.  In addition to having an entirely different composition on the field, the Fish also have a new face in the dugout, with the addition of manager Mike Redmond. Redmond will take over for former-manager Ozzie Guillen, who was fired at the end of last season after serving for only one year in that role. This will be Redmond's rookie season as a big-league manager, as prior to 2013 the highest post he held was manager for the Blue Jay's Class A affiliate. Giancarlo: Marlins' MVP Almost everything about the Marlins has changed since last year. The one constant, however, is right fielder Stanton, who hit .405/.463/.919 with five home runs off Nationals pitchers last season. The 2012 All-Star had the highest slugging percentage (.608) and the second-most home runs (37) in the National League last year, and went 4-for-5 with two doubles and a home run off Stephen Strasburg. Any pitcher would be nervous to face him, but considering the caliber of the rest of the Marlins' lineup, pitchers have no incentive to throw the slugger anything good to hit. One National forecasted that Stanton would draw 160 intentional walks this year, as reported in The Washington Post. The Opening Battery It was no surprise to the baseball community when Davey Johnson announced Strasburg as his Opening Day starting pitcher. A bit more surprising, though, was whom he chose to put behind the plate to catch for him. Originally, Johnson had said he would start the season with Kurt Suzuki so Wilson Ramos could be eased back into the program after he sustained a season-ending knee injury last May. However, Johnson saw how much effort Ramos was putting into his extensive rehab, and decided to reward him with "a carrot for hard work" by giving him the Opening Day job. Johnson wants to alternate catchers every other day, so Suzuki is scheduled to catch for former-Oakland battery-mate Gio Gonzalez on Wednesday. Who's Hot? Giancarlo Stanton (RF) .359 AVG, .435 OBP, .718 SLG, 39 ABs (Spring Training) Who's Not? Adieny Hechavarria (SS) .183 AVG, .254 OBP, .283 SLG, 60 ABs (Spring Training) In The Zone Bryce Harper (LF) .478 AVG, .500 OBP, .716 SLG, 3 HR, 6 SB (Spring Training) Probable Starters 4/1, Stephen Strasburg vs. Ricky Nolasco 4/3, Gio Gonzalez vs. Kevin Slowey 4/4, Jordan Zimmermann vs. Wade LeBlanc
Original Story:
http://www.thenatsblog.com/2013-artic...
THE BACKYARD
BEST OF MAXIM
RELATED ARTICLES
In a stunning move, the Miami Marlins promoted highly touted pitching prospect Jose Fernandez to the Major Leagues on Sunday.   Final roster decisions were due to Major League Baseball this afternoon and the Marlins made a number of transactions including this one.   The need for Fernandez came about due to sudden injuries to Nate Eovaldi and Henderson Alvarez.  Both are expected...
The Miami Marlins caught fans offguard on Sunday when releasing their Opening Day roster. Among the roster of castoffs like Placido Polanco, Casey Kotchman, and Kevin Slowey, was a name that no one expected to see: pitcher Jose Fernandez. Fernandez was an early cut in Marlins camp, and the 2011 first-round pick was expected to start the year in AA after splitting 2012 between A-ball...
Tweet Washington Nationals outfielder Bryce Harper went into his rookie season as one of the most hyped prospects in almost a decade and backed it up with a solid rookie campaign. Harper appears to have picked up right where he left off, slamming a home run on each of his first at-bats in the Nationals [...]
Top pitching prospect Jose Fernandez was added to the Miami Marlins' roster Sunday, and he's scheduled make his major league debut next Sunday against the Mets in New York. The unexpected move comes because of injuries to right-handers Nathan Eovaldi and Henderson Alvarez. They had been announced as part of the rotation, but instead both will start the season on the disabled...
After a hard-fought, closely-followed battle, Bryce Harper beat out former relief pitcher Micah Owings for the starting left field position in Washington. Okay, Owings was never really in competition to take playing time from the reigning Rookie of the Year, Jayson Werth or Adam LaRoche — the three players in positions accessible to Owings's limited defensive upside. But here...
Bryce Harper's Monday afternoon: 1. Picked up the 2012 NL Rookie of the Year award. 2. Hit two home runs in his first two at-bats. 3. The first was caught by a Jayson Werth lookalike. 4. Squared to bunt in his third at-bat. 5. Did not get thrown at, somehow. 6. Kept Miami from scoring with his laser-rifle arm. Stephen Strasburg, by the way, was brilliant, giving up three hits...
For Bryce Harper, two homers in his first two at-bats, and even some ''M-V-P!'' chants. For Stephen Strasburg, 19 consecutive outs during one stretch of seven scoreless innings. And for the defending NL East champion Washington Nationals, a 2-0 victory over the Miami Marlins on Monday in Game 1 of a season lame-duck manager Davey Johnson declared months ago should...
Bryce Harper appears poised for a breakout season with the Washington Nationals in 2013, but he wants more than that. Becoming the face of one of the best young teams in baseball would be nice, but Harper wants to become the Tom Brady of the MLB. During an interview with the Washington Times on Sunday, Harper expressed a desire to be featured on magazine covers and be seen as more...
It's simple baseball logic. Batters who lead off will step up to the plate more and therefore have more opportunities to score runs. Last year leadoff hitters averaged 79 runs per 600 plate appearances, and only three players scored more than 79 runs and ranked outside of the top 200. That's because those three players – Dan Uggla, Adam Dunn, and JJ Hardy – combined to...
Photo: Philliedelphia/Frank Klose In a move to shore up the Phillies bench, the Phillies sent utility infielder Freddy Galvis to the Miami Marlins for utility infielder Greg Dobbs, according to various media outlets. The move gives the Phillies a veteran left-handed bench presence with some power. Galvis was expendable because...
Kiley calls up some video and a scouting reports from the 2012 minor league season on Marlins hot prospect Jose Fernandez. The 20-year-old Cuban-born righty was named to the Miami rotation today.
MLB News

Delivered to your inbox

You'll also receive Yardbarker's daily Top 10, featuring the best sports stories from around the web. Customize your newsletter to get articles on your favorite sports and teams. And the best part? It's free!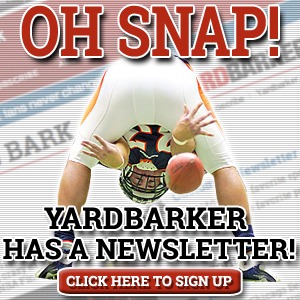 Latest Rumors
Best of Yardbarker

Today's Best Stuff

For Bloggers

Join the Yardbarker Network for more promotion, traffic, and money.

Company Info

Help

What is Yardbarker?

Yardbarker is the largest network of sports blogs and pro athlete blogs on the web. This site is the hub of the Yardbarker Network, where our editors and algorithms curate the best sports content from our network and beyond.