Found July 05, 2012 on MLB Buzz:
Mike Rizzo's Washington Nationals lead the National League East by 4-1/2 games, and he says he doesn't feel pressure to make a big move at this month's non-waiver trade deadline. "We're always looking to upgrade, if there's an upgrade we can make and it fits for us in the long term," the general manager said in an interview this week with FOXSports.com. "We're always looking long-term. We're never going to do a knee-jerk reaction to win now. "I'm not looking to do anything (at the moment), but we're certainly always open for ideas that would help improve the club." Given Rizzo's insistence on a "long-term" element in trades, the optimal rotation upgrade would be a pitcher under control for next season (like Matt Garza of the Cubs) or one willing to sign a long-term contract; it's unclear if Milwaukee's Zack Greinke, a prospective free agent after this season, is willing to do that. At present, the Nationals' seven-man bullpen includes only one pitcher – left-hander Michael Gonzalez – who has postseason experience. Closer Drew Storen, due to come off the disabled list after the All-Star break, has not pitched in the playoffs, either. It would appear the Nationals need at least one more reliever accustomed to big moments in September and October, but Rizzo said, "I like the depth and talent level we have in the bullpen. I think they're pretty battle-tested. I'm satisfied with the roster as it is, but you're always on the lookout." The Nationals have scored 69 runs over their past eight games – during which they are 6-2 – and Rizzo sounds (understandably) content with the state of his lineup. Rizzo said right fielder Jayson Werth is due to return from a broken left wrist at some point between the All-Star break and Aug. 1. "He'll be a big addition," Rizzo said. "He brings veteran stability and gives us a longer, deeper lineup. "These guys have grinded through the season. We haven't had our 3-4-5 hitters in the lineup (together) one game yet. We're looking to get some consistency from our middle lineup guys. It's been a work in progress. Zim (Ryan Zimmerman) is coming off the injury. Mike (Morse) is coming off his injury. They're finally getting past that spring training mode and hitting their stride. "Desi (Ian Desmond) has been a terrific piece for us, a guy we counted on coming into the season, a guy we thought would be a run producer. When we finally got him comfortable in that sixth spot, he's really taken off and become a clutch run-producing guy for us. "We feel good about the lineup. We're starting to swing it much better. When I look at my lineup, it's a two-way lineup. That's what we've been looking for here. It's athletic. They all play defense. The offense has finally started to catch up with athleticism and defense." -- Jon Paul Morosi
Original Story:
http://mlbbuzz.yardbarker.com/blog/ml...
THE BACKYARD
BEST OF MAXIM
RELATED ARTICLES
GOT HOSED
Nationals slugger Bryce Harper said if he wasn't a 19-year-old MLB phenom, he thinks he would have chosen to become a firefighter.
SWEET RIDE
Rookie phenom Bryce Harper is the owner of customized Mercedes Benz CLS that features his initials and the team's logo, among many other bells and whistles.
Above: Gio Gonzalez, Ian Desmond, and Rick Ankiel flash antlers at Adam LaRoche. More about the antlers at DC Sports Bog. "We're getting that sense that we're never out of it. Somebody new is going to come through every night." (Adam LaRoche, via Washington Post, 7/6/2012) Nationals 6, Giants 5: Nats rally, Buck Commander Adam LaRoche delivers the walkoff...
That's a clown pie, bro. Jayson Werth gave the 19-year-old a shaving cream pie to the face after the Nationals defeated the Giants 9-4 on July 4th. It's all fun and games right now in Washington as they have the best record in the NL and a  four-game lead in the East. The Nationals haven't seen this much potential since, I don't know, 1994 when the team was in Montreal...
CLOWN GESTURE, BRO
(Video above via @JakeRussell) Because nothing says "Fourth of July" like Bryce Harper in his official Under Armour "Don't Be a Clown Bro" t-shirt, getting a shaving cream pie in the face from Jayson Werth on MLB Network after the Nats beat down the Giants. (Screencap via @recordsANDradio) Befriend the Nats Enquirer on Facebook. Follow us on Twitter.
July 4th, 2012, and the Nationals have the best record in the National League? Happy 4th of July, indeed. Up above, (photo via @NationalsPR) a sampling of the patriotic gear the Nats are wearing for their 11 AM game this morning against the Giants... Befriend the Nats Enquirer on Facebook. Follow us on Twitter.
Bryce Harper debuted his new Under Armour "Don't Be A Clown Bro" shirt during a MLB Network post-game interview this afternoon, but that wasn't the real highlight. The original Nats bro, Jayson Werth, interrupted the interview with a shaving cream pie to Harper's face. Yes, Bro Harper got clowned by Bro Werth and Internet bros totally lost it. Who's rushing out to get...
The NL East-leading Washington Nationals haven't been this far above .500 since 2005. The Colorado Rockies are at their lowest point since that same season. Coming off an abbreviated outing, Nationals All-Star right-hander Stephen Strasburg will try to avoid losing three straight starts for the first time in Friday night's series opener against the visiting Rockies. Down...
Yesterday was pretty much the ideal 4th of July, other than I had to return to work today. And I didn't have even a drop of alcohol. One of the things that made it perfect was there was baseball on starting at 11:00 AM ET in the nation's capital. Bryce Harper, Mike Morse, Ryan Zimmerman (all fantasy teamers of mine) were destroying Madison Bumgarner (fantasy teamer I cut prematurely...
MLB News

Delivered to your inbox

You'll also receive Yardbarker's daily Top 10, featuring the best sports stories from around the web. Customize your newsletter to get articles on your favorite sports and teams. And the best part? It's free!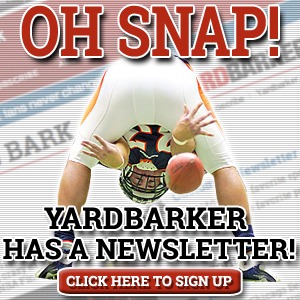 Latest Rumors
The Backyard

Today's Best Stuff

For Bloggers

Join the Yardbarker Network for more promotion, traffic, and money.

Company Info

Help

What is Yardbarker?

Yardbarker is the largest network of sports blogs and pro athlete blogs on the web. This site is the hub of the Yardbarker Network, where our editors and algorithms curate the best sports content from our network and beyond.