Found January 25, 2013 on The Nats Blog:
  Michael Morse has been traded since last time we spoke, so we talk about that and the implications of the trade. In the second half of the podcast, we hit on the recent NL East topics, including Justin Upton to the Braves and the Mets interest in Michael Bourn, the World Baseball Classic, and Danny Espinosa's insanely great beard. Also, we get a case of the giggles about half way through. Sorry about that in advance.  
Original Story:
http://www.thenatsblog.com/2013-artic...
THE BACKYARD
BEST OF MAXIM
RELATED ARTICLES
That impressive photo of Danny Espinosa's Beard posing with Danny Espinosa and his girlfriend @SarabethMosher at Ryan Zimmerman's wedding was discussed at length during Wednesday night's edition of Intentional Talk on MLB Network. And Kevin Millar pulled a Brent Musberger in the process, and revealed that Espinosa's girlfriend went as far to block him on Twitter earlier...
Justin Upton and B.J. Upton accomplished a rare feat last season when they both cracked their 100th career home run on the same night. If they repeat any milestones going forward, it could be while both wear the same uniform. The Braves and Diamondbacks have agreed to a trade that will send Justin Upton to Atlanta, according to CBSSports.com's Jon Heyman. Justin Upton will now...
Well, the Arizona Diamondbacks are getting what they wanted: a team full of gritty dirtballs. Theyve traded center fielder Chris Young, right-hander Trevor Bauer and right fielder Justin Upton, all for questionable returns. Now lets see if they can win a World Series with their curious emphasis on toughness over talent. Why even move Upton? That has been the question ever since...
The Atlanta Braves have acquired outfielder Justin Upton from the Arizona Diamondbacks. Atlanta and Arizona will exchange seven players. Arizona will recieve Martin Prado, Randall Delgado, Nick Ahmed, Zeke Spruill and Brandon Drury from the Braves. Atlanta will receive Chris Johnson in addition to Upton. Upton, 23, compiled a .289/.369/.529 line last season while hitting 31 home...
Photo by Michael BaronLet me start by saying that I think Michael Bourn aside from being left handed is exactly what the Mets need, a speedy lead-off  hitter who is a strong defensive center fielder. Not only would Bourn fill offensive and defensive holes for the team but he would also allow Ruben Tejada to move to a more natural position in the line-up.  Using Tejada as the lead...
One the Mets' most pressing needs are that of a legitimate leadoff hitter and centerfielder. So then it would make perfect sense for the Mets to make a run at signing Braves free-agent Michael Bourn. Obviously, the Mets have to upgrade the outfield if they want to piece together a somewhat competitive team in 2013. Lately there are reports that the Mets-despite what we have been...
The Phillies' division rivals have landed several big names this offseason already. While the Phillies have added Delmon Young and Michael Young, the Phillies have seen B.J. Upton, Rafael Soriano, Denard Span, and Adam LaRoche added to division rivals. The next one may be Justin Upton, whom the Arizona Diamondbacks...
The Mets want Michael Bourn, but not at the risk of losing their first round draft pick. No surprise there, but even if they could get MLB to protect their pick, are they suddenly going to splurge with the money it would take to sign the Scott Boras client? Or is this just another attempt to dupe fans into thinking that the Mets can still act like a big market team even though in...
Was I the only one who laughed a little and smelled a rat yesterday afternoon when ESPN's Jerry Crasnick perhaps sarcastically released a bit of information on free agent outfielder Michael Bourn's potential destinations via Twitter? "Rangers still seem like best fit for Bourn unless Boras can convince Mike Ilitch to sign him," Crasnick tweeted. Heh. Funny stuff. Ilitch always...
The Diamondbacks probably won`t pursue Rick Porcello, and Michael Bourn might have a pair of suitors.
According to what a source told Ken Rosenthal of Fox Sports, the Mets have sincere interest in signing free-agent outfileder Michael Bourn to a long-term deal, but that any deal will likely be backloaded. I thought that was something we were getting away from because it was hazardous to our health? Backloaded deals, future annuity payments, deferred salaries, lot's of the same...
MLB News

Delivered to your inbox

You'll also receive Yardbarker's daily Top 10, featuring the best sports stories from around the web. Customize your newsletter to get articles on your favorite sports and teams. And the best part? It's free!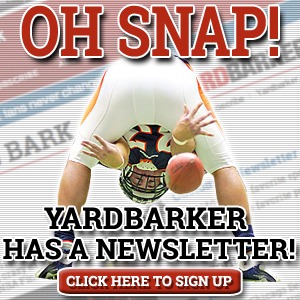 Latest Rumors
Best of Yardbarker

Today's Best Stuff

For Bloggers

Join the Yardbarker Network for more promotion, traffic, and money.

Company Info

Help

What is Yardbarker?

Yardbarker is the largest network of sports blogs and pro athlete blogs on the web. This site is the hub of the Yardbarker Network, where our editors and algorithms curate the best sports content from our network and beyond.