Found January 30, 2013 on World Series Dreaming:
PLAYERS:
Melky Cabrera
,
Alex Rodriguez
,
Bartolo Colon
,
Gio Gonzalez
,
Nelson Cruz
,
Michael Bourn
,
Alfonso Soriano
,
Theo Epstein
,
Scott Hairston
,
Dave Sappelt
,
Tony Campana
TEAMS:
Chicago Cubs
,
Toronto Blue Jays
,
New York Yankees
,
Oakland Athletics
,
Washington Nationals
,
Texas Rangers
,
Atlanta Braves
,
Houston Astros
Yesterday, the baseball world was rocked by yet another steroid scandal in baseball. Okay, maybe the baseball world was not rocked, as steroids have been a part of baseball since the early 1990s (if not well before) and will be for many years to come. The Miami based "anti-aging clinic", which has been nicknamed the East Coast Balco, supplied steroids to athletes from all sports, and even to athletes as young as High School age. At the moment, there are no Chicago Cubs on the list, at least not which have been revealed at the moment. There are some very familiar names on that list, such as Melky Cabrera, Alex Rodriguez and Bartolo Colon. All three of those men have been connected to steroid use. There was also a new name on their list, Washington Nationals pitcher Gio Gonzalez. As soon as the story broke, both Rodriguez and Gonzalez immediately denied the reports in an effort to start their defense case. Currently there have been no Cubs who have been said to be on the list; however that does not mean that this new story will not impact the team. One of the names that have been reported to be on the list is Texas Rangers outfielder Nelson Cruz. According to Jon Heyman, Major League Baseball will investigate these allegations, and if they are shown to be true, baseball will have just cause to suspend these players; even without a positive test. So how could this possibly involve the Cubs? If the is enough evidence for baseball to suspend these players, the Rangers will need an outfielder to replace Cruz for 50 games. While they likely have a few outfielders in their system that they can plug in for a third of the season, chances are none of their prospects will be able to give them the offensive boost they will be lacking without Cruz in their lineup. That leaves two options for the Rangers. They can either jump into free agency and sign Michael Bourn, or work out a trade with the Cubs for slugging outfielder Alfonso Soriano. If the Rangers decide to sign Bourn, they would have to give up their first round draft pick, as well as paying Bourn whatever he wants which last I heard was a deal worth $100 Million. That likely is a pipe dream for Bourn as I do not see his numbers making him worthy of such a pay day. However, desperate times call for desperate measures, and there is no telling what the Rangers might do with their backs against the wall. After all, they have the Anaheim Angels and Oakland Athletics to contend with. Not to mention the new members of the American League West to beat up, the Houston Astros. Bourn would be a fine addition to any team that needs an outfielder. If his asking price wasn't so high, and the Cubs didn't have Soriano, I would love to see the Cubs take a run at him. Speaking of not having Soriano though…. That leaves a much more sensible and cheaper move for the Rangers in what could be their time of need. The Cubs have gone on record several times saying they would be willing to eat the majority of Soriano's contract in a trade as long as they get some good prospects in return. The Rangers have a good farm system, and would likely be able to trade away one or two of them without even blinking an eye. The Rangers and Soriano have a past relationship, having spent some time as a Ranger previously, and in that ball park, Soriano's power numbers would skyrocket, or at least even out to what he was able to do this past season. Either way, the addition of Soriano would be a win for both the Rangers and the Cubs. At what he would cost, after the Cubs eat a large portion of his contract for the remaining two years, he would be a much better value than would Bourn. Signing Bourn would cost far more per year, for many more years as well as the more costly draft pick compensation. If I were Theo Epstein, I would make some preliminary phone calls to the Rangers to gauge their interest in making a possible deal. If a trade is made, not only would a spot be cleared on the 40 man roster for Scott Hairston, but the Cubs would also be able to keep both Dave Sappelt and Tony Campana; one of which will surely be designated for assignment soon to make room for the aforementioned Hairston.
Original Story:
http://worldseriesdreaming.com/2013/0...
THE BACKYARD
BEST OF MAXIM
RELATED ARTICLES
Jerome asks: Is there a chance that the Mets could check in on Cubs centerfielder Tony Campana? With Scott Hairston joining a crowded outfield situation in Chicago, Campana seems to be the odd man out now. Given the latest on the Michael Bourn front it seems unlikely that the Mets will sign him so why not go after Campana and add some speed and defense to the team via that route...
Social media is great; it has definitely changed the world. It is a great tool to connect with others, promote your business or stay up to date with your favorite athletes, but it can also get you in trouble. That's what happened last night, on Twitter, with Cubs OF Dave Sappelt. In case you don't have a Twitter account, or were out in the icy mess that occurred in Chicago trying...
Organizational Talent Rankings via Baseball America 2012 (14) | 2011 (16) | 2010 (14) | 2009 (27) | 2008 (18) 2012 Affiliate Records MLB: [61-101] NL Central AAA: [53-87] Pacific Coast League – Iowa AA: [72-68] Southern League – Tennessee A+: [59-74] Florida State League – Daytona A: [63-75] Midwest League – Peoria (Kane County beginning 2013) A(ss): [37-39] Northwest League...
Mark Grace ((azfamily.com)) What is that saying about "When it rains is pours"? Former Chicago Cubs and Arizona Diamondbacks player Mark Grace was sentenced to 4-months in jail Thursday afternoon as part of a DUI arrest plea agreement. It was not his first DUI. Grace, who summarily lost his job as an analyst with the Diamondbacks broadcast team after his...
Baseball Operations Position to Report to Assistant GM
Former Arizona Diamondbacks color commentator and Chicago Cubs first baseman Mark Grace has been sentenced to four months in jail following his second DUI arrest in a year. Grace took a leave of absence from the Diamondbacks in August following his arrest, and the team officially dismissed him and play by play man Daron Sutton after the season.  Grace's sentence also includes...
    Throughout the offseason, The Nats Blog will look back at every player's 2012 season to summarize and analyze his performance, and we'll look ahead to his possible role in 2013. We'll go from #1 Steve Lombardozzi all the way to #63 Henry Rodriguez until Spring Training. Enjoy. Edwin Jackson was an interesting case for the Washington Nationals in 2012. Signed...
MLB News

Delivered to your inbox

You'll also receive Yardbarker's daily Top 10, featuring the best sports stories from around the web. Customize your newsletter to get articles on your favorite sports and teams. And the best part? It's free!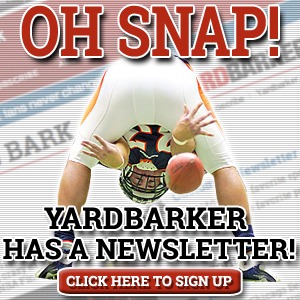 Latest Rumors
Best of Yardbarker

Today's Best Stuff

For Bloggers

Join the Yardbarker Network for more promotion, traffic, and money.

Company Info

Help

What is Yardbarker?

Yardbarker is the largest network of sports blogs and pro athlete blogs on the web. This site is the hub of the Yardbarker Network, where our editors and algorithms curate the best sports content from our network and beyond.