Found February 15, 2013 on On The Way Home:
PLAYERS:
Kevin Youkilis
,
Bobby Valentine
,
Alex Rodriguez
,
Curtis Granderson
,
Robinson Cano
,
Mark Teixeira
,
Travis Hafner
,
Brett Gardner
,
Ichiro Suzuki
TEAMS:
New York Yankees
,
Boston Red Sox
,
Chicago White Sox
Kevin Youkilis spent eight and a half years with the Boston Red Sox, and just because he signed a one-year/$12 million deal to join the Yankees for 2013, doesn't mean he'll forget about where he came from. "I'll always be a Red Sock; to negate all the years I played for the Boston Red Sox, and all the tradition, you look at all the stuff I have piled up at my house and to say I'd just throw it out the window, it's not true. Those were great years in Boston. One bad half-year doesn't take away from all the great years I had there." You can read the full story on ESPN.com right here. Youkilis quickly endeared himself to Red Sox Nation, as he appeared in three All-Star games while with the organization, won a Gold Glove award, as well as two World Series titles. Despite struggling in 2012 before getting traded to the Chicago White Sox (.233/.315/.377), his overall time in Boston was a successful one, as he put together a triple slash line of .287/.388/.487 in 3,352 at-bats, including 133 homers and 564 RBI. His style of play and passion for the game made him a fan favorite at Fenway, but Bobby Valentine and him weren't on the same page last season, which led to the end of his tenure there. However, I like how Youkilis is being up front with how he feels about his time in Boston, as there have been plenty of Red Sox fans that were disappointed to see him go to the "dark side" this winter when he agreed to a deal with the Yankees. He approached it the right way; he will always remember where he came from, but that doesn't mean he's going to live in the past, and he'll do everything he can to help his current team win. Although he won't put up numbers like Alex Rodriguez when he was healthy and productive, Youkilis can provide a boost for the New York lineup. As he was referred to in the movie, Moneyball, he's the Greek God of Walks, and his career .384 on-base percentage is proof of that. With hitters like Curtis Granderson, Robinson Cano, Mark Teixeira, and Travis Hafner in the lineup, he doesn't need to be a 30-HR threat. I anticipate Youk to hit 20 bombs in the hitter-friendly Yankee Stadium, driving in about 80, while compiling an OBP of about .350. He's a motivated player that loves playing in a big city and has an incredible desire to win, which will only be magnified on a one-year contract. So, it won't be A-Rod production, but the Yankees aren't asking for that from their new third baseman; he knows he just has to play his brand of baseball, and he'll fit nicely into a Yankee lineup that has a good mix of power and speed now with Brett Gardner and Ichiro Suzuki complimenting the aforementioned big boppers. Thanks for reading! To Follow Matt's posts at On The Way Home and Rising Apple, you can follow him on Twitter: @mmusico8. If you'd like to join On The Way Home as a staff writer, you can contact Matt at matt.musico8@gmail.com. The post New York Yankee Kevin Youkilis Won't Forget Time With Boston Red Sox appeared first on On The Way Home.
Original Story:
http://feedproxy.google.com/~r/wordpr...
THE BACKYARD
BEST OF MAXIM
RELATED ARTICLES
New York Yankees new third baseman Kevin Youkilis and pitcher Joba Chamberlain got together Friday in the Yankees' clubhouse to make sure everything was cool between them. "I said hi to Joba, we shook
When the Red Sox signed Shane Victorino this offseason, a buddy of mine sent me a text reading, "Enjoy three years of frustration with that guy."I've never watched Victorino play on a daily basis, but I think I have a good idea what my Phillies friend means. In two of the last three years, Victorino has failed to bat .260 or post an OBP of .330. While he doesn't strike out...
MARIANO THE MAVERICK
Despite suffering a knee injury last season while doing the very same thing, Yankees closer Mariano Rivera says he still intends to shag fly balls in the outfield.
Shane Victorino wasn't even wearing a Red Sox uniform during the 2012 season, but he says he's already tired of hearing about last year in Boston. To be sure, much of the talk surrounding the Sox is how they'll be able to bounce back after a disappointing campaign, but with the positive attitude of Victorino, things are bound to get better. The Red Sox' new right fielder...
To say that New York Yankees pitcher C.C. Sabathia is a rather rotund individual wouldn't be far from the truth. Back in 2011, C.C. claimed that he lost 25 pounds after cutting out the popular breakfast cereal "Captain Crunch" from his diet. The fine folks over at the New York Daily News covering Yankees spring training noted that C.C. had lost some weight and...
It's been nearly nine months since Mariano Rivera tore his ACL shagging fly balls during practice in Kansas City and, if his injured right knee is as up to snuff as his attitude, fans need not worry about seeing No. 42 shattering bats again this season. Wearing a "small, light brace" over the knee, the future Hall of Famer showed off for reporters by throwing 25 bullpen...
The New York Yankees currently have six starting pitcher candidates for five rotation spots, but this hasn't stopped them from keeping tabs on free agent right-hander Chien-Ming Wang, according to George A. King III of The New York Post. Yankees general manager Brian Cashman hasn't had contact with Wang's representation, but New York will send scouts to watch Wang...
The New York Yankees and their fans are eager to see Michael Pineda pitch.  The 24-year old was acquired prior to last season from the Seattle Mariners in a trade that sent Jesus Montero to Seattle.  Pineda then promptly began having shoulder issues and was shut down for the entire 2012 season.  He still won't be ready for the start of this season, but it looks like he could...
The Red Sox have a steep hill to climb in 2013 if they want to reclaim their throne atop the American League East. Coming off a 93-loss season, the Red Sox know they have their work cut out for them. The division has only gotten tougher with the additions made up in Toronto, and a hungry Baltimore team showed it won't be a pushover by making it all the way to the Divisional Series...
It doesn't get much better than this as the 2013 Red Sox take the field for the first time at JetBlue Park. This means that spring training has "officially" begun, and we (Red Sox Nation) can start to analyze players, schedules and possible organizational pitfalls - like any good Red Sox fan would. Let's not get ahead of ourselves though. The Sox look a bit fragile (at...
1. Youkilis is a Bidenesque, merry old spirit, and what a delight it is to have him in pinstripes!2. Michael Pineda is still alive.3. Jeter can now run in every direction.4. This might be Mariano's final season.5. Those young Yankee prospects bring hope for the future.6. Everybody has lost weight and looks in the best shape of their careers.7. Joe Girardi will have some tough...
Any viewer joining Jerry Remy and Don Orsillo on a Red Sox broadcast knows that the former second baseman likes to have a fit of laughter every once and a while. They just might not expect to encounter one of the classic giggle fits during a call to customer service. During a stop on the NESN Tour this Wednesday, the RemDawg helped field customer support calls at Comcast offices...
MLB News

Delivered to your inbox

You'll also receive Yardbarker's daily Top 10, featuring the best sports stories from around the web. Customize your newsletter to get articles on your favorite sports and teams. And the best part? It's free!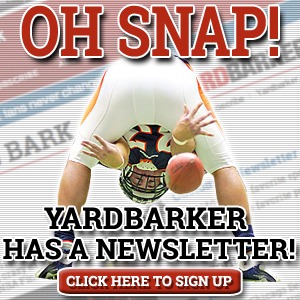 Latest Rumors
Best of Yardbarker

Today's Best Stuff

For Bloggers

Join the Yardbarker Network for more promotion, traffic, and money.

Company Info

Help

What is Yardbarker?

Yardbarker is the largest network of sports blogs and pro athlete blogs on the web. This site is the hub of the Yardbarker Network, where our editors and algorithms curate the best sports content from our network and beyond.