Found April 03, 2013 on Raise the Jolly Roger!:
After yesterday's lame off day (always built in the day after the opener in case it rains), the Bucs are back in action tonight at 7:05. First, though, some quick notes: NUTTING The Trib did an interesting interview with former Pirates minority owner Jay Lustig. Lustig opines that Nutting is "too rational," saying that he puts as much money as he can in to the team while keeping it profitable. According to Lustig, no small market team can win without losing money–which isn't quite true (Oakland, Tampa, and a few others have pulled it off, and the Pirates nearly did so last year) but his point is that the Pirates are and pretty much always will be at a significant financial disadvantage. Lustig also expressed a desire for Nutting to sell the Bucs to some multi-billionare that would use personal finances to help the team, but that doesn't seem very realistic. This isn't groundbreaking info (we're well aware of the fact that the Pirates have to outsmart other teams instead of outspend them), but it's an interesting perspective nonetheless. COLE This tweet raised a few eyebrows in Pittsburgh: Opening Day in Indy won't be Cole vs Bauer. Cole's being matched up with 5 starter for Pittsburgh, which says he won't be around long. — Will Carroll (@injuryexpert) April 2, 2013 That could be a coincidence, but it's certainly encouraging for those that want to see Cole in the Burgh ASAP (and that group will grow quickly if Jonathan Sanchez pitches like we expect him to). Cole will have to do well in Indy to make this relevant, but if he does, the Bucs could probably call him up as soon as May while still maintaining his extra year of control if they'd be OK with him achieving Super Two status (which would give Cole four years of salary arbitration instead of three). Indy's opening day is tomorrow, and we'll certainly be keeping a close eye on Cole every time he takes the mound. Other notes: The Bucs lost minor league pitcher Hunter Strickland to the Giants via waivers. Strickland was DFA'd when Jonathan Sanchez was added to the roster. Here's a great collection of jerseys spotted at the opener on Monday.  The Pirates will have a bit more than $8.8 million to spend on this year's draft, which ranks 5th (because they have the 9th and 14th picks).
Original Story:
http://feedproxy.google.com/~r/RaiseT...
THE BACKYARD
BEST OF MAXIM
RELATED ARTICLES
Last season the Pittsburgh Pirates finished last in the National League with 73 stolen bases. Andrew McCutchen led the club with 20 stolen bases, but that was down from 23 in 2011. So far this season, McCutchen has two stolen bases in as many games and said being more aggressive while on base has been a point of emphasis for him entering the 2013 season. Andrew McCutchen has two...
Today is Opening Day for the 2013 Minor League Baseball season. All four full-season Pirates affiliates play this evening, and the starting pitchers can be found on the daily schedule. This week we've been previewing the four affiliates who will be starting their season, along with some analysis for each level of the system. The links to all of those write-ups can be found below...
On Opening Day the Pittsburgh Pirates offense could not get anything to go right, spoiling a 10-strikeout performance by starting pitcher A.J. Burnett. Wednesday the team got another stellar performance from its starting pitcher and this time the bats did just enough to push Pittsburgh to their first win of the season. Wandy Rodriguez allowed just two hits in 5 2/3 innings and got...
Pittsburgh Pirates manager Clint Hurdle addressed the status of several of the team's injured pitchers prior to today's game against the Chicago Cubs. Francisco Liriano threw off a mound yesterday and Charlie Morton threw a simulated game today, Hurdle said. "All our guys are making progress," he said. Jeff Karstens is still nursing an inflamed right shoulder. Hurdle said...
Gregory Polanco (left) and Alen Hanson (right) will try to repeat their 2012 seasons at the next level, and eventually try to make the successful jump to the upper levels. Today I previewed the 2013 Indianapolis Indians and Altoona Curve. Tomorrow I'll go over the Bradenton Marauders and the West Virginia Power. In writing the previews, there's one thing I noticed about the talent...
The 2013 minor league season begins on Thursday. In the days leading up to the opener, I will be previewing the full season affiliates of the Pittsburgh Pirates. Here is a look at the 2013 Indianapolis Indians, who will feature top prospect Gerrit Cole on their Opening Day roster. Lineup C – Tony Sanchez 1B – Matt Hague 2B – Ivan De Jesus Jr. SS – Jordy Mercer 3B – Jared...
Yesterday was Opening Day of the 2013 Pittsburgh Pirates minor league season. All four full-season affiliates opened their schedule  last night and all four ended up on the losing end. Tonight marks the season debut for top prospect Gerrit Cole, but he isn't the only interesting pitcher going today. Nick Kingham and Clay Holmes will also get their first start today, they were...
AJ Burnett pitched well and lost in the first game of 2013. Wandy Rodriguez pitched well in the second game and won. The most important pitcher in the rotation for the season's first two months is not Burnett, nor is it Rodriguez. It's today's starter, James McDonald. McDonald had a Jeckyll and Hyde 2012 season with an All-Star worthy first half and a brutal second half...
Cubs (1-0) at Pirates (0-1) 7:05 PM–PNC Park, Pittsburgh MLB.com Gameday TV: ROOT The Bucs look to break into the win column tonight as they take on the Cubs in the first night game of the season. Attendance will certainly be down quite a bit compared to Monday, but the team is trying its best to attract fans by maintaining this annual tradition: Coming down to PNC tonight? Remember...
I know that this is a bit of a leftover from the really bad times of being a Pirate fan, but whenever the Pirates start out the season 0-1 there's a voice in the back of my head that says, "If the Pirates can't win this game, they might never get to .500 again!" I don't really think that's true this year (nojinxnojinxnojinx), but the voice is still there...
The list of things that I don't really understand in baseball is infinite, but somewhere near the top of it is this: the veteran pitcher who's out on the mound and not quite pitching like himself, but still has things so completely under control that you never really doubt him. That was Wandy Rodriguez on Wednesday night against the Cubs. Rodriguez is mostly a ground ball...
Last night was a good night to be a Pirates fan.  Two hits! Shutout!  Scoring more than a run!  Frankly I can't think of too many awful things from last night. As you guys know, when a Pirates fan has very few awful things to talk about it was a good game. One awful thing…
Pirates News

Delivered to your inbox

You'll also receive Yardbarker's daily Top 10, featuring the best sports stories from around the web. Customize your newsletter to get articles on your favorite sports and teams. And the best part? It's free!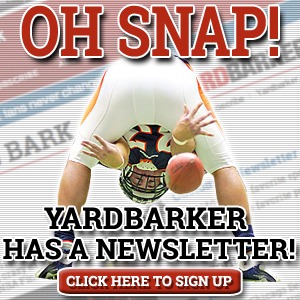 Latest Rumors
Best of Yardbarker

Today's Best Stuff

For Bloggers

Join the Yardbarker Network for more promotion, traffic, and money.

Company Info

Help

What is Yardbarker?

Yardbarker is the largest network of sports blogs and pro athlete blogs on the web. This site is the hub of the Yardbarker Network, where our editors and algorithms curate the best sports content from our network and beyond.