Found February 04, 2013 on Boston Sports Then & Now:
PLAYERS:
Jon Lester
,
Clay Buchholz
,
Ryan Dempster
,
Felix Doubront
,
John Lackey
,
Joel Hanrahan
,
Andrew Bailey
,
Koji Uehara
,
Alfredo Aceves
,
Junichi Tazawa
,
Clayton Mortensen
,
Andrew Miller
,
Craig Breslow
,
David Ross
,
Ryan Lavarnway
,
Jarrod Saltalamacchia
,
Mike Napoli
TEAMS:
Boston Red Sox
,
Boston Bruins
,
Texas Rangers
Lester and Lackey Beyonce's thigh shaking has ended. One of the Harbaugh brothers beat the other. Stats "after the power outage" are in the books. The Super Bowl is over and now I can start to think about Major League Baseball. Breathe. It is true that I love hockey. I am an avid Boston Bruins fan. But there is not another sport I love as much as the one that is played outside, on the diamond. After a dismal 2012 campaign, I am ready to wash away the Beer and Chicken; I am ready to forget about those players who have left via The Trade. Rather than pull a hockey jersey over my head, I desperately want to button up my Sox jersey:  hopefully this season I can be proud to wear it. Pitchers and catchers report for the Red Sox on Tuesday, February 12th. This is a staff comprised of questionable talents to say the least: Jon Lester, Clay Buchholz, Ryan Dempster, Felix Doubront and John Lackey make up your starting 5, Boston fans. If we rewound time, I would be more excited. These guys all have the potential to have great seasons. They could also all implode fantastically. Conversely, the bullpen looks good; really good. The addition of Joel Hanrahan is huge. This guy is a bona fide closer. Even though he has spent his career in the National League, I believe that the Senior and Junior Circuits are balancing out a bit. Last season Hanrahan was an All-Star. He posted a 2.72 ERA in 59.2 innings pitched. He struck out 67 and walked 36. His WHIP of 1.274 is higher than I'd like to see in a "lights out closer" role, and his late season face-plant wasn't pretty. But he should execute and compile a lot of saves (last season he had 36). If  he doesn't go anywhere, Andrew Bailey should have a bounce back year at the back end of the Sox bullpen. As Boston fans know, Bailey was injured for much of his inaugural season as a member of the team. However, in 2011 he struck out 41 in 41 innings, posting a 3.24 ERA and saving 24 games. What was most impressive with Bailey was his walk total. For all of the 2011 season he walked 12 batters. If Bailey can re-gain health I think he can re-gain form, which is much better than a set-up guy should be. Koji Uehara is another guy poised to take on his first full Red Sox season. Boston fans will come to know what Texas Rangers fans already do after years of Uehara in the pen: Koji spells strikeout in Japanese. Uehara garnered 43 K's in 36 innings last year, which shook out to a 1.75 ERA and a 0.639 WHIP. With numbers like those it is hard to say that the Sox will have trouble stopping batters once their starters leave the game. Crazy Alfredo Aceves is still there. Youngsters Junichi Tazawa, Clayton Mortensen and Rubby De La Rosa will all likely fit in and Andrew Miller and Craig Breslow figure to continue to post decent bullpen numbers. Needless to say, as shaky as I think the starters will be, the Sox pen will truly be fitted with stoppers in 2013. As for catchers, coach Gary Tuck is gone, which I'm told is a huge loss. Possible battery-mates of Sox pitchers include David Ross, Ryan Lavarnway, Jarrod Saltalamacchia and (maybe on occasion) Mike Napoli. For all intensive and purposes, the Sox have designated Napoli their full-time first baseman. So, as he does not have to report to spring training yet, I will hold off on any critique of the move that brought him here. All I will say is that one year at $5 million looks a heck of a lot better than 3 years at $39 million. Jarrod Saltalamacchia (unless he is traded) will likely see the bulk of time among this group from behind the plate. Salty led the team with 25 home runs last year. It's hard to find a catcher who will hit that many home runs. However, it is not hard to find a catcher that hits above .222. Salty is not the solution the Red Sox need at the dish, but his power numbers are good enough to have him slot into the middle of the order. With the addition of supposed defensive wizard David Ross, Ryan Lavarnway will probably open the season in triple-A. I agree that this is good for Lavarnway's development. The kid can mash the ball and I think that while he does not project to be the starting catcher for any major league franchise, he does figure to become a good middle-of-the-order bat. David Ross isn't exactly going to light the world on fire with his offense at Fenway Park or elsewhere in 2013, but the guy does get on base (.256/.321/.449 slash lines in 2012). Suffice it to say that he should provide some very Varitek-like intangibles in Boston. And so, with the culmination of the Great Beyonce Zumba Class, I am ready for Truck Day tomorrow, February 5th. One can only hope that John Lackey wears a bit more than Jay-Z's main squeeze when he arrives in Fort Meyers next Tuesday. Follow me on Twitter @darylvelez
Original Story:
http://boston.sportsthenandnow.com/20...
THE BACKYARD
BEST OF MAXIM
RELATED ARTICLES
Mike Napoli ended up signing with Boston, but the whole drawn out process and Napoli's final contract terms make much of his future, both short- and long-term, very uncertain. Ultimately, Napoli and the Red Sox agreed to a one-year, $5MM contract with incentives that could bring the full value of the deal up to $13MM. Considering the original deal was three years with $39MM guaranteed...
The Red Sox announced Gary Tuck's replacement, and it was a bit of a surprise. Most were speculating Chad Epperson would get the call, but instead it's Dana Levangie. Levangie's most notable achievement -- beyond spending the last 22 years in baseball, many of which as part of the Red Sox organization -- is being bullpen catcher for the '04 world champs. And let...
Sox fans should give Lackey a chance to prove himself this season. Every Red Sox fan has their opinion on John Lackey.  Most of them are that he should have never been signed in the first place.  The Red Sox needed pitching in the 2009 off season, as most teams always do and they signed Lackey to a 5 year $82.5 million contract.  That means this season Lackey will make just over...
Every morning, we compile the links of the day and dump them here... highlighting the big storyline. Because there's nothing quite as satisfying as a good morning dump. Jose Iglesias, SS His chances of being the Opening Day shortstop were erased when the Sox signed free agent Stephen Drew. And for the first time in three years, Iglesias won't even be the most talked...
Another Red Sox outfielder will be unavailable for the start of spring training. According to The Boston Globe's Nick Cafardo, manager John Farrell said that minor leaguer Alex Hassan will not be ready for the start of camp because of a stress fracture in his left foot. This comes on the heels of the recent news that outfielder Ryan Kalish will miss a big chunk of the season after...
2013 Fantasy Preview: Boston Red Sox This team will need to wear name tags for the first few weeks of spring training, because the offseason turnover was astounding. Necessary, but astounding nonetheless. Offseason moves: Traded for RP Joel Hanrahan Don't be fooled by the save numbers. Hanrahan has shutdown stuff, but walked 36 batters in 59 2/3 innings last season as the...
The Red Sox announced Tuesday that Dana Levangie has been named the team's new bullpen coach. Levangie replaces Gary Tuck, who retired last week after six seasons with the organization. Levangie, 43, has spent the past seven seasons serving as a major league advance scout with the Red Sox, and he also will continue to assist in advance scouting going forward. This isn't the first...
It is nearly 1,500 miles from Fenway Park to the team's spring training facility in Fort Myers, but only if you take the fastest route. With the Red Sox equipment truck heading south, with some time to spare until pitchers and catchers report, it might be a good idea to take a couple detours to take in the sights. After all, a road trip isn't a road trip without some unexpected...
It looks like the Red Sox farm system is getting a bad rap these days, as Keith Law at ESPN has them ranked 17th out of 30 teams: http://insider.espn.go.com/mlb/story/_/id/8902178/st-louis-cardinals-lead-keith-law-ranking-all-30-farm-systems-mlb I don't think Law knows what he is talking about. I think the talent in Boston's farm right now is as great as it was in the heydey...
A.B. There's a fine line between homer apparel and pink hat apparel. The kid wearing a pre-faded Old Navy Boston Red Sox shirt is a pink-hat. The kid wearing the same faded shirt, except it was made by Jerzees in 1985, is a die hard Sox fan. To a casual observer they are both blue, both faded and both have the Red Sox B. But one went through Buckner, Boggs and Beckett – the other...
Despite the fact that it is now snowing lightly outside my humbly abode, Truck Day for the Boston Red Sox is a like a New England holiday. For us up here, it means spring is close, meaning warmer weather. Oh wait, who am I kidding. We live in New England where you really never know what the weather is going to be like. In all seriousness though, for Red Sox fans, it's...
With Spring Training less than a month away, the Red Sox 40 Man Roster should be fairly set until the end of camp. I'll take this opportunity to review the entire roster. Lets face it, there's not much else going on.  Let's Hope Hanrahan isn't staring this direction too much in 2013. After Andrew Bailey lost most of 2012 to injury, and then was awful when...
MLB News

Delivered to your inbox

You'll also receive Yardbarker's daily Top 10, featuring the best sports stories from around the web. Customize your newsletter to get articles on your favorite sports and teams. And the best part? It's free!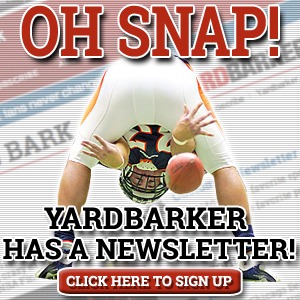 Latest Rumors
The Backyard

Today's Best Stuff

For Bloggers

Join the Yardbarker Network for more promotion, traffic, and money.

Company Info

Help

What is Yardbarker?

Yardbarker is the largest network of sports blogs and pro athlete blogs on the web. This site is the hub of the Yardbarker Network, where our editors and algorithms curate the best sports content from our network and beyond.