From Reading Between the Seams:
There have only been 23 perfect games pitched in the history of Major League Baseball, so it goes without saying that witnessing one of these feats is quite rare. Don't tell nine-month old Bode Dockal that. The little man has had the pleasure of witnessing two baseball games in his career, both perfect games.
Bode's parents, Paul and Jennifer, are Chicago natives who live in Seattle. When the Chicago White Sox came to town to play the Mariners, Paul made it a mission to witness his favorite team play at Safeco Field. He bought front row tickets behind the White Sox dugout for himself and his family.
A young pitcher who has gone through some up and downs in his career, Phil Humber, was set to take the mound for Chicago that day, but Paul was mostly concerned about rooting for the home team, and showing his son what he loves, Chicago baseball: "We made it like a big deal. I was so excited to take Bode to his first game — it was really important to me, even if he doesn't remember a thing." Little Bode may not remember what happened that day, but he will have plenty of footage to remind him of Humber's perfect game on April 21st, 2012.
Just three days ago, Paul's brother Pete, came to visit from Texas. Pete, being a huge baseball fan like his brother Paul, really wanted to catch a game while he was in town. The Dockals decided that the Wednesday matinee would be the best game to witness since it matched their schedule, and Felix Hernandez was on the mound. King Felix, being the great pitcher that he has become, is the obvious draw: "If you're coming in for one game, that's the guy you want to see," Paul said.
Uncle Pete and father Paul decided to bring Bode along for the game, and it worked out in their favor. This little guy must be one heck of a good luck charm blessed by the baseball gods because that day King Felix tossed a perfect game, just like Phil Humber had done just a few months before.
By my calculations, that is two games attended, and two perfect games witnessed for little Bode. Not too bad of an average. Maybe he will slow down and witness a mere no-hitter the next time dad takes him to the ballpark.
Also from Reading Between the Seams
MORE FROM YARDBARKER
MLB News

Delivered to your inbox

You'll also receive Yardbarker's daily Top 10, featuring the best sports stories from around the web. Customize your newsletter to get articles on your favorite sports and teams. And the best part? It's free!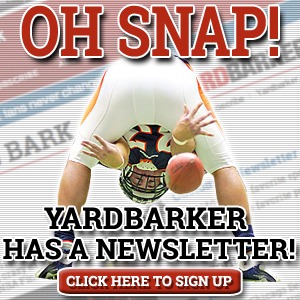 Latest Rumors
Best of Yardbarker

Today's Best Stuff

For Bloggers

Join the Yardbarker Network for more promotion, traffic, and money.

Company Info

Help

What is Yardbarker?

Yardbarker is the largest network of sports blogs and pro athlete blogs on the web. This site is the hub of the Yardbarker Network, where our editors and algorithms curate the best sports content from our network and beyond.