Found July 03, 2012 on Fox Sports North:
With the way Minnesota's infield has played this year, Tsuyoshi Nishioka has quickly become a forgotten man in the Twins' organization. Instead of spending his second season in the United States playing for Minnesota, Nishioka is instead stuck at Triple-A Rochester, looking to bounce back from a disappointing debut season in 2011. After signing with the Twins as a heralded infielder from Japan, Nishioka struggled to adjust to the American game. He broke his leg in the first week of the season, which further delayed the adjustment process. It was an important spring training for Nishioka as he had to work hard to have a shot at making Minnesota's 25-man roster out of camp. Instead, he was sent to begin the season in Rochester. He's been there ever since. "He's handling it very well. He was as disappointed as anybody else," said Mike Radcliff, the Twins' vice president of player personnel. "He was one of the best players in the league over there, wanted to come over here and had an opportunity. He hasn't been able to capitalize on it." Through Monday, Nishioka is batting just .226 with the Red Wings, including 13 RBI and six stolen bases in 56 games. Defensively, he's committed six errors three each at second base and shortstop after committing 10 errors in 60 games with the Twins last season. Of course, Nishioka has had some bright spots as of late. He went 2-for-5 with a pair of doubles and an RBI in a game late last month and followed it up with another two-hit game the following day. But over his last 10 games, he's gone hitless in four of them. "Now it's just a matter of consistency," said Twins general manger Terry Ryan. "Nobody's looking for him to have seven great days where he does something every day to impact the game. That would be nice. That's unrealistic. I would like to see him taking good at-bats and making sure he makes the routine plays and steals a base here and there. There's just not enough consistency yet." Nishioka played both middle infield positions last year for the Twins. He began the season at second base, which is where he ended up breaking his leg on a takeout slide against the Yankees on April 7. When he returned from the injury on June 16, he spent the rest of the season at shortstop. But Nishioka has primarily been moved back to second base at Rochester, playing 45 games there compared to just seven at shortstop. Radcliff said Nishioka's skill set makes him better suited to play second base. "He has to have that ability to play both sides," Radcliff said. "But he's ended up playing more games in second base, which is probably the best fit for his ability and skills; his arm is just an OK, average arm. He's going to have to be able to contribute defensively as a utility guy all the way around the diamond. He's actually also worked at third base trying to figure that out. All that's a work in progress." A lot of things are still a work in progress for Nishioka, including the cultural adjustment. Radcliff said Nishioka's English continues to improve, and he is able to understand most English that is spoken to him. It's conversing back in a language foreign to him that Nishioka still hasn't fully grasped. He's not alone in the adjustments he's had to make in coming from Japan to the United States. The Twins fully expected an adjustment period for Nishioka when he first came over to the U.S., and it's still ongoing. "When we were going through that process of evaluating him and going through the process of contemplating signing him and bringing him over, we came up with over 100 different things he'll have to address, adjust or change for Major League Baseball versus Japanese baseball," Radcliff said. "It's a major transition and adjustment. We knew that. He knew that. All of them who try to make the jump from that league realize that, understand that. It wasn't a surprise. It just takes some time." Time. How much more time are the Twins willing to spend waiting for Nishioka to make that next step and become a major league player? He signed a three-year, 9 million deal that lasts through the 2013 season, with a 4 million club option for 2014. With the way Minnesota's major league roster is currently set up Brian Dozier appears to have solidified a role as the starting shortstop, with Jamey Carroll and Alexi Casilla manning second base it remains uncertain as to whether Nishioka can crack the 25-man roster in the next year and a half. But the Twins are confident that Nishioka will one day exhibit the promise that drew them to the former Japanese star. Whether he does so as a Twin remains to be seen. "I don't know that there's one thing that will put him over the hump," Radcliff said. "He's got to get better every day. In our world, Major League Baseball, you've got to earn one of the 25 spots, be better than the other guy at your position. When he does that, then he'll get back to the big leagues. "I know our people myself included feel like he's on his way to having some contributory presence sometime in the future. I hope that's the case." Follow Tyler Mason on Twitter.
Original Story:
http://www.foxsportsnorth.com/07/03/1...
THE BACKYARD
BEST OF MAXIM
RELATED ARTICLES
Minnesota Twins pitcher Francisco Liriano is a hot name on the trade rumor mill. A quick look at his 2012 season bears a striking resemblance to his career stats. His start on July 1st against the Royals was a 4 walk, 4 run no decision. In his previous two starts he logged 13.1 innings, surrendered 2 runs and 4 walks, while striking out 11. In 2006 and 2010, Liriano was dominating...
If any player has been underrated for the Minnesota Twins this season, it very well may be reliever Alex Burnett. The last time the right-handed Burnett gave up a run was May 23. He extended that scoreless streak to 16 total innings by tossing 1-13 shutout innings in the Twins' 6-4 win Monday in Detroit. Burnett entered Monday's game with two outs in the seventh inning...
MINNEAPOLIS Minnesota's Darin Mastroianni hasn't gotten much playing time since being called up by the Twins in early May, but the speedy outfielder has now been in the starting lineup the last three games. Mastroianni started in left field for the first game of Saturday's double-header and was then starting in right field for the nightcap. One day later, Mastroianni...
The reader may very well be totally and irretrievably drunk at the moment, but it's not for that reason that he's seeing Trevor Plouffe's name near the top of the preceding [leaderboard]. As of Tuesday night, at least, Plouffe had hit the most home runs (nine) among major leaguers in June. – Carson Cistulli, Daily Notes If you are a self-respecting, perfectly rational human...
The Minnesota Twins won the series opener Monday against the Detroit Tigers without an extra-base hit. Thirteen hits, all singles. Early on Tuesday's game in Detroit, the Twins were on a similar course as their first three hits were all singles. But a two-run homer by Josh Willingham changed that, and Minnesota continued to flex its muscle the rest of the night en route to an...
Francisco Liriano is back? That's what people keep saying. All these different fantasy baseball "guru's" have been pumping Liriano to the point that he's the most added starting pitcher in ESPN leagues. He had three quality starts in a row, and since returning to the starting rotation has clearly been better than he was earlier in the season, but back? I don't think so...
Josh Willingham and Trevor Plouffe hit homers in a five-run third and Ryan Doumit had a go-ahead sacrifice fly in the seventh inning, lifting the Minnesota Twins to an 8-6 win over the Detroit Tigers on Tuesday night. Joe Mauer had three hits, including a solo homer to lead off the ninth that gave the Twins a two-run lead and helped earn a season-high, five-game winning streak....
DETROIT (AP) -- Josh Willingham and Trevor Plouffe hit homers in a five-run third and Ryan Doumit had a go-ahead sacrifice fly in the seven inning, lifting the Minnesota Twins to an 8-6 win over the Detroit Tigers on Tuesday night. Joe Mauer had three hits, including a solo homer to lead off the ninth that gave the Twins a two-run lead and helped earn a season-high, five-game winning...
From the NWL MANKATO, Minn. (June 26, 2012) -- The Mankato MoonDogs Baseball Club, a member of the Northwoods League, is elated to announce former Minnesota Twins player and the 1988 All-Star games Most Valuable Player, Terry Steinbach as the featured guest for Minnesota Twins Night on July 12. Presented by Buffalo Wild Wings and KTOE, the night will start off with a pre-game...
Twins 6, Tigers 4. Updates. With AP Photos. By LARRY LAGE AP Sports Writer Trevor Plouffe hit a two-run single during Minnesota's four-run fourth inning, helping the Twins beat the Detroit Tigers 6-4 Monday night. Minnesota had six singles in all during its big rally as it earned its fourth consecutive win to lift Ron Gardenhire to 900 career victories. Anthony Swarzak (2-4...
39-42, 3rd place, 4.5 games back. Happy Independence Day everyone. The Twins are now 4-0 at Comerica this year. In a season which began with sky high expectations, the Tigers arrive at the midway point 3 games under .500 with little reason to believe that the second 81 will be much better. Last night's game was a microcosm of the season. Two Santiago errors led to 5 unearned runs...
MLB News

Delivered to your inbox

You'll also receive Yardbarker's daily Top 10, featuring the best sports stories from around the web. Customize your newsletter to get articles on your favorite sports and teams. And the best part? It's free!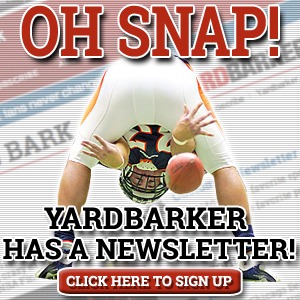 Latest Rumors
The Backyard

Today's Best Stuff

For Bloggers

Join the Yardbarker Network for more promotion, traffic, and money.

Company Info

Help

What is Yardbarker?

Yardbarker is the largest network of sports blogs and pro athlete blogs on the web. This site is the hub of the Yardbarker Network, where our editors and algorithms curate the best sports content from our network and beyond.