Found December 03, 2012 on Fox Sports Arizona:
PLAYERS:
Justin Upton
,
Kevin Towers
,
Trevor Bauer
,
Gerardo Parra
,
Wil Nieves
,
Henry Blanco
,
Josh Hamilton
,
Asdrubal Cabrera
,
Stephen Drew
,
Trevor Cahill
,
Brandon McCarthy
,
Ricky Nolasco
,
Ian Kennedy
,
Wade Miley
,
Patrick Corbin
,
Josh Collmenter
,
Rommie Lewis
,
Eddie Bonine
,
Kila Kaaihue
,
Humberto Cota
,
Brad Snyder
TEAMS:
Arizona Diamondbacks
,
Texas Rangers
,
Cleveland Indians
,
Oakland Athletics
,
Miami Marlins
NASHVILLE, Tenn. Justin Upton might have been the most discussed Diamondback on the internet and in the winding Opryland hotel hallways as the winter meetings officially opened Monday, but he was not the most popular D-back in trade discussions, general manager Kevin Towers said. Who was? Towers would notto go there. Trevor Bauer? Gerardo Parra? It is not fair to speculate, and no one was talking. But suffice it to say the D-backs have gotten a lot of face time with a lot of teams as they discuss possible trades and free-agent signings. They met with four or five teams Sunday night, Towers said, and were expected to talk with eight or nine more by the time the first full day of the meetings was done Monday night. I always use this (event) to meet with as many clubs as you can," Towers said. "I dont know if that means being aggressive, but were not here to sit on our hands. I wouldnt say we are on the verge of making a trade at this time, but weve talked to a lot of teams and plan to talk to more."The D-backs shopping list remains the same a starting pitcher, a shortstop, a third baseman, a corner infield bench bat and a left-handed reliever, perhaps in the Rule 5 draft. The D-backs remain interested in catcher Wil Nieves, Towers said, and their decision not offer him arbitration Friday was based on the belief that the 800,000 or so he would have receivedwould stretched their budget. Henry Blanco also is an option, Towers said. The D-backs declined Blancos 1.24 million option for 2013, ostensibly for the same reason they did not offer Nieves. Texas remains linked to Upton because of its excess at shortstop, but one source said Monday that there is nothing there. Things can change, of course. Thats what the teams are here for. The Rangers are reported to be interested in re-signing free agent outfielder Josh Hamilton, but Towers said he did not expect other teams to stay inactive until Hamilton comes off the board. There are a lot of people who are looking for outfielders. So some people probably arent willing to wait that long, Towers said. Baltimore plans to meet with the D-backs about Upton, an American League source said, but the D-backs do not believe there is a fit. Baltimore will not deal Manny Machado, their top young talent who could play shortstop or third base. The D-backs have shown interest in Cleveland shortstop Asdrubal Cabrera, another source said, but a match appears unlikely. Seibu Lions shortstop Hiroyuki Nakajima, who toured the D-backs facility the day before Thanksgiving, has been linked to Oakland, as has Stephen Drew. If the D-backs acquire a starter, Towers indicated, it will be either a bonafide No. 1 or a Trevor Cahill type, both in terms of ability and salary control. Cahill, who threw 200 innings in 2012, had five years of control when the D-backs acquired him from Oakland last season. That philosophy holds, Towers said: if we acquired that player for three years, we are happy to be locked in for three years. Cahills former Oakland teammate Brandon McCarthy is one of the few free agents who might be available at a reasonable cost. The D-backs are interested in McCarthy, a source with knowledge of their thinking said Monday. The Kyle Lohses and Ryan Dempsters of the free-agent pool seem out of range. Ricky Nolasco, who wants out of Miami, is not a target.I feel the market is somewhat inflated, and we dont want to fish in those ponds right now," Towers said. "To me a lot of the second-tier guys are being paid like first-year guys, but I dont think we are willing to go there. Thats why we are not talking to a lot of free agents in terms of pitching."After Ian Kennedy, Cahill and Wade Miley, the D-backs starting candidates are Patrick Corbin, Tyler Skaggs, Trevor Bauer and possibly Josh Collmenter. If we are looking at bringing in a pitcher ... it would have to be the right guy at the top end of the rotation that we think is a difference-maker on our ball club if we are going to take innings away from our young guys" Towers said. "The one-year rental type guys are probably not the type of guys that were targeting. Id rather give the innings to the Corbins, Skaggses and Bauers." The D-backs will listen on all of their outfielders. In addition to his bat, Upton offers fiscal stability for the next three years. He is to make 9.75 million in 2013, 14.25 in 2014 and 14.5 in 2015. The D-backs are not concerned that the trade talk with affect him in a negative way. Its part of the business. No difference than a GM on the hot seat as being fired, Towers said. These guys are well-paid professionals. Rumors happen. Your name is going to be asked about in trades. The good ones are able to kind of put on their blinders and say 'I can only worry about what I can control. Im not going to let it affect me.' "NOTES: Adam Eaton is out of his cast, Towers said, and should be ready for spring training after suffering a broken bone on the outside of his right hand in the final week of the regular season. ... The D-backs recently added five minor-league free agents: Left-handed pitchers Rommie Lewis and Eddie Bonine, first baseman Kila Kaaihue, catcher Humberto Cota and outfielder Brad Snyder. All have invitations to major-league spring training. Lewis, 30, is pitching in the Dominican Republic this winter and touched 94 mph with his fastball last week, scouts said, while pitching consistently in the 89-92 mph range. He made 20 relief appearances for Toronto in the last two seasons. Kaaihue, 28, has 15 home runs in 411 major league at-bats in the last four seasons with Kansas City and with Oakland. He hit .234 with nine doubles, four homers and 14 RBI for Oakland last season but was optioned when the As decided to move Brandon Moss from the outfield to first base. ... The D-backs sold right-hander Brad Bergesesn to the Chunichi Dragons of the Japanese Central League. Bergesen was removed from the roster before the arbitration deadline.Follow Jack Magruder on Twitter
Original Story:
http://www.foxsportsarizona.com/12/03...
THE BACKYARD
BEST OF MAXIM
RELATED ARTICLES
NASHVILLE Kevin Towers may have started a trend when he united Oakland and Florida in the three-team trade Oct. 20 that brought Heath Bell to the Diamondbacks, got cash relief for the Marlins and sent Chris Young to the As. Multi is the new normal. How many trade balls are in the air? Right now? Towers said late Tuesday afternoon. Probably more than I have hands. But I have...
NASHVILLE Seattle was one of the suitors when Justin Upton was available at the 2010 winter meetings, and it appears the Mariners interest has not waned. The D-backs and Mariners met Monday night, sources with knowledge of the D-backs said, with Upton the major piece in discussion. Seattle general manager Jack Zduriencik has made it clear that ace right-hander Felix Hernandez...
The Seattle Mariners, Texas Rangers and Cleveland Indians have all shown "active interest" in Arizona Diamondbacks outfielder Justin Upton, reports Jon Paul Morosi of FOX Sports. Justin Upton has drawn active interest from 3 teams today: Mariners, Rangers, Indians. @mlbonfox — Jon Morosi (@jonmorosi) December 4, 2012 It was later reported by Nick Piecoro...
NASHVILLE, Tenn. -- The Arizona Diamondbacks, Cleveland Indians and Texas Rangers worked on a potential three-team trade throughout most of the day Wednesday. However, a major league source with direct knowledge of the talks told The Sports Xchange that a deal is unlikely to get done before the Winter Meetings end Thursday morning at the Gaylord Opryland Hotel and Resort. &quot...
Pedro Gomez of ESPN is reporting the Phillies and Diamondbacks have begun engaging in preliminary talks to send Cliff Lee and cash to the Diamondbacks for outfielder Justin Upton. More on this as it develops.
We have a new, crazy rumor in relation to Justin Upton. The Phillies and Diamondbacks are reportedly discussing a swap that would send Upton to the Phillies for oft-traded starting pitcher Cliff Lee (and likely, a giant pile of cash as well). The prevailing logic is that the Diamondbacks would then move Lee to another team in exchange for the shortstop they desire. Other sources...
Much of the offseason trade speculation involving the Arizona Diamondbacks has centered on right fielder Justin Upton. But sources told FOXSports.com late Monday that the team has had at least as much trade dialogue in recent days about outfielder Jason Kubel. Kubel spent his entire career in the American League until signing with the Diamondbacks before this season, and he would...
A blockbuster could be in the works. A variety of three-, four- and even five-team trades are in play at the winter meetings, mostly involving the same clubs and same principal players, according to major-league sources. The clubs: Arizona, Cleveland, Texas and Tampa Bay. The principal players: Diamondbacks right fielder Justin Upton, Indians shortstop Asdrubal Cabrera, Rays right...
PHOTO: AP Update, 4:59 pm: D'Backs beat reporter Nick Piecoro chimed in just after the initial wave and reports that the trade talks are "off base." ——————- According to a tweet Pedro Gomez of ESPN, the Phillies and Diamondbacks are discussing a Justin Upton for Cliff Lee swap. However, Jeff Passan of Yahoo Sports writes Arizona is not actively seeking this deal...
Here's a running list with MLB's latest rumors: – The Chicago Cubs are letting Carlos Marmol know that he's a trade candidate, but that they won't just "give him away" according to Gordon Wittenmyer of the Chicago Sun-Times. – Last night the Seattle Mariners and Arizona Diamondbacks met to discuss a possible Justin Upton tradewrites Jon Heyman of CBSSports...
With no baseball action to distract us from the countless rumors circling the internet, the MLB winter meetings are like the trade deadline on steroids. It's just  baseball's best and brightest minds talking shop all day long and us baseball nerds fanatics just soak it all in. Of course, every move that is made, whether it's major or minor, has an impact on the fantasy universe...
MLB News

Delivered to your inbox

You'll also receive Yardbarker's daily Top 10, featuring the best sports stories from around the web. Customize your newsletter to get articles on your favorite sports and teams. And the best part? It's free!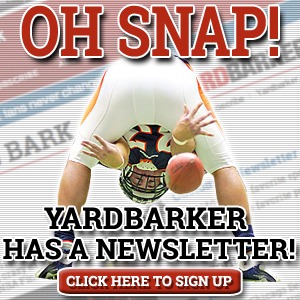 Latest Rumors
The Backyard

Today's Best Stuff

For Bloggers

Join the Yardbarker Network for more promotion, traffic, and money.

Company Info

Help

What is Yardbarker?

Yardbarker is the largest network of sports blogs and pro athlete blogs on the web. This site is the hub of the Yardbarker Network, where our editors and algorithms curate the best sports content from our network and beyond.