Found November 07, 2012 on New York Sports-Kings:
This has been the moment that all Mets fans have been waiting for.  On Wednesday, Jason Bay and the Mets agreed to part ways in a buyout that will pay the disgraced outfielder $21 million over the next few years.  Bay was approaching the last year of his four-year, $65 million deal that the Mets signed him too in hopes that he would be a solid power hitter behind David Wright. Bay released a statement about the release that will make the 34 year old a free agent this off-season and will allow him to make more than the league minimum (although we're guessing no team would give him more than that anyway): "I still feel I have plenty to give to this game and that I can play baseball at a high level. But after serious consideration, both sides agree that we would benefit from a fresh start. I'm grateful we were able to reach an agreement to allow that to happen. I'm excited to keep playing and have no intention of just walking away." Jason Bay (left) had an abysmal run while a member on the Mets. That is why he and the team agreed to part ways on Wednesday even though he still had one year left on his contract. PHOTO COURTESY: HUNTER MARTIN/GETTY IMAGES Although many around the organization figured that this was going to happen, it was shocking to actually see it unfold.  While Bay underperformed during his years with the Mets (.234 with 26 homeruns and 124 RBIs in 288 games played) there were a few things that Bay had in his favor that could have kept him with the Mets for next season. Because of the money woes that the team faces it was unclear if the Mets were willing to pay a guy that isn't even on their roster.  What made this an easier decision was 2012 showed that Bay's skills have truly diminished.  During his three years with the Mets, Bay suffered numerous injuries that really took a toll on him and made him the player that he is now.  By the midway point of this past season, Bay was seen as nothing better than a late inning defensive replacement. The Mets realized that having Bay on the roster would hinder their ability to give another player the opportunity to play every day. The only reason Bay was even considered a defensive replacement was because of the hustle that he showed on the field.  One thing that could never be said about Bay (unlike other great Mets busts such as Oliver Perez) was that he was dogging it.  His hustle was evident every time he hit a weak ground ball to the shortstop this year because he always busted it down the line. In fact, two of his concussions as a Met happened after he crashed into the wall in attempt to make spectacular fielding plays.  His effort was never in question but the results are what ultimately lead to Bay's departure. Bay also was a model citizen inside the clubhouse and won the admiration from many of his teammates.  During 2012 when he batted .165 with 8 homeruns and 20 RBIs, manager Terry Collins significantly cut his playing time while he was healthy.  Some stars making big money would make a stink no matter how bad they were playing, but Bay never complained.  He was always quoted saying the right things and showing he was a true team player. Even Mets owner and chief operating officer Jeff Wilpon took notice of how good he was in the clubhouse.  In the same NY Times story, Wilpon praised Bay for his effort while a member of the Mets. "Jason is a great teammate, hard worker, stand-up guy and true gentleman.  Like Jason, we had planned for the kind of production here that he enjoyed in Boston and Pittsburgh, where he established himself as one of the game's top players. We wish Jason and his family success and happiness in the future." Although the Mets will be required to pay Bay's remaining salary, the move gives the Mets financial flexibility; for now at least.  The Mets are still not expected to make any big moves in free agency, but they can use the extra cash to focus on locking up Wright and pitcher R.A. Dickey long-term. Only time will tell what the team will do with the extra money as the entire roster needs improvement.  Fans are happy and not surprised that Bay is no longer a Met, and now they will have to find an ample replacement for their starting left fielder. Follow us on Twitter – @NYSportskings Contributor – Dave Ragazzo – @DRagazzo_Sports The post No Surprise that Jason Bay Got Released, Or Is It? appeared first on New York Sports Kings.
Original Story:
http://nysportskings.com/no-surprise-...
THE BACKYARD
BEST OF MAXIM
RELATED ARTICLES
Update 2:30 PM - This just in from Joel Sherman of the New York Post: The Mets will spread the remaining amount owed to Bay over the course of several years. The Mets say they wouldn't have done Bay buyout if didn't give them the ability to spend more in '13, otherwise they would just have tried again with Bay if that were case. That means Alderson picks up some extra dough...
Jason Bay and the New York Mets today announced a negotiated early expiration of his contract. The agreement provides Bay his unconditional free agency while the Mets gain roster flexibility. Terms of the agreement were not disclosed. "Jason is a great teammate, hard worker, stand-up guy, and true gentleman," said Mets Chief Operating Officer Jeff Wilpon. "Like Jason, we had...
The first big move of the general managers' meetings was a subtraction. Only the New York Mets could announce such a thing and consider it progress. The Mets cut ties with underperforming outfielder Jason Bay on Wednesday, describing it in a news release as a "negotiated early expiration of his contract." Here's what that means: Bay will receive every penny of...
In a bit of shocking news out of New York, the Mets and outfielder Jason Bay have mutually agreed to part ways. Bay is getting his entire $17 million salary for 2013, as well as the buyout on his option in 2014 for $3 million, and $2 million owed to him as a signing bonus. When you look past the nice phrasing, it's essentially a straight up release. Bay's tenure with...
For the Mets, three years of Jason Bay was enough. This afternoon, they announced that they have agreed to part ways with Jason Bay, meaning he's being released from his contract. Joel Sherman has the details. Bay is getting all $21M he is owed, the $16M salary, the $3M buyout and the $2M left on a signing bonus. Some is being deferred #Mets — Joel Sherman (@Joelsherman1) November...
Since leaving the Red Sox, Jason Bay has failed to duplicate his All-Star feats. After three disappointing seasons in New York, Bay and the Mets announced they had agreed on a buyout that would terminate the outfielder's contract two years early and grant him free agency. "Jason has a tremendous work ethic," Mets general manager Sandy Alderson said. "There was never any question...
Well this has certainly been an interesting week for the Mets outfield. On on hand, we have LF/RF Lucas Duda breaking his wrist while moving furniture and now Jason Bay has been thrown to the curb like a cheating girlfriend.  Both of these happenings will have a significant impact on how this team moves forward. Lucas Duda broke his right wrist while moving furniture in his apartment...
Tweet The revamping of the New York Mets has begun this fall, as the team will be parting ways with high-paid but often injured outfielder Jason Bay, according to Newsday columnist David Lennon: #Mets have negotiated an early separation with Jason Bay. He's now an unrestricted free agent. No joke. — David Lennon (@DPLennon) November [...]
  Every morning, we compile the links of the day and dump them here... highlighting the big storyline. Because there's nothing quite as satisfying as a good morning dump. A source tells Rob Bradford of WEEI.com (via Twitter) that Jason Bay would be very interested in returning to the Red Sox.  Earlier today, the Mets reached an agreement with the outfielder to make him...
Now that Jason Bay is gone, we can delve into some outfield options for the Mets. Will they make a big push to sign Melky Cabrera or Cody Ross? Will they attempt to re-sign Scott Hairston? Will they pursue a trade for Justin Upton or Shin-Soo Choo? One outfielder who probably won't be an option is Jacoby Ellsbury of the Boston Red Sox. According to Jon Heyman of CBS Sports, the...
This is all probably my fault.I bought this shirt in Boston in 2009. It was a day after I saw him hit a home run at Fenway Park. But it wasn't so much that I chose a Red Sox player out of thin air to help commemorate my trip to Fenway. What was going on in my head was "well, he's a free agent and when he signs with the Mets, I can wear this Red Sox shirt in public.&quot...
The Philadelphia Phillies have at least two holes to fill in their outfield for the 2013 season. Some combination of Domonic Brown, Darrin Ruf, John Mayberry Jr, Laynce Nix, and Nate Schierholtz should be able to adequately man one of the positions. Could the other two holes be filled with former division rival Mets Angel Pagan and Jason Bay? Angel Pagan seems like a no brainer as...
MLB News

Delivered to your inbox

You'll also receive Yardbarker's daily Top 10, featuring the best sports stories from around the web. Customize your newsletter to get articles on your favorite sports and teams. And the best part? It's free!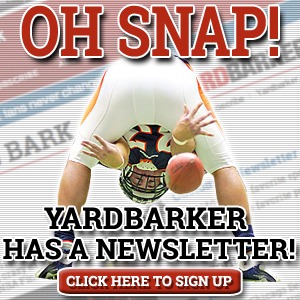 Latest Rumors
Best of Yardbarker

Today's Best Stuff

For Bloggers

Join the Yardbarker Network for more promotion, traffic, and money.

Company Info

Help

What is Yardbarker?

Yardbarker is the largest network of sports blogs and pro athlete blogs on the web. This site is the hub of the Yardbarker Network, where our editors and algorithms curate the best sports content from our network and beyond.