Found October 29, 2012 on Fox Sports Detroit:
PLAYERS:
Alex Avila
,
Omar Infante
,
Santiago Casilla
,
Octavio Dotel
,
Miguel Cabrera
,
Prince Fielder
,
Justin Verlander
,
Victor Martinez
,
Delmon Young
TEAMS:
Detroit Tigers
,
San Francisco Giants
,
Philadelphia Phillies
,
Atlanta Braves
,
Oakland Athletics
,
Colorado Rockies
,
St. Louis Cardinals
DETROIT By the end of the night Detroit Tigers catcher Alex Avila who was originally in the Game 4 lineup but was scratched due to an lingering forearm injury had company in the trainer's room. In the ninth inning, second baseman Omar Infante was hit on his left hand by Giants reliever Santiago Casilla. Infante immediately headed toward the dugout, clutching his hand in obvious pain. "It's the third time it's happened to me," Infante said. "They throw hard, 95. Different spot. It's broken a little bit. Maybe tomorrow see a hand specialist and he make a decision what happens." X-rays revealed a non-displaced fracture of the fifth metacarpal. The injury won't require surgery and Infante said he was told he would likely be in a cast for a month. Dotel wants to return, wishes Tigers were more fiery Reliever Octavio Dotel made news late in the season when he mentioned that the Tigers didn't seem to be as fired up as the St. Louis Cardinals were the year before when they made their run to the World Series. Dotel still feels that way. "I'm not going to lie to you. I don't see that energy in everybody, I just don't see it," Dotel said. "I think we don't have it. I'm an honest person, if I don't see something I just (say it). "I want to see more pumped up players. That's all I can say. I don't want to tell people what they have to do, how you got to pitch, how you got to hit, it's not what I'm saying, I just want to see more excitement, more pumped up.'' Dotel said he saw some of it and then it went away. Although he'd prefer that it came from team leaders like Miguel Cabrera, Prince Fielder and Justin Verlander, he understands that you can't change people's personalities. "I think our leaders are very shy, very conservative and I respect that," Dotel said. "That's their way, that's how they are. You gotta respect that. I hear about Victor Martinez. I haven't played with him, but I hear good things about Victor. "We got Prince and Verlander and Miggy, they're very conservative, they're about what they need to do and what they need to play. I would love to see them more, 'Hey, guys, let's go.' But it is what it is. Everybody's different." Although Dotel was shocked and disappointed that the Tigers were swept, he would still like to return next season. "I'm very excited and I hope they pick my option," Dotel said. "I hope I can come back here. Hey, if you see it, we got an unbelievable starting rotation right now. Hopefully they sign (Anibal) Sanchez because it's going to be really good. "This is the team I want to be with in 2013." Dotel pitched 1 13 scoreless innings in Game 4 and did not allow a hit in five innings in the postseason. In 26 career postseason games, Dotel is 3-1 with a 3.86 ERA. Free-agent Young Delmon Young, who homered in the sixth inning of Game 4 to tie it at 3-3, is now a free agent. "I'd like to see how the process plays out," Young said. "It's my first year on the free agency market so I'm just going to see how it goes." The home run was Young's third of the postseason and his eighth career postseason home run with the Tigers, extending his own team record. Cabrera is second with six. Although Young is unlikely to return considering Victor Martinez is expected to recover from knee surgery and be the Tigers' designated hitter last year, Young was asked if he would want to return. "It'd be cool but I'd like to see what's out there," Young said. "I'm not going to marry my first girlfriend." Running the numbers The Tigers have lost seven straight World Series games dating back to Game 3 of the 2006 World Series against the Cardinals. The seven-game losing streak is the worst in team history, beating a six-game losing streak from Game 2 of the 1907 World Series through Game 2 of the 1908 World Series. The longest losing streak in the World Series is eight games, done by the Philadelphia Phillies from Game 2 in 1915 through Game 4 in 1950, and by the Atlanta Braves from Game 3 in 1996 through Game 4 in 1999. The Tigers are the third team in history to sweep their opponents in the League Championship Series and then get swept in the World Series. The 1990 Oakland Athletics and 2007 Colorado Rockies also swept and were swept. Cabrera and Fielder were a combined 4-for-27 in the World Series. Cabrera was 3-for-13 and Fielder was 1-for-14.
Original Story:
http://www.foxsportsdetroit.com/10/29...
THE BACKYARD
BEST OF MAXIM
RELATED ARTICLES
Detroit second baseman Omar Infante broke his left hand when he was hit by a pitch in the ninth inning of Game 4 of the World Series. Infante went down to the ground immediately after a pitch by San Francisco reliever Santiago Casilla came inside and the Detroit hitter was unable to avoid the ball. Infante got up relatively quickly, took off his batting glove and walked toward the...
DETROIT -- Jim Leyland didn't make any promises Sunday night, but he sounds like a man who is planning to keep his job. Speaking to local writers after his Tigers were swept in the World Series, Leyland acknowledged that he still wants to manage. "I like to manage, and contrary to what some people think, I think I'm pretty good at it," he said. "A lot of...
The Tigers announced Tuesday that they have exercised the contract options on shortstop Jhonny Peralta and right handed relief pitcher Octavio Dotel. In 57 games for the Tigers this season Dotel was 5-3 with a 3.57 ERA. He also limited opponents to a .230 batting average and didn't allow a run in five innings of work during the playoffs. Meanwhile Peralta who saw his number sdrop...
Watching the Detroit Tigers in the 2012 World Series was like looking at a rerun of 2006. Team sweeps rival in American League Championship Series, team sits around a week waiting for the National League to wrap up, team looks pitifully weak while getting beat up in the World Series. The differences were the opponents -- St. Louis in 2006 and San Francisco this year -- and the...
DETROIT What a strange way it was for such a wild ride to end. Miguel Cabrera taking a called third-strike fastball down the pipe for the final out of the World Series was the last thing the Triple Crown winner or anyone else expected. It was a long walk back to the clubhouse on a cold, rainy Sunday night, and I asked Cabrera what he felt at that instant. Embarrassed, Cabrera...
If the Detroit Tigers are to claim their first World Series title since 1984, it will require one of the greatest comebacks in MLB postseason history. Continue reading →
On a ragged baseball diamond, its grass tall and infield dirt pockmarked, nearly 200 boys practice for hours every day. Many of them are inspired by the example of Detroit Tigers slugger Miguel Cabrera, who learned the game on this very field. The baseball school in the poor neighborhood where Cabrera grew up is one of many across Venezuela, a web for training young ballplayers...
Miguel Cabrera was named the Sporting News' MLB Player of the Year for 2012, nabbing 108 votes. Mike Trout finished second. Continue reading →
Dear Madams and Sirs,Didja feel a little queasy last night when Miguel Cabrera strode to the plate with the bases full?Did you vomit when that Giants leftfielder nobody ever heard of dove into the corner and speared that line drive?Did you start wonder if you caught something from the Yankees when your hitters kept popping up?Well, amigos, you did. You caught A-Roditis. It's...
MLB News

Delivered to your inbox

You'll also receive Yardbarker's daily Top 10, featuring the best sports stories from around the web. Customize your newsletter to get articles on your favorite sports and teams. And the best part? It's free!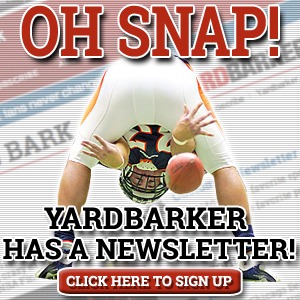 Latest Rumors
The Backyard

Today's Best Stuff

For Bloggers

Join the Yardbarker Network for more promotion, traffic, and money.

Company Info

Help

What is Yardbarker?

Yardbarker is the largest network of sports blogs and pro athlete blogs on the web. This site is the hub of the Yardbarker Network, where our editors and algorithms curate the best sports content from our network and beyond.