Found January 15, 2013 on The Southpaw:
PLAYERS:
Colby Rasmus
,
Brandon Lyon
,
Brad Lincoln
,
Esmil Rogers
,
JP Howell
,
Henry Blanco
,
Adam Loewen
,
David Cooper
,
Ryan Goins
,
Mike McCoy
,
Anthony Gose
,
Moises Sierra
,
Ryan Langerhans
,
Chad Jenkins
,
Greg Smith
,
Justin Germano
,
Ramon Ortiz
,
Evan Crawford
,
Aaron Loup
,
Alan Farina
,
Tommy Hottovy
,
Mickey Storey
,
Chad Beck
,
Trystan Magnuson
,
Rich Thompson
,
Juan Perez
,
Claudio Vargas
,
Bobby Korecky
,
Buddy Carlyle
,
Kyle Drabek
,
Drew Hutchison
,
Luis Perez
,
Justin Jackson
,
RA Dickey
,
JP Arencibia
,
Brett Lawrie
,
Jose Reyes
TEAMS:
Toronto Blue Jays
,
Los Angeles Dodgers
,
Tampa Bay Rays
I'm just going to take a moment to review some of the transactions, reports, interviews and rumors that have floated over the wire in the last month or so where I have some thought or comment.Item: Colby Rasmus avoids arbitration, signed for one year at $4.675 mil. That brings the total of guaranteed contracts to $109.575 million. There are three other players still arb eligible (Thole, Bonifacio, Happ) and my estimate is that they will combine to make about 7.5 million. Among the 12 no-pitchers who can confidently be assumed to the major league roster, only two - Lawrie and Arencibia - are pre-arb. Among the pitchers, you have the rotation set and under contract, and potentially 4 pre-arb players filing out the bullpen. Six pre-arb players at no more than half a mil apiece adds another $3 mil to the total.That adds up to right around $120 million. If Oliver surprises and comes back, add another $3 mil. also, there's one spot open among the non-pitchers which could range from half a mil on up depending on what the Jays are willing to spend on him. There's some u7ncertainty whether the Jays do or don't have Oliver's money available to spend (AA suggests they don't but that seems unusual) but Alex also says he's still poking around for another reliever. Which leads to...Item: Sign Brandon Lyon already. AA says bluntly he'd like to add another reliever, so either that means a trade for a guy who would likely not be any more a sure thing than Brad Lincoln or Esmil Rogers, or a veteran guy who will cost some money - despite the inference that they are pretty much at their ceiling. The market has been stone silent in terms of rumors about Brandon Lyon. He was here last year, pitched well here, apparently likes it, surely can see that he's dealing with a contender...and if the Jays are going to sign some veteran guy, i can't see a good argument for looking elsewhere (other than that he's RH but since JP Howell signed, there's no solid LH still out there).Item: Henry Blanco? lest you be confused - Blanco is insurance. There's a reason his contract is non-guaranteed. He's a Plan B if Thole has injury issues (or JP for that matter) and that particularly in Spring Training. Odds are that he'll serve as a sort of player coach in the spring helping school JP and others in the fine art of catching the knuckler. Then he'll shuffle off to Buffalo and be ready in  case of an in-season emergency. Yes technically he can walk away if they try to send him down, but the odds of a 41 year old catcher finding work on the first of April would not be promising. Item: Minor league maneuvers and the Buffalo roster.While there are still likely more signings, waiver claims, and such like to come, a preliminary look won't hurt. We learned yesterday that Adam Loewen is back in the system and while I no longer harbor high hopes of his eventually making his way to a regular major league job, I still have a soft spot for him and his story. So  with that in mind I'll look at the hitters in AAA since there's less maneuvering there anyway. So barring further acquisitions:If Blanco accepts a demotion, he and Mike Nicaks are easily identifiable as the catching crew. Neither ofthe guys on the prospect list needs to be here yet. David Cooper, unless he takes Lind's job from him in the Spring, will be at 1B, Ryan Goins will certainly move up to take over at SS, and the rest of the infield will be populated with  journeyman and filler, no better than Mike McCoy (who may be the default third baseman).. In the outfield, Anthony Gose and Moises Sierra own CF and RF respectively, while LF will be a competition between Keenen Bailli, Richardo Nanita, and Loewen, with one of those likely being the primary DH as well. Ryan Langerhans will surely make the team as a valuable backup as well.Among the pitchers, the story is much more complex. Starting with the rotation, some assumptions are in order about who makes the cut for the Blue Jays.For the purpose of this exercise, I'm going to assume that in Oliver's absence, that Cecil (who's out of options) and JA Happ (who's not) are the bullpen lefties. There's a non-zero possibility that Happ is sent to Buffalo to stay stretched out in the rotation but he would be rightfully very unhappy about that. Beyond that, I assume Janssen, Santos, Delenbar, Lincoln, and Rogers (also out of options) make it in the absence of any additions. That means the Buffalo staff begins to shape up like this:Starters - Chad Jenkins (will surely start in the minors no matter his major league future; Jeremy Jefress (in the unlikely event that he clears waivers, he's out of options too); John Stilson (speculative, he might go back to New Hampshire); David Bush, Greg Smith. Justin Germano and Ramon Ortiz are the fallbacks for Jefress departing or any other setback, as well as being bullpen candidates.Relievers - prospects Evan Crawford and Aaron Loup, assuming they are not in Toronto, head this group. Sam Dyson might be here, or might get started at AA in April. Alan Farina has an outside shot. The balance will be made up from the following group, in rough order of quality: Tommy Hottovy, Mickey Storey, Chad Beck, Trystan Magnuson, Justin Germano (needed as an emergency starter at least) Rich Thompson,That's 8-10 possibilities, other, less qualified IMO, sSgniees include Niel Wagner, Alex Hinshaw, Juan Perez, Claudio Vargas, Mike Banaka, Bobby Korecky, and Buddy Carlyle. Some of the overflow will go to AA, a lot of it will be released. By necessity, there's no point in trying to project whether, in August, Kyle Drabek, Drew Hutchison and/or Luis Perez push some of these guys aside.Item: Justin Jackson, pitcher. According to a tweet from the no-hit shortstop (nee center fielder) the player and team have decided he's never going to hit and they are going to see if he can learn to pitch. He's always had a heckuva arm so don't rule it out. Item: World Baseball Classic. RA Dickey and JP Arencibia  are on the U.S. squad and may not be the only ones. The should get valuable bonding time out of the experience. Brett Lawrie will play for the Canadian squad. Encarnacion and Jose Reyes will suit up for the Dominican. All this takes place in March so there will be some interesting adjustments necessary for the Blue Jays. One thing you can count on, guys like Coper and Gose will get a lot of playing time, and with Izturus at SS on many occasions, Bonifacio should get a lot of work too. We must hope that this team, which needs time to "gel" won't get off to a slower start than they would like to because of the disruption.
Original Story:
http://thesouthpawbaseball.blogspot.c...
THE BACKYARD
BEST OF MAXIM
RELATED ARTICLES
Toronto Blue Jays pitcher Alan Farina has been suspended for 50 games under minor league baseball's drug program. The commissioner's office said Wednesday that Farina had a second violation for a drug of abuse. A 26-year-old right-hander, Farina was 1-2 with a 5.18 ERA last season for Class A Dunedin of the Florida State League. There have been four suspensions this year...
Outfielder Adam Loewen has agreed to a minor league contract to return to the Toronto Blue Jays, who also settled with outfielder Colby Rasmus on a one-year deal worth $4,675,000. A native of Surrey, British Columbia, Loewen hit .227 with eight home runs and 26 RBI last year with the New York Mets' Triple-A team at Buffalo. Loewen spent the 2009-11 seasons in the Blue Jays...
The names of players committing to play in the World Baseball Classic are coming fast now.  Albert Pujols is likely to play, as we mentioned earlier, and now it seems R.A. Dickey will represent Team USA.  Dickey is coming off a Cy Young performance in 2012, but he is also recovering from offseason abdominal surgery. Jon Heyman of CBS Sports says Dickey is among a list of...
Toronto Blue Jays pitcher Alan Farina has been suspended for 50 games under minor league baseball's drug program. The commissioner's office said Wednesday that Farina had a second violation for a drug of abuse. A 26-year-old right-hander, Farina was 1-2 with a 5.18 ERA last season for Class A Dunedin of the Florida State League. There have been four suspensions this year...
Darren Oliver will reach an even 20 years in the major leagues, as the left-handed reliever agreed to return to the Toronto Blue Jays. After last season, the Blue Jays picked up Oliver's $3 million option for 2013. However, Oliver hadn't confirmed until Tuesday whether he intended to continue his career at age 42. In 2012, Oliver made 62 appearances for Toronto, serving...
Toronto Blue Jays minor league right-hander Alan Farina was suspended for the first 50 games of the upcoming season due to a violation of baseball's drug policy. According to the commissioner's office, Farina was penalized for his second violation of the ban on "drugs of abuse." That's the term baseball uses for prohibited substances that aren't considered...
The Toronto Blue Jays avoided a potential arbitration case with center fielder Colby Rasmus, agreeing to a $4.7 million salary for 2013. Rasmus, 26, earned $2.7 million last season, when he hit .223 with a poor .289 on-base percentage, a .400 slugging percentage, 23 homers and 75 RBI in 151 games. His on-base percentage has slipped each year since his rookie season for the St....
Toronto outfielder Colby Rasmus, Baltimore pitcher Tommy Hunter and Oakland catcher George Kottaras agreed to one-year contracts, leaving 133 players eligible to file for salary arbitration Tuesday. Rasmus gets $4,675,000 under Monday's agreement, Hunter $1.82 million and Kottaras $1 million. San Francisco catcher Buster Posey, Atlanta outfielder Jason Heyward, Boston outfielder...
After a period of great silence, the Reds have finally awaken us all from our winter slumber with some rare news on Monday. According to MLB.com beat writer Mark Sheldon, the team has announced the signing of veteran shortstop Cesar Izturis to a minor league contract. The 32-year old owns a career batting average of .255 over 12 seasons in the big show. However, his bat certainly...
How did I GET here? Did Grey open a magical portal and whisk me away from my fantasy football world like he was Dr. Who? I don't remember stepping into his TARDIS. The last thing I do remember was some guy with a mustache, free candy and a windowless van but he said he wanted to step into MY TARDIS. I don't think I'm remembering that last word right. In any case...
Four hypothetical WBC teams, Jack Cust`s favorite snack, and other stuff.
MLB News

Delivered to your inbox

You'll also receive Yardbarker's daily Top 10, featuring the best sports stories from around the web. Customize your newsletter to get articles on your favorite sports and teams. And the best part? It's free!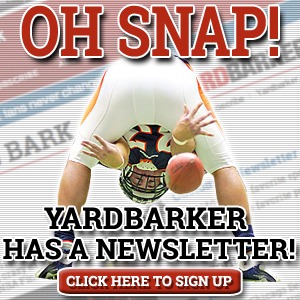 Latest Rumors
Best of Yardbarker

Today's Best Stuff

For Bloggers

Join the Yardbarker Network for more promotion, traffic, and money.

Company Info

Help

What is Yardbarker?

Yardbarker is the largest network of sports blogs and pro athlete blogs on the web. This site is the hub of the Yardbarker Network, where our editors and algorithms curate the best sports content from our network and beyond.