Found June 27, 2012 on Fox Sports Kansas City:
When Royals fans aren't wondering when hot-hitting Will Myers will be called up, they're likely wondering the same about right-handed prospect Jake Odorizzi. Odorizzi, the key component to the Zack Greinke trade, continues to dominate at Class AAA Omaha, posting a 5-0 record with a 2.72 ERA. Odorizzi had 10-days off between his most recent start, but Royals fans shouldn't be alarmed. "He's not hurt or anything like that," said Royals assistant general manager and director of player development J.J. Picollo. "We have given a few pitchers in the organization a 10-day break just to give them a breather. He is one of those guys." In fact, the Royals are having far more conversations these days about when Odorizzi will get his first taste of big-league ball. "He is definitely in the final stages of minor-league development," Picollo said. "Now it's just a matter of timing. We'd want him to get two or three consecutive starts where he feels very confident. And then, of course, there has to be timing with the big-league roster. "We don't want to rush him up here out of need. We want it to be a situation where he forces his way on to the team. We're confident he will do that." Odorizzi continues to work on developing a consistent change-up, which Picollo said will be a key to his success in the major leagues. "Right now, his out pitch is really his fastball," Picollo said. "He can locate that so well. He can bring it at 93 or 96 (mph) and he can elevate when he wants to or put it down in the zone. The hitters don't really know where it's going to go. "What you like about Jake is his baseball maturity. He really knows how to get hitters out. He sets them up. Right now, he doesn't really have a plus-plus curve or a plus-plus change-up. But still, you see a lot of funny swings against him, which is good. But at the next level, we'd like to see him develop that change-up into an out pitch." The Royals have used the example of Greinke and his change-up to impress upon Odorizzi the need to command that pitch. "The year Zack won the Cy Young, he spent all spring training throwing change-ups," Picollo said. "That's how he got such great confidence in it. We'd like to have Jake do the same so when he gets here, he can use that pitch. He'll need it against big-league hitters." FUTURES GAME PICKS Odorizzi and Myers were two of three Royals prospects chosen for the All-Star Futures Game at Kauffman Stadium on July 8. The other selection was 21-year-old Yordano Ventura, a right-hander who is 3-5 with a 3.10 ERA at Class A Wilmington. Ventura has the Royals extremely excited. "He's really developing fast," Picollo said. "He's making the transition the way Kelvin Herrera did last year. Yordano can hit 100 (mph) about a half-dozen times now during a game. Obviously there's more to pitching than that and that's what he's learning. "But he's a guy we envision to be a top-of-the-rotation guy." BUBBA RECOVERING Outfielder Bubba Starling, the Royals' top pick in the 2011 draft, is at short-season Burlington (N.C.) but he has been slowed by a hamstring injury. "He tweaked it after hitting a single in an exhibition game against a college team," Picollo said. "We're not taking any chances with him so he's going to sit. He's day to day." PLAN FOR ZIMMER This year's top pick, right-hander Kyle Zimmer, also is on the mend with a groin injury. The plan for Zimmer is to pitch two or three games in the Arizona rookie league next month, then proceed to Class A Kane County (Ill.). "We're taking it slow with him," Picollo said. "He's already thrown about 90 innings this year in college and we'd like to have him get to about 140 or 150 innings by the fall and that will be just fine. That would give him about six to eight starts (at Kane County)."
Original Story:
http://www.foxsportskansascity.com/06...
THE BACKYARD
BEST OF MAXIM
RELATED ARTICLES
The Milwaukee Brewers say they have not yet made a decision on whether to trade right-hander Zack Greinke or any other player. But two rival executives said Tuesday that the Brewers are preparing to move Greinke if they are unable to sign him long-term before the July 31 non-waiver deadline. Greinke, 8-2 with a 2.81 ERA, is eligible for free agency at the end of the season. &quot...
Many scouts were on hand Wednesday in Cincinnati to watch Brewers right-hander Zack Greinke pitch, and understandably so. Should the Brewers decide they have no chance to climb into the NL Central race and become a seller on the trade market, Greinke could be the top pitcher available. He is a free agent after the season, and if the Brewers think they have no chance to keep him...
Zack Greinke has never lost to the Cincinnati Reds, while the Milwaukee Brewers' only victory in the season series this year came when they beat Homer Bailey in May. Those starters will meet Wednesday and that matchup should give the Brewers hope as they look to avoid a three-game sweep at Great American Ball Park. Cincinnati (41-32) has always has trouble with Greinke (8-2...
The Milwaukee Brewers reportedly may trade pitcher Zack Greinke if they cannot reach agreement with him on a long-term contract by the July 31 non-waiver trade deadline. Based on information provided by two executives outside the Brewers' organization, FoxSports.com reported the Brewers' inclination to trade Greinke, who is scheduled to become a free agent at the end of...
CINCINNATI -- Tuesday, the Texas Rangers placed Colby Lewis on the disabled list with right elbow tendinitis. Wednesday, a Texas Rangers scout arrived at Great American Ballpark for Zack Greinke's start against the Cincinnati Reds. No accident. There are no scouting coincidences in the final days of June. Greinke could become this year's Cliff Lee for the Rangers or someone...
The bright spots in the 2012 Milwaukee Brewers season have been few and far between. There's Ryan Braun somehow being better without Prince Fielder or PEDs (joke!), there's George Kottaras' emergence as the premier lothario of Milwaukee, there was Jonathan Lucroy, there's Aoki and then there is... uhh.. hmm... Well, that's about it really. There is almost nothing...
Right handed pitcher Zack Greinke could be on the move before the July Trade Deadline if the Brewers can't sign him to a long-term deal Ken Rosenthal of FOXSports reports. "They're definitely expecting to move him unless something changes and they re-sign him," a rival executive told Rosenthal. General Manager Doug Melvin said that they haven't decided whether they...
Last Game It was a most disappointing loss for the Reds yesterday afternoon at the hands of the Brewers. Homer Bailey didn't exactly get shelled, but he wasn't excellent either and he didn't stick around very long. Zack Greinke for the Brewers was much better, and it showed in the final score of 8-4. Next Game The dreaded west coast trip begins. Without so much as a day off...
Zack Greinke tossed six quality innings in yesterday's 8-4 win over the Reds, but he gave some Brewer fans a scare when he was pinch hit for in the top of the 7th. This had everything to do with there being runners on second and third with no one out and nothing to do with a potential trade, but the amount of scouts in the crowd today was mentioned several times on the broadcast...
Ken Rosenthal of FOXSports.com reported earlier this week that if the Milwaukee Brewers cannot get pitcher Zack Greinke signed to a long-term deal soon then they would trade the talented right hander who can become an unrestricted free agent at the end of the season. Rosenthal highlights that the Brewers are currently 7 1/2 games out of first place in the National League Central...
The Milwaukee Brewers, who have yet to have a winning or losing streak of more than four games, might be one good week from getting into serious contention. They also might be a bad week or two from becoming an active seller before the July 31 non-waiver deadline – and ace right-hander Zack Greinke would not be their only attractive chip. Two other potential free agents - right...
MLB News

Delivered to your inbox

You'll also receive Yardbarker's daily Top 10, featuring the best sports stories from around the web. Customize your newsletter to get articles on your favorite sports and teams. And the best part? It's free!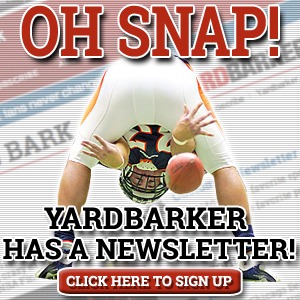 Latest Rumors
The Backyard

Today's Best Stuff

For Bloggers

Join the Yardbarker Network for more promotion, traffic, and money.

Company Info

Help

What is Yardbarker?

Yardbarker is the largest network of sports blogs and pro athlete blogs on the web. This site is the hub of the Yardbarker Network, where our editors and algorithms curate the best sports content from our network and beyond.