Found November 28, 2012 on Raise the Jolly Roger!:
PLAYERS:
Neil Walker
,
Andrew McCutchen
,
Gaby Sanchez
,
Gorkys Hernandez
,
James McDonald
,
Garrett Jones
,
Chris Resop
,
Charlie Morton
,
Joel Hanrahan
,
Neal Huntington
TEAMS:
Pittsburgh Pirates
,
Miami Marlins
An important part of the offseason is approaching, as teams must decide if they will be tendering contracts to their salary arbitration-eligible players by Friday night. For those unfamiliar with the process, players have three years of arb eligibility after their first three seasons in the majors. If a team tenders them a contract, they'll receive a moderate raise–either through an agreement between the player and the team, or in a hearing where an arbiter chooses either the team's or player's suggested salary. Players that are non-tendered become free agents. The Pirates have eight players that they'll need to deal with this week: Neil Walker: 1st arb year | 2012: .280/.342/.426 | 2012 salary: $500k | MLBTR projected 2013 salary: $2.9 million Walker will obviously get a contract. The question with him is if (or when) extension talks will heat up. The Bucs control Neil's rights through 2016 so there is certainly no rush to get anything done, but there was some chatter about it when Andrew McCutchen got his extension last year. Since there isn't much pressure to lock him up yet and his price should be very reasonable this year and next, I wouldn't expect anything soon unless Walker agrees to an incredibly team-friendly deal. At around $3M for this season, the Pirates will be getting very good value from him. Gaby Sanchez 1st arb year | 2012 (w/ Pirates): .241/.323/.397 | 2012 salary: $483k | 2013 projection: $1.8 million Sanchez was recently listed as part of the upcoming Pirates Caravan, essentially tipping off the fact that he will be tendered a contract. That's fine with me; a lot of people didn't seem to like Sanchez, but he did a decent job in his role as a platoon/bench guy after coming to the Bucs this summer in exchange for Gorkys Hernandez and a compensation draft pick.  He didn't show too many signs of returning to his 2011 All-Star form, but as a bench bat and/or a guy to start occasionally against lefties, he's perfectly adequate. If he figured to cost more in this role, his status would be more in doubt, but at less than $2 million keeping him around is very reasonable. James McDonald 1st arb year | 2012: 12-8, 4.21 ERA | 2012 salary: $503k | 2013 projection: $3 million McDonald will have a very interesting case. The Bucs will tender him, since you can't just give up on a guy that was one of the best pitchers in the league for half a season. His remarkable downfall in the second half will make for plenty of debate regarding his salary, though. If he comes out of the gate pitching as horribly as he did late in 2012, his future with the team will be in serious doubt. Whether or not he can turn it around will be one of the major keys to the Bucs' season in 2013 (his success and failure pretty much matched the team's in 2012), but for something around $3 million it's worth the risk with his sky-high potential. Garrett Jones 2nd arb year | 2012: .274 /.317/.516 | 2012 salary: $2.25M | 2013 projection: $4.4 million Jones is in line for a very solid raise after an very good year in 2012, but the Pirates will happily pay for his power. Jones' future was moderately unsure last year at this time, but now he's the Bucs' definitive cleanup hitter. 27 homers and a solid .274 average will do that–at least in this lineup.  No debate here, GFJ will be back. Chris Resop 2nd arb year | 2012: 1-4, 3.91 ERA | 2012 salary: $850k | 2013 projection: $1.3 million Resop is probably the most debatable case of the bunch. We know what he is at this point: a fairly decent middle reliever, not great, not bad. He's not really a high-leverage late-innings guy unless he's on a hot-streak, and while he's a strike-thrower, his strikeouts were down quite a bit in 2012 (5.6 per 9 innings compared to more than 10 each of the previous two years). I'm indifferent on whether the Bucs should tender him or not; it would be fine to pay an OK reliever a little over $1 million, but similar pitchers shouldn't be hard to find at a similar (or better) price. Charlie Morton 2nd arb year | 2012: 2-6, 4.65 ERA | 2012 salary: $2.45M | 2013 projection: $2.6 million Remember this guy? Morton fell out of the picture early in the season when he went down with an injury and underwent Tommy Johnsurgery. He won't get much of a raise because of the injury (and relatively poor performance before the injury), but he'll still probably cost the Bucs more than they'd like. Throw in the fact that he probably won't be ready to go until around June and it's almost a sure thing the Pirates will non-tender Morton. If you're a big fan of Charlie (as I am), don't fret…I'm guessing that he will recognize this and sign a more reasonable deal with the Pirates. He implied as much the other day in this Post-Gazette feature, and I'm assuming the Pirates would be up for something like that. I think Ground Chuck will be back in black and gold unless some other team throws a ton of money at him for some strange reason. Joel Hanrahan 3rd arb year | 2012: 5-2, 2.72 ERA, 36 SV | 2012 salary: $4.1M | 2013 projection: $6.9 million Hammer will be tendered, but now you can start to see why some people have been calling for the Bucs to trade him during the last few years. He'll be expensive this season–and while he's very good, closers are only so valuable (especially the way Clint Hurdleuses Joel) and are often unpredictable. Hanrahan will be a free agent after the season, and while you might think about an extension…it would not be wise for a financially challenged club to commit close to $10M/yr for a reliever, no matter how good he is. I'm sure Neal Huntington will look to shop Joel this winter, but his value isn't all that high any more for the reasons I just stated. Unless some team is willing to give up multiple years of a very useful big league player for one year of Hanrahan (which would shock me), the Pirates will pay Joel his $7M or so this year, send him away at the deadline if they're out of it or part ways at the end of the season. I suppose there's a chance the Bucs could figure out a one year deal to keep him around for 2014, but even that doesn't seem likely. Jeff Karstens 3rd arb year | 2012: 5-4, 3.97 ERA | 2012 salary: $3.1M | 2013 projection: $3.8 million There has been a ton of talk around the blog/twittersphere about how the Pirates are going to non-tender Karstens, but I'm not really buying it. That's partially because I think it would be crazy to let him walk. Karstens has been very solid over the last two seasons. When healthy, he belongs in the middle of any rotation in the league, and $4M or so would be an extremely reasonable price for a year of his services. The issue, of course, is his health. Karstens missed a lot of time in 2012 and was essentially ignored at the end of the year after insisting he was healthy enough to make a start in Milwaukee when he clearly was not. All indications are that he's fine now, but I guess his overall durability is a concern. Still…unless there's something wrong with his arm/shoulder that we don't know about, I'll be very upset if the Bucs don't roll the dice on his health (I don't think it's that big of a gamble, really), because it's going to be essentially impossible to replace him on a very thin and expensive free agent market. Honestly, though, I don't think there's much to the rumor that the Bucs will non tender Jeff. It mostly seems to be stemming from a vague quote from Neal Huntington towards the end of the season that doesn't really seem to mean much beyond the surface. (In fact, it looks to me like more of an attempt to drive down arb price rather than indicating a non-tender). Rob Biertempfel wrote that he "is not expected" to be tendered a contract, but he also said the same thing about Garrett Jones last year.  Dejan Kovacevic has also been indicating that Karstens will be non-tendered, but it looks to me like that's just based on his opinion of the front office rather than any inside info on the subject. Hopefully, logic will prevail…I think it will. - Again, the deadline for these decisions is Friday night at midnight. The 2013 salary projections are from MLB Trade Rumors and have been fairly accurate in the past. PHOTO: Charles LeClaire-US PRESSWIRE
Original Story:
http://feedproxy.google.com/~r/RaiseT...
THE BACKYARD
BEST OF MAXIM
RELATED ARTICLES
The Pittsburgh Pirates have made two trades today, per a team press release. They acquired Zach Stewart from the Boston Red Sox for a player to be named later. They also acquired Vin Mazzaro and Clint Robinson from Kansas City for minor league pitchers Luis Rico and Luis Santos. Stewart was once the top prospect in the Toronto system, and has been involved in several trades over...
The Pittsburgh Pirates have hired four professional scouts, per a team press release. The scouts are Ricky Bennett, Carlos Berroa, Ron Hopkins, and John Kosciak. Bennett spent the last eight years with the Houston Astros, including the last two years as their Director of Professional Scouting. Prior to that he was with Detroit for eight years, including three years as the Director...
The Pirates have reached a deal with free agent catcher Russell Martin, pending a physical. The deal is for $17 million over two years. Martin, 29, was the Yankees' catcher in 2011 and 2012 after five years with the Dodgers. He's a three-time All-Star and has a reputation as a good defensive catcher, but has seen his offensive numbers decline over the last few seasons. He hit...
Today Baseball America released their top 100 college prospects for the 2013 draft. At the top of the list was Mark Appel, who ranked as the top prospect in the draft in their rankings back in August. That's similar to last year, when Appel was the top prospect in the draft pre-season, but fell to eighth overall on draft day. Other notable players on the list: 21. Kent Emanuel...
Earlier today I wrote my "First Pitch" article, titled "Why the Pirates Shouldn't Sign Russell Martin". I spent some time taking a deep look at Martin, and looking at the Pirates' situation. I had it all set up to post at midnight. Then the Pirates signed Martin to a two year, $17 M deal. Nothing really changed with my thoughts below, except for the fact that the move...
The Pirates made two minor trades on Wednesday, acquiring Vin Mazzaro, Clint Robinson, and Zach Stewart from the Royals and Red Sox. The Bucs sent minor leaguers Luis Rico and Luis Santos to Kansas City for Mazzaro and Robinson, and they will send Boston a player to be named later in exchange for Stewart. Mazzaro, Robinson, and Stewart were added to the 40-man roster, and to clear...
The Pittsburgh Pirates today acquired right-handed pitcher Zach Stewart from the Boston Red Sox in exchange for a player to be named later.
Chan Ho Park last pitched in 2011 with the Orix Buffaloes. His last appearance in Major League Baseball came in 2010 with the Pittsburgh Pirates. Park spent seventeen seasons in the major leagues after signing with the Los Angeles Dodgers in 1994. Park, 39,  was once one of the best pitchers in baseball. In his eight seasons with the Dodgers the right hander was 80-54 with a 3.80...
The Pittsburgh Pirates made several moves on Wednesday that included trades with the Royals and Red Sox. The Pirates acquired first baseman Clint Robinson and right-hander Vin Mazzaro from Kansas City in exchange for pitching prospects Luis Rico and Luis Santos. Pittsburgh also obtained right-hander Zach Stewart from Boston for a player to be named later. Mazzaro, 26, was 4...
The Pittsburgh Pirates were reportedly hot in pursuit of former Yankees catcher Russell Martin, and for two years and $17 million, Martin is now a Pirate. Martin, who will turn 30 this coming February, made $7.5 million with the Yankees this past season, his second with the club. In 133 games, he had 21 homers and a .211/.311/.403 line, providing 2.2 wins above replacement for...
As per Ken Rosenthal on Twitter, the Pirates have reached terms with Russell Martin, pending a physical.   We will continue to flesh this out with more details about the terms of the deal as they become available.
MLB News

Delivered to your inbox

You'll also receive Yardbarker's daily Top 10, featuring the best sports stories from around the web. Customize your newsletter to get articles on your favorite sports and teams. And the best part? It's free!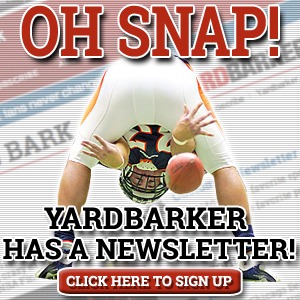 Latest Rumors
Best of Yardbarker

Today's Best Stuff

For Bloggers

Join the Yardbarker Network for more promotion, traffic, and money.

Company Info

Help

What is Yardbarker?

Yardbarker is the largest network of sports blogs and pro athlete blogs on the web. This site is the hub of the Yardbarker Network, where our editors and algorithms curate the best sports content from our network and beyond.