Found June 22, 2012 on Seed Spitters:
Between worrying about Tim Lincecum's performances, the recovery of a "heavier" Pablo Sandoval, the joys of watching Matt Cain pitch perfectly or Melky Cabrera move into third in the National League for starting outfielder in this summer's All-Star game, I've decided to shed some light on the future of the Giants organization. Before this season, I was excited about the developments of Joe Panik, Gary Brown, and Heath Hembree. Now almost two months into it, my excitement has somewhat diminished. Sure, I am excited to have a future all-star center fielder with "all the tools" in Brown, but after a rough two months, his development might take a little longer than I initially anticipated. Brown, 23, so far has been okay. Not great, not terrible. Okay. The only problem with that is the Giants didn't draft him to be "okay," they drafted him to become the future all-star talent of the San Francisco Giants. Here is what he has done so far:
 Gary Brown #14 Center Field .242/.316/.306 (ouch, that line hurts my spleen) 2 HR, 21 RBI, 38 R, 18/29 SB, 10 2B, 1 3B, .623 OPS in 70 games
So out of the five tools, Gary has only shown his speed, defense (only one error thus far) and I'm assuming his arm is still the same (I have yet to see it in person). His power is down from the 14 homers he hit last season in only 131 games, and his overall hitting has been mediocre at best. I still believe Brown can turn his season around, as the AA level is known to be the hardest on hitters. He hit .336/.407/.519 last year in single-A San Jose, so I think things could be worse for the young outfielder. One positive note on his stats: his speed. Sure he has been caught stealing 11 times, but he is aggressive on the base paths and has already swiped 18 bags in 70 games. Again, last year he performed better in this aspect, stealing 53 bags in just 72 attempts, but the speed is still there. Joe Panik, 22, can also be put in this boat, as he has had a disappointing year in San Jose playing in his first full year of professional baseball. Last year, he appeared in the last half of the Salem-Keizer Volcanoes season hitting .341/.401/.467 in 68 games. He was picked 29th overall for the Giants in last year's draft out of St. John's University. He was not scouted for his power, or his blazing speed, but he was projected to become a decent contact hitter and above-average defense man. This year in San Jose, Panik has hit like this:
Joe Panik #29 Shortstop .257/.337/.366 2 HR, 30 RBI, 37 R, 3/6 SB, 17 2B, 3 3B, .702 OPS in 66 games
So the lack of power is there, as is the lack of speed. What is worrisome is the low batting average, average on-base percentage and the 11 errors made already this season. Again, this isn't the end of the world, just a little disappointing thus far for the young prospect. It's his first full season with a professional team. I say we give him some room, let him breathe and the good numbers will come. Heath Hembree, on the other hand, is having the most surprising seasons I would not have expected. At 23 years old, Hembree is looking to become the next flame-throwing, high-strikeout-rate closer the Giants will look for once Brian Wilson calls it quits (or is traded…). He has reached the 100 mph milestone on occasion, and held a remarkable 1.86 ERA with 38 saves in 53.1 innings last season with San Jose and AA Richmond. This season, after a promotion to AAA Fresno before the season, Hembree has shown us pretty below-average closer appearances. Hembree has already earned more runs in under 27 innings this season (13) than he did in 53 innings all of last season (11). His fastball was ranked the best out of the entire Giants organization before the 2012 season by Baseball America and was named the Giants third best prospect before this season by MLB.com. So far, he has put up these numbers:
Heath Hembree #46 Relief Pitcher/Closing Pitcher 4.44 ERA, 26.1 IP, 13 ER, 17 H 12 Saves, 2 HR, 12 BB, 20 K, .181 BA
Aside from the ERA, the one number that stands out to me is the strikeout-to-walk ratio. Last season he had 78 strikeouts and only 25 walks for a 3.12 K:BB ratio. This year, that number has dropped drastically to 1.67 – almost half. Much like Panik and Brown, the reason the Giants have these young players in the minors is to help them develop. Who cares if they have one bad season in AA? I sure don't. I don't expect them to dominate all levels of their game until they retire, nobody should. Matt Cain, who just pitched a perfect game against a major league team named the Houston Astros, held a 4.39 ERA in 26 starts in Fresno in 2005 before he made it to the big leagues. He put up the worst K:BB ratio and WHIP he ever had, and boom. Now look at him. The main point is that these guys are developing and I am still confident we will one day see them play on a team together at AT&T Park. In the meantime, I'll be keeping a very close eye on how Panik stacks up in San Jose, how Brown recovers in Richmond, and how Hembree fairs in Fresno.
Original Story:
http://seedspitters.com/2012/06/on-th...
THE BACKYARD
BEST OF MAXIM
RELATED ARTICLES
First Seattle, and now Anaheim. The San Francisco Giants have lost back-to-back series to American League teams on the road. Next up for the Giants is the Athletics in Oakland.   Infielder Aubrey Huff is eligible to come off the disabled list on Tuesday, but manager Bruce Bochy isn't going to guarantee he'd rejoin the team that day. Perfect Game Matt Cain's hat, cleats, game...
There was a point last year when Tim Lincecum would start games and look pretty bad. Keep in mind, this is back when Lincecum was generally a really good pitcher. Still, he had a tendency to give up a couple hits or walks before he got a good command of the strike zone and truly settle in. Typically at that point he'd be in great shape, but it led to quite a few antsy first innings...
Prior to this season San Francisco Giants pitcher Tim Lincecum was about as close to a sure bet as you could find in Major League Baseball. Over the last four seasons he averaged 244 strikeouts with a 2.82 ERA and 15 wins. He was named to the All-Star team each year, led the [...]
Three consecutive singles. Two walks sandwiched around a defensive misplay. Then three consecutive strikeouts. That's how San Francisco Giants right-handerTim Lincecum gave up three first-inning runs Friday at Oakland. Weird inning in a weird game in a weird season for the two-time Cy Young Award winner. Lincecum followed up a sloppy first inning with five hitless innings...
Tim Lincecum looks back at his extreme, 30-pound weight loss before this season and wishes he had approached it all differently. He says he dropped it too fast, taking drastic measures. All because the two-time NL Cy Young Award winner didn't feel right at the 190 pounds he reached in 2011 eating whatever he wanted, whenever he wanted. The thing is, he was still winning then...
Tim Lincecum is 2-8. He has not won since April 28. His team has lost 9 straight games he has started. He has an ERA over 6.00. He has a career worse 4.8 walks per 9 innings. His average fastball velocity is lower than ever. Tim Lincecum is also 28. He has won two Cy Young Awards. He is striking out more than a batter per inning this season. He and the team claim that he is healthy...
Brandon Belt hit a tying two-run double and scored on Hector Sanchez's single during a four-run ninth inning, and the San Francisco Giants rallied past the Bay Area rival Oakland Athletics 5-4 on Friday night. Ryan Cook (2-2) walked Buster Posey and Pablo Sandoval on nine pitches to open the final inning. Belt sliced a double down the left-field line just out of the reach of...
Brandon Belt hit a go-ahead two-run homer in the sixth inning, Buster Posey added a two-run drive in the seventh, and the San Francisco Giants backed Madison Bumgarner's fourth straight win with just enough offense, holding on for a 9-8 victory over the Oakland Athletics on Saturday. A night after the Giants rallied in the ninth inning to win 5-4 in the opener of the second...
4, 2, 2, 3, 5, 6, 8, 0, 6, 0, 6, 10, 3, 4, 4, 1, 5, 5, 0. Those are the total runs scored by the Giants in each game they've played since the beginning of June. Before today's game the Giants were averaging 4.01 runs per game, which is just below the league average of 4.17. They had an OPS+ of 101, and had managed to scrape together a perfectly cromulent offense. Weird. Except...
Tim Lincecum is not alone. Sure, the Giants' foundering ace is the most obvious example of year-to-year All-Star regression, but plenty more 2011 All-Stars have struggled to repeat their success. It was only last July that Lincecum arrived at the Midsummer Classic as a National League selection for the fourth straight season. He was a defending World Series champion, too, en...
Tim Lincecum (credits below) I won't be doing the self-rating this week. It will be an every-other week thing, so that it doesn't become redundant.

Sell High: Bryan LaHair

One of the nice surprises of 2012 has been Bryan LaHair, who has both invigorated Cubs fans and infuriated them. LaHair has provided the Cubs with the dilemma of whether to sell on LaHair to make...
MLB News

Delivered to your inbox

You'll also receive Yardbarker's daily Top 10, featuring the best sports stories from around the web. Customize your newsletter to get articles on your favorite sports and teams. And the best part? It's free!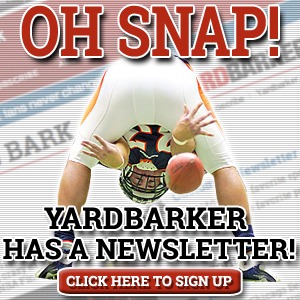 Latest Rumors
Best of Yardbarker

Today's Best Stuff

For Bloggers

Join the Yardbarker Network for more promotion, traffic, and money.

Company Info

Help

What is Yardbarker?

Yardbarker is the largest network of sports blogs and pro athlete blogs on the web. This site is the hub of the Yardbarker Network, where our editors and algorithms curate the best sports content from our network and beyond.