Found April 07, 2012 on Mike Silva's New York Baseball Digest:
PLAYERS:
Mariano Rivera
,
Ben Zobrist
,
Carlos Pena
,
Carl Crawford
,
Evan Longoria
,
Sandy Alomar
,
Matt Franco
,
Trevor Hoffman
,
Rollie Fingers
,
David Robertson
,
Rafael Soriano
,
Derek Jeter
TEAMS:
New York Yankees
,
Tampa Bay Rays
,
Boston Red Sox
Only the Yankees and Mariano Rivera blowing a save could make for mass hysteria on Opening Day. All the other 29 teams have experienced the natural roller coaster ride that even having the "second best closer" in baseball brings. Rivera blowing a lead is rare; on a big stage like Opening Day it's unheard of, especially in the Yankees second home of Tampa.
This wasn't a Game 7 of the 2001 NLCS type of blown save. Rivera wasn't dinked, but rather hit hard by Ben Zobrist and Carlos Pena. Historically you walk away with a bunch of bleeders, even in the games he blows. Bad luck, if you will. Even Rivera admitted his ball was up yesterday. Worse yet, it was left handed batters that normally he eats for lunch.
We have been down this road before. Back on May 7th, 2009 Rivera lost a game at the new Stadium to Tampa. Carl Crawford and Evan Longoria took him deep back-to-back, raising his ERA to 3.97. We all thought the expiration date had come that night. Rivera pitched like he deserved a statue in the new Stadium, not a spot on the mound. We even wondered if the Yanks would ever acclimate to their new and cold corporate home. Yankee Stadium was more a mausoleum that night, with the Rays representing the future when they blew by the Bombers at the speed of light.
The Yankees would win the World Series that season, while Rivera finished with 44 saves and a 1.76 ERA. His ERA over the last three seasons has been 1.82, and he hasn't finished above 2.00 since 2007.
History tells me this blown save will be forgotten in short order. He will recover like he did after Sandy Alomar beat him in the '97 ALDS, or when Matt Franco stunned him that July day in '99, and also after that awful Game 4 of the 2004 ALCS. You don't save 603 games without a short memory.
The reality, however, is that Rivera is 42 years old. No closer in the history of baseball has more saves than him. No closer has pitched at an elite level to his advanced age. Father Time never loses, his track record is even better than Rivera's. What if this is the end? What if Rivera doesn't ride off into the sunset on his terms? Don't think you need to worry about it?
Look at Trevor Hoffman. He saved 37 games and pitched to a 1.82 ERA in 2009 at the age of 41. The next season, at the same age-42 as Rivera, he lost his job to Jon Axford, lost 7 games and pitched to a 5.89 ERA. He was finished. Rollie Fingers saved 23 ballgames and had a 1.96 ERA in 1984. In 1985 his strikeout rate dropped in half and ERA ballooned to 5.04. He was done. It's happened to other great pitchers; maybe a notch below Rivera, but Hall of Famers nonetheless.
The good news is this is only one game. We are a long way from declaring Rivera the Yankees version of the 2010 Hoffman or the 1985 Fingers. They also have plenty of Plan B's if they ever do need to find a replacement. David Robertson struck out 100 batters last season and was their best reliever. Rafael Soriano had an even better season than Rivera closing games for Tampa in 2010.
Even so, neither will be as dependable as Rivera and can't be considered automatic. We all know how important Derek Jeter has been to the Yankees, but I still believe there aren't five World Series titles without Rivera. No other closer has the postseason record. No other closer can be counted on to prevent stomach churning losses that send a team into a landslide. No other closer has been able to be his own setup man, when needed. This was the difference between the Yankees and everyone else since their first title in '96.
If that goes away they are just another very good team with a question mark in the ninth inning. You win some, you lose some. More often than not, closers will break your heart just as often as they make you smile. If this ending in Tampa yesterday is for real and not just an Opening Day nightmare, then this Yankees season takes a whole different turn.
Don't think it will happen? Hey, history says it can.
Original Story:
http://nybaseballdigest.com/2012/04/0...
THE BACKYARD
BEST OF MAXIM
RELATED ARTICLES
<a href="http://NYYUniverse.com/wp-content/plugins/wordpress-feed-statistics/feed-statistics.php?url=aHR0cDovL05ZWVVuaXZlcnNlLmNvbS9taW5vci1sZWFndWVzL2FuZHktcGV0dGl0dGUtdG8tc3RhcnQtbW9uZGF5LW5pZ2h0LWZvci1jbGFzcy1hLXlhbmtlZXMvYXR0YWNobWVudC9wZXR0aXR0ZS0zLw==" rel=\"attachment wp-att-4267\">Andy Pettitte will be making his first start of the Extended Spring...
Mariano Rivera took the blame for a rare blown save. Carlos Pena hit an early grand slam off CC Sabathia, then completed a ninth-inning comeback with an RBI single off the New York closer that lifted the Tampa Bay Rays to a season-opening 7-6 victory over the Yankees on Friday. ''My fault,'' Rivera said. ''I felt good. I don't make excuses. I just left...
REGULAR SEASON GAME 3 YANKEES @ RAYS First Pitch: 1:40 PM | TV: YES/TBS | Radio: WCBS Here are the lineups: YANKEES (0-2) Derek Jeter SS Curtis Granderson CF Robinson Cano 2B Alex Rodriguez 3B Mark Teixeira 1B Nick Swisher DH Raul Ibanez RF Brett Gardner LF Chris Stewart C RHP Phil Hughes (0-0, -.-- ERA) RAYS (2-0) Desmond Jennings CF Carlos Pena 1B Evan...
The New York Yankees are seeking to avoid their first 0-3 start since 1998, although that season turned out just fine. The Tampa Bay Rays, meanwhile, have started with three wins just once in franchise history. The Rays have won five straight at home against the Yankees for the first time heading into Sunday's finale of this opening series. New York has gotten poor...
<a href="http://NYYUniverse.com/wp-content/plugins/wordpress-feed-statistics/feed-statistics.php?url=aHR0cDovL05ZWVVuaXZlcnNlLmNvbS9nYW1lLWRheS9nYW1lLTItbGF0ZS1oZXJvaWNzLWNhbnQtbWFrZS11cC1yb2NreS1zdGFydC9hdHRhY2htZW50L2dtMmZlYXQv" rel=\"attachment wp-att-4209\"> New York Yankees (0-2) 6 — Tampa Bay Rays (2-0) 8   Early issues were too much to overcome...
I recap some of the fun results from the first weekend of the regular season. Hear my thoughts on the homegrown Mets, Mariano Rivera, the shift, John and Suzyn on the radio, and Bobby Valentine doing a show in New York. Dan Levy of the Bleacher Report, and formerly the Sporting News and Washington Post, will join to give some of his first impressions of the new baseball season...
Opening Day is a time for celebration, a time for joy and good feelings.  It is also a time to evaluate the state of your team (and possibly overreact to an Opening Day loss).  But hey, that's the fun of it.  Let's take a look at the entire 2012 Yankees roster and answer the hard-hitting questions everyone wants to know: Infielders 1: Will Teixeira hit .281 this season? ...
Tough day for the old picker yesterday. With only four correct picks in nine attempts, a couple of upset picks did not pan out and Mariano Rivera blew a save. Is this going to be a long season in San Diego? Only four players have had any hits for that team in the first two games. They may never score a run. Brandon McCarthy wasn't as good yesterday as expected and the Mariners...
MLB News

Delivered to your inbox

You'll also receive Yardbarker's daily Top 10, featuring the best sports stories from around the web. Customize your newsletter to get articles on your favorite sports and teams. And the best part? It's free!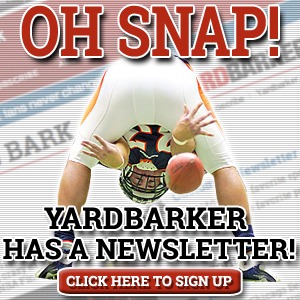 Latest Rumors
Best of Yardbarker

Today's Best Stuff

For Bloggers

Join the Yardbarker Network for more promotion, traffic, and money.

Company Info

Help

What is Yardbarker?

Yardbarker is the largest network of sports blogs and pro athlete blogs on the web. This site is the hub of the Yardbarker Network, where our editors and algorithms curate the best sports content from our network and beyond.