Found April 05, 2012 on Camden Crazies:
PLAYERS:
Denard Span
,
Jamey Carroll
,
Joe Mauer
,
Justin Morneau
,
Josh Willingham
,
Ryan Doumit
,
Chris Parmelee
,
Alexi Casilla
,
Carl Pavano
,
Nolan Reimold
,
JJ Hardy
,
Nick Markakis
,
Adam Jones
,
Matt Wieters
,
Wilson Betemit
,
Mark Reynolds
,
Chris Davis
,
Robert Andino
,
Nick Johnson
,
Jake Arrieta
TEAMS:
Minnesota Twins
,
Baltimore Orioles
There were games in Japan, a game in the garish new stadium in Miami, and games all around the country yesterday - now Opening Day has finally come to Baltimore. The team's going to be bad (by WAR I think I had them coming out to 72 wins; but 69-72 seems like a reasonable range for expectantions), but watching baseball played by a bad major league team is still better than most things.
The Twins (2011 stats):
Pos Batting UZR fWAR Denard Span CF .264/.328/.359 9 2.2 Jamey Carroll SS .290/.359/.347 -5 2.2 Joe Mauer CF .287/.360/.368 1 1.6 Justin Morneau DH .227/.285/.333 4 -0.3 Josh Willingham LF .246/.332/.477 -5 2.1 Ryan Doumit RF .303/.353/.477 -2 1.6 Danny Valencia 3B .246/.294/.383 -6 0.5 Chris Parmelee 1B .355/.443/.592 1
1.3
Alexi Casilla 2B .260/.322/.368 0 1.4
Maybe not quite this week, but I hope Justin Morneau can re-establish himself as a good major leaguer again. Also, given the contract Minnesota gave him, that Joe Mauer can get back closer to star level. Not that that'll be enough to make them competitive, probably, but it would be nice for baseball.
Carl Pavano:
K/9 BB/9 GB% ERA FIP xFIP fWAR 4.1 1.6 50.6% 4.30 4.10 4.14 2.9
Pavano isn't a hard thrower (89-90 with the fastball), his sinker (his primary heater) doesn't miss bats, and his off-speed stuff is merely OK. But he can spot his pitches and doesn't give out free passes or a ton of long-balls. I could see the O's not doing much against him most of the game, but having an inning where they string together 4-5 hits with a double or two mixed in to put some runs on the board.
The Orioles (2011 stats):
Pos Batting
UZR fWAR Nolan Reimold LF .247/.328/.453 1 1.5 J.J. Hardy SS .269/.310/.491 11 4.8 Nick Markakis RF .284/.351/.406 -5 2.2 Adam Jones CF .280/.319/.466 -9 2.9 Matt Wieters C .262/.328/.450 12 5.0 Wilson Betemit DH
.285/.343/.452 -9 1.0 Mark Reynolds 3B
.221/.323/.483 -28 0.3 Chris Davis
1B
.266/.305/.402
-1
-0.1
Robert Andino 2B .263/.327/.344 2 1.8
That's a decent enough line-up, though there's no one particularly great (or even very good, one could say) hitter. The defense is maybe close to average as well, excluding Reynolds (who should be somewhere between "bad" and "please hide all his gloves so he has to DH"). I don't love Chris Davis being in there instead of Nick Johnson (from a one game perspective), since Davis seems more apt to be taken advantage of by Pavano (who isn't very likely to give him something good to hit) as opposed to Johnson (who can at least force Pavano to throw a strike). Nolan Reimold leading off is nice though (but I'd flip Hardy and Markakis).
Jake Arrieta:
K/9 BB/9 GB% ERA FIP xFIP fWAR 7.0 4.4 45.7% 5.05 5.34 4.52 0.2
Arrieta's stuff is good enough that he should be able to maintain an average-ish strike-out rate, so if his control comes around (he did have a 3.6 BB/9 in April last year), he could be a #3 type pitcher. He'll need to be careful with the middle of the Twins' line-up, throwing strikes but not leaving too much in the middle of the plate. Even with a few walks, I think he'll be OK if he can keep the ball in the yard though.
Original Story:
http://www.camdencrazies.com/2012-art...
THE BACKYARD
BEST OF MAXIM
RELATED ARTICLES
Ouch. Now we know for sure that there's no light at the end of the tunnel for the O's. On Tuesday, Baltimore dropped an exhibition game to the State College of Florida (formerly known as the Manatee Community College). The worst part: The Orioles used several players who could be in the Opening Day lineup, including J.J. Hardy, who blasted a home run in the fourth inning as the...
The Minnesota Twins made their final two roster moves in preparation for Opening Day on Friday in Baltimore. Right-hander Scott Baker was placed on the 15-day disabled list with an elbow strain. That move is retroactive to March 27. Baker was 8-6 with a 3.14 ERA last season but missed time at the end of the season with an elbow injury. He was originally scheduled to start Minnesota...
The Minnesota Twins have placed right-hander Scott Baker on the 15-day disabled list and optioned right-hander Jason Marquis to Double-A New Britain, with neither starter ready in time for the regular season. The moves were made Wednesday, the Major League Baseball deadline for setting 25-man opening day rosters. Baker has been bothered by tendinitis in his throwing elbow. He was...
The Minnesota Twins opened their season on Friday able to finally start with a clean slate after last year's disappointing 63-99 record. Three batters into the bottom of the first inning and the look of the season-opener had a certain dj vu feeling. Former Twin J.J. Hardy had walked and Nick Markakis followed with a one-out, two-run home run to put Minnesota in a 2-0 hole. ...
With Opening Day upon us, we're finally getting around to wrapping up our Season Previews. Five years ago, they began as a semi-serious analysis and ended up as half-assed haiku. We're just gonna go with what we know. As our final preview of the 2012 season, and polishing off our preview of the American League Central, let's check out the Minnesota Twins. Pavano...
So, maybe Dylan Bundy should have been started above low-A ball. In his pro baseball debut, for the Delmarva Shorebirds, Bundy pitched 3 perfect frames (they're trying to limit his innings). He struck out 6, and apparently threw 21 out of 21 pitches* for strikes (that's 100%, which seems pretty good). Even though he's coming from high school, he's already 19 and is...
On the 20th anniversary of the opening of Oriole Park at Camden Yards, the Baltimore Orioles rekindled the magic of the stadium that set the standard for all future ballparks. The Orioles hope to keep the magic - and winning - going Saturday as they continue their season-opening series against the Minnesota Twins. Baltimore got the 2012 season started right with a 4-2 victory over...
The Orioles held an event today honoring the 20th anniversary of the park at Camden Yards, showing off some of the new additions for 2012. They were nice enough to invite me (so that I could estimate the deliciousness above replacement of the new food, I assume). The weather was fantastic, and seeing the green grass and the stands and the scoreboard and whatnot was great - my excitement...
The Baltimore Orioles made a few more moves yesterday, as the roster for Opening Day is close to being finalized. The biggest news out of the flurry of activity is that pitcher Tsuyoshi Wada will start the season on the disabled list. He says that he is fine and ready to go; however, although Wada had some soreness issues, the Orioles decided to make the move in order to get him...
When I first heard that the O's were making changes to a few areas of Oriole Park at Camden Yards in order to enhance the fan experience, I was nonplussed. After all, it's the Orioles we're talking about here; if they consider "upgrading" the ball park the same as they do with the roster, what would be the OPACY equivalent of swapping Jeremy Guthrie for Jason Hammel? Replacing...
On Wednesday, the Baltimore Orioles invited the local media and various dignitaries out to Camden Yards to preview the renovations, plus the new culinary offerings available Opening Day and beyond. Camden Yards starting on Friday will feature 'Dempsey's Brew Pub and Restaurant', which is named for former Oriole catcher and current MASN broadcaster, Rick Dempsey, who is a part...
MLB News

Delivered to your inbox

You'll also receive Yardbarker's daily Top 10, featuring the best sports stories from around the web. Customize your newsletter to get articles on your favorite sports and teams. And the best part? It's free!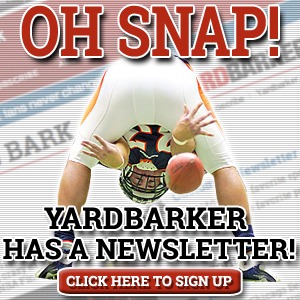 Latest Rumors
Best of Yardbarker

Today's Best Stuff

For Bloggers

Join the Yardbarker Network for more promotion, traffic, and money.

Company Info

Help

What is Yardbarker?

Yardbarker is the largest network of sports blogs and pro athlete blogs on the web. This site is the hub of the Yardbarker Network, where our editors and algorithms curate the best sports content from our network and beyond.