Posted February 27, 2013 on AP on Fox
Wei-Yin Chen has become Baltimore's biggest winner. Just 12 months ago, Chen was an unknown for the Orioles. The 27-year-old Taiwan native arrived in Baltimore by way of Japan, where he spent four seasons. The unknown turned into a huge bargain for Baltimore, who signed him to a three-year, $11 million contract before the 2012 season. Japanese left-hander Tsuyoshi Wada and Chen were Baltimore's big offseason acquisitions. Wada was the more publicized, but because he missed last season after Tommy John surgery, Chen has turned out to be the better signing so far. After a 12-11 record with a 4.02 ERA last year, the left-hander has a good idea of what he's looking for in 2013. ''Nothing different. Same approach. Same way. Same goals. This year, I want to be more competitive,'' Chen said through his translator. Even though he still needs Tim Lin to interpret for him, Chen has easily adapted to the U.S. He's picked up lots of American slang. ''I learned a lot from last season. I have so many experiences from last year, and this year, I want to be fully prepared and ready before the season starts,'' Chen said, He didn't know much about the major leagues before he joined the Orioles. After he faced the Minnesota Twins in one of his first starts last March, Chen said he had no idea who Joe Mauer was. Now, he's more familiar with players. ''I learned a lot from here, competition and competitiveness. The hitters were a surprise to me,'' Chen said. ''Their power, once you make one mistake, you have to pay the price. In Japan, you can throw a lot of pitches and make a mistake and come back. Here, once you make a mistake, you have to pay the price. That's the (main) thing I learned this year.'' Over the winter, Chen stayed in California to train with former Orioles outfielder and now team executive Brady Anderson. He became a father to a son, Karsten, and even went on a road trip to Las Vegas with a few of his teammates. Chen appreciates what he learned. ''Training in California helped me prepare for a full spring training,'' Chen said. ''In Japan, we run a lot. We don't do weightlifting. Here, during the season we still do weightlifting. We don't run a lot here. This is a huge difference between Asian baseball and here. This helps me a lot, and I've learned a lot from Brady.'' Last November, his son Karsten arrived, and what a change it's been for Chen. ''It surprised me a lot. Before when I went back home, I thought about what I did today, and think about all the baseball, the on-the-field stuff. Right now, I can look at my kid, and enjoy this environment. I enjoy baseball much more because I have to take care of kids.'' Since he acclimated so well to the U.S. in his first season, it seems obvious to ask if Chen would like to make this his home. ''I'm not sure I would like stay permanently, but I can tell you I love America. I love the life here,'' he said. NOTES: Wada threw 25 pitches on Wednesday morning in his second bullpen session since his Tommy John surgery. ''My elbow and overall body-wise, conditioning-wise, I do feel stronger. As time goes by I feel like I'm going to be able to swing my arms faster too,'' Wada said. ... RHP Luis Ayala pitched so much during the winter in Mexico that the Orioles probably won't schedule him to pitch until well into March.
Original Story:
http://msn.foxsports.com/mlb/story/Or...
THE BACKYARD
BEST OF MAXIM
RELATED ARTICLES
The leap is way too large to consider that the Baltimore Orioles went 33-18 once Manny Machado made the leap to the Major Leagues at the age of twenty last season. One player doesn't a .647 winning percentage down that stretch make. But it makes for a nice theory. After all, the third base position went from the worst fielding position in the majors to a savings of four and...
No team was a bigger surprise in 2012 than the Baltimore Orioles. Even though people still didn't believe in them even as they were playing in the ALDS, the YOLOrioles decided to run it back, entering 2013 with largely the same roster, hoping to once again prove all their critics dead wrong. Orioles on TOC End of Season Postmortem 2013 Season Preview You May Say I'...
Continuing from our season preview of the Baltimore Orioles earlier today... Can the Orioles recapture their 2012 magic? Every Oriole fan has heard this over and over again in the last year. -Baltimore only had a +7 run differential -The Orioles went an unrepeatable 29-9 in one-run games -The O's lucked into an incredible 16-2 record in extra inning games...
What else can baseball fans do in January but dream of October? In You May Say I'm a Dreamer, the Outside Corner staff will imagine the route to a World Series in 2013 title for all 30 teams. After a miraculous 2012 season, the Baltimore Orioles weren't counted on to contend again in 2013. They were called a fluke, a one-year wonder, and quite frankly, just not a contender...
In the This Is My Nightmare series, we'll take a look at what the absolute worst case scenario for each team would be in 2013. Think of it as the negative complement to our You May Say I'm A Dreamer series that we'll be running during our preview series. A nightmare season for the 2013 Orioles can be described thusly: instead of playing like they did in 2012, the...
With the start the MLB baseball season is around the corner, Adam Jones of the Baltimore Orioles and Miguel Cabrerra of the Detroit Tigers did a video to show just how excited they are to get back on the [...]
There have been a lot of firsts for Tsuyoshi Wada since he underwent Tommy John surgery last year.  The Baltimore Orioles pitcher threw a bullpen session yesterday.  It was the first time he has done so since undergoing the surgery back in May of 2012. Brittany Ghiroli of MLB.com says the club was encouraged by Wada's bullpen session.  Wada said after the session that...
The Orioles will be featured on "Power Alley" on SiriusXM's MLB Network Radio... *** Will host their MLB Network Radio show, 'ÄúPower Alley,'ÄĚ from Ed Smith Stadium Feb. 26, 2013 'Äď Sirius XM Radio'Äôs Jim Duquette and Mike Ferrin will host their daily talk show from Ed Smith Stadium in Sarasota, FL, tomorrow, February 27.¬† 'ÄúPower Alley'ÄĚ airs live...
Opening Day is within sight with spring training in full effect. Just as fans can'Äôt wait to get back in the stands, players are anxious to return to the field. To prove it, reigning AL MVP Miguel Cabrera¬†and¬†Orioles All-Star¬†Adam Jones were featured in a music video, tweaking the lyrics to¬†Rihanna'Äôs¬†hit single, 'ÄúDiamonds'ÄĚ to show fans that they can'Äôt wait 'Äúto get...
As we near the start of the Major League Baseball season, the fine folks over at the MLB Fan Cave decided to produce a parody music video starring Baltimore Orioles outfielder Adam Jones and Detroit Tigers first baseman Miguel Cabrera. They used the template of Rihanna's hit song "Diamonds" and called their track "The Diamond" to pump up baseball fans....
Baltimore Orioles 10 'ÄĒ New York Yankees 7 ¬† Five errors prove costly in today'Äôs 10-7 loss to the Baltimore Orioles. ¬† Brett Gardner continues to hit the baseball all over the field with a bases-loaded triple, bringing 3 runs in a 4-run 2nd inning. He is currently hitting .625 (5 for 8) in 3 games this Spring. The Yankees offense couldn'Äôt make much of an impact the rest of...
MLB News

Delivered to your inbox

You'll also receive Yardbarker's daily Top 10, featuring the best sports stories from around the web. Customize your newsletter to get articles on your favorite sports and teams. And the best part? It's free!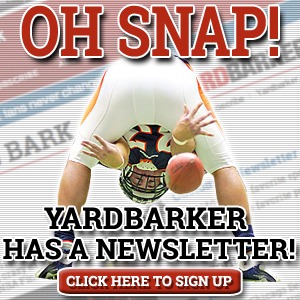 Latest Rumors
The Backyard

Today's Best Stuff

For Bloggers

Join the Yardbarker Network for more promotion, traffic, and money.

Company Info

Help

What is Yardbarker?

Yardbarker is the largest network of sports blogs and pro athlete blogs on the web. This site is the hub of the Yardbarker Network, where our editors and algorithms curate the best sports content from our network and beyond.