Found January 03, 2012 on Camden Crazies:
The Orioles have essentially completed a three-team deal in which they traded cash to the Oakland A's in return for outfielder Jai Miller and then picked up cash from the Texas Rangers while sending them Brandon Snyder.
Taking the latter deal first, trading prospects for cash doesn't seem like something the O's should be doing, but I've never thought all that much of Snyder. The 25 year-old's chances of being a good Major Leaguer took a huge hit when he had to give up catching, as his bat didn't seem likely to play at first-base. In three seasons at Triple-A, Snyder hit just .256/.317/.394. He didn't walk much (7% of the time) or hit for power (only 13 home runs per 150 games), while striking out to much (22% of the time) to hit for a high average even with good BABIPs (~.317). I've heard that Snyder has turned himself into a fine defensive first-baseman at this point, but he'd need to be Keith Hernandez over there to sniff replacement level unless hi improved offensively. It would have been nice to turn Snyder into another (possibly higher ceiling but lower level) prospect, but I can imagine no team being willing to part with one. It is interesting that Dan Duquette once again showed a willingness to trade away a mediocre prospect for nothing worth much long-term in return.
Jai Miller will take Snyder's 40-man roster spot. The (in two weeks) 27 year-old similarly has very little major league playing team, but has hit .271/.351/.516 in four Triple-A seasons. He swings and misses more than Snyder (a 31% strike-out rate in the minors is pretty awful), but at least he's hit for power (30 homers per 150 games, though much of that comes from 2011 in the hitter-friendly Pacific Coast League) and taken some walks (10% of the time). 47 stolen bases isn't a lot over 423 games, but at least his success rate is about 80%. Miller's minor league Total Zone numbers are in positive territory (both in the corners and in center), but that data is only through 2009 (though he's supposed to have a good glove). Given that it took a BABIP around .356 for Miller to hit even .271 in Triple-A, I wouldn't expect him to be much of a hitter (even if he draws a couple free passes and hits some dingers). If the glove-work is still a plus though, that might play as a 4th outfielder. This trade is the kind in which one should pick up these kinds* of players.
* Chris Davis, admittedly, has much better minor league numbers. But he doesn't play center-field, does he? I probably wouldn't trade Davis for Miller, but I think one can consider it at least.
The O's have also brought on pitching coach Rick Peterson to do work with minor league pitchers in some capacity ("pitching guru" is how I've heard it described), and trainer Chris Correnti to do rehab and conditioning work (also with minor league pitchers). These are the kinds of organizational moves that can have real longer-term effects, and could easily swamp the impacts of the minor trades Dan Duquette has made this year. The Orioles have been pretty bad with developing their young pitchers, so focus on that process is very nice to see.
Original Story:
http://www.camdencrazies.com/2012-art...
THE BACKYARD
BEST OF MAXIM
RELATED ARTICLES
The Texas Rangers have acquired former first-round pick Brandon Snyder, who was been with the Baltimore organization since being selected in the 2005 draft. The Rangers are sending cash considerations to Baltimore for Snyder, who will be added to the 40-man roster. Texas now has 38 players on its 40-man roster. Snyder, who is primarily a first baseman, hit .261 with 14 home runs...
The Orioles acquire outfielder Jai Miller from the Oakland Athletics and INF Brandon Synder was traded to the Texas Rangers.
The Orioles acquired outfielder Jai Miller from the Athletics for cash considerations, according to a press release.  Orioles executive vice president of baseball operations Dan Duquette said in a statement, "Jai Miller has the power, speed, base stealing skills and good athletic ability to be an asset in our outfield as he competes for a spot on our ballclub this spring...
The A's parted with a piece of their outfield depth on Tuesday, trading Jai Miller to the Orioles for cash considerations.
According to a team announcement, the Baltimore Orioles have acquired Jai Miller from the Oakland Athletics for cash. Image by Mark Larson under the Creative Commons License.
The Baltimore Orioles have obtained outfielder Jai Miller from the Oakland Athletics, who parted with the part-time player for cash considerations. Miller was designated for assignment by Oakland on Dec. 23 after the A's received four players for pitcher Gio Gonzalez. The 26-year-old Miller went 3 for 12 with a homer and two RBIs for Oakland last season after being called up in September.
The Orioles made two minor trades today, sending former first-round pick Brandon Snyder to the Texas Rangers for cash while acquiring outfielder Jai Miller from the Oakland A's, also for cash.
The Baltimore Orioles have obtained outfielder Jai Miller from the Oakland Athletics, who parted with the part-time player for cash considerations.
When the Orioles acquired Mark Reynolds and Derrek Lee last offseason and then traded for Chris Davis in July, first baseman Brandon Snyder knew his opportunities in Baltimore were shrinking. So when the former first rounder – Snyder received a $1.7 million bonus as the 13 th overall pick in 2005 – was traded on Tuesday to the Texas Rangers for cash considerations, it wasn't a shock.
The Rangers acquired infielder Brandon Snyder from the Orioles for cash considerations on Tuesday. Texas also re-signed left-handed-hitting first baseman Brad Nelson to a Minor League contract. He will be assigned to Minor League camp.
The A's traded outfielder Jai Miller to the Baltimore Orioles on Tuesday, but the bigger news is the player who might return to their outfield
MLB News

Delivered to your inbox

You'll also receive Yardbarker's daily Top 10, featuring the best sports stories from around the web. Customize your newsletter to get articles on your favorite sports and teams. And the best part? It's free!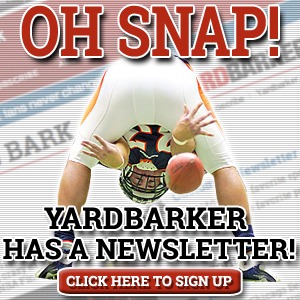 Latest Rumors
Best of Yardbarker

Today's Best Stuff

For Bloggers

Join the Yardbarker Network for more promotion, traffic, and money.

Company Info

Help

What is Yardbarker?

Yardbarker is the largest network of sports blogs and pro athlete blogs on the web. This site is the hub of the Yardbarker Network, where our editors and algorithms curate the best sports content from our network and beyond.