Found October 10, 2012 on Blog So Hard Sports:
The Orioles head to New York to play game 3 from the American League Division Series (ALDS) after bouncing back to take game 2 and even then series at 1-1. In the first two games of the series it has pretty much been neck and neck minus one inning. To me it's only fitting that for the Orioles magical season to keep going they have to win 2 of the next 3 in New York which is pretty much the Mecca of October baseball. This season its been Camden Yards North every time the Orioles have gone into New York , with the O's taking 6 of 9 games. This, after all, is October and Yankee Stadium which can never be looked at as a good thing for any opposing team. The Orioles against Hiroki KurodaThe Yankees will send 16 game winner Hiroki Kuroda to the mound to face the Birds. Kuroda has thrown well against the Orioles this season and has a 1-1 record to show for it. The O's have had some individual successes against Kuroda this year with Chris Davis, Adam Jones, Manny Machado, and Matt Wieters all hitting over .330 against the right hander this season. Kuroda has a heavy sinker that is almost impossible to get up in the air and hitters eventually pound it into the ground. This is a problem with the Orioles all or nothing offense. The good news is that the O's have been able to manufacture some runs without the long ball. Baltimore has also done it without the help of two big bats in Adam Jones and Matt Wieters who are a combined 2 for 16 in the series. They need to get it going in some way to help out Chris Davis (hitting .500 in the ALDS) if the Orioles expect to win this series. Miguel Gonzalez against the Yankees The Orioles will send their second straight rookie to the mound in Game 3, starting 9-4 Miguel Gonzalez. For Gonzo to help the Orioles take a 2-1 lead in the series, all he has to do is what he has done against the Yanks all year and that is win. Gonzalez is 2-0 against the Yankees this season with 17 strikeouts in 13.2 innings pitched. As far as the Yankees big bats go, they have done nothing against Gonzalez, literally nothing. Curtis Granderson, Robinson Cano, Nick Swisher, and Mark Teixeira are a combined 0-21 against him this season with 12 strike outs. They haven't even worked a walk. But like I said before, it's October and this is Yankee stadium, but the Orioles do have reason to be optimistic sending Gonzalez to the bump. Other Match-Ups and Players to WatchA-Rod/Nick Swisher – Make no mistake A-Rod is a head case and striking out half the time (5 strikeouts in 9 at bats) is under his skin. Nick Swisher on the other hand is a lot more laid back but 1-33 with runners in scoring position is bound to get anyone a little frustrated.Manny Machado – The 20 year-old has had a rough go of it so far going 0-7 in his first two ALDS games. The Orioles would love to have something out of him offensively but are happy with him just making plays at 3rd. In any event, just like Bryce Harper being in the playoffs, it's just cool to watch a 20 year-old play on the big stage.Brian Matusz – I had all but packed it in on Matusz but he is a different animal coming out of the bullpen. Final Thoughts In my opinion the Orioles have to take game three if they want to win the series, and I believe they have a good shot at it. It is a must-win game. If Gonzalez can throw well and the Orioles can knock Kuroda out of the game they can win it. Then the pressure is all on the Yankees with up and down Phil Hughes going in Game 4.
Original Story:
http://blogsohardsports.com/orioles/o...
THE BACKYARD
BEST OF MAXIM
RELATED ARTICLES
Miguel Gonzalez is enjoying the Baltimore Orioles' October attire. After spending more than seven years bouncing around the minor leagues and recovering from injuries, he's not letting a thing get past him. Now the rookie right-hander is taking off his postseason sweater and getting ready to pitch in Game 3 of the AL division series against the New York Yankees. He'...
Just a quick disclaimer: I am an unabashed Mets fan, and I hate everything about the Yankees. But when it comes to post-season baseball, and as a writer, you have to put the hatred aside to write about things and be as objective as possible. Well, after last night's Yankee game, I think it is safe to say that it is time for Joe Girardi to move Alex Rodriguez down in the order and...
This is as good as it gets when it comes to avoiding being thrown out at home plate. Robinson Cano ripped a double off of the right field wall with two outs in the first and Ichiro took off from first in speedy fashion to try and score. Orioles outfielder Chris Davis threw a rope of a relay to second baseman Robert Andino who tossed it to Orioles' catcher Matt Weiters who was...
Tonight's Baltimore Orioles/New York Yankees Game 3 American League Division Series match-up held a lot of important. The winner of tonight's game would be up 2-1, holding a chance at clinching in tomorrows Game 4 and advance to the American League Championship Series.The Yankees were able to use the power of Raul Ibanez, who hit two home runs in the game, one to tie the game...
Chris Davis hit a two-run single off Andy Pettitte to give the Baltimore Orioles a 2-1 lead over the New York after three innings Monday night in the second game of their AL division series. The Orioles were seeking to even the best-of-five series between AL East rivals. For the second day in a row, the start at Camden Yards was delayed by rain, this time for 40 minutes. Baserunning...
Jerry Girardi, the father of New York Yankees manager Joe, passed away at the age of 81.Jerry had been battling Alzheimer's disease. It was reported that he passed away on Saturday but the younger Girardi kept it secret until today.Joe Girardi does plan on managing in tonight's Game 4 of the ALDS against the Baltimore Orioles at Yankee Stadium, according to Joel Sherman...
Pedro Ciriaco is truly a student of the game of baseball. Growing up in the Dominican Republic, the young Boston infielder had a lot of role models to look up to including Sammy Sosa and former Red Sox slugger Manny Ramirez. In a place where baseball isn't just a sport, the young Ciriaco was like a sponge absorbing whatever he could from the successes of his predecessors. &quot...
Your browser does not support iframes. Ichiro Suzuki scored the first run of the ALDS Game 2 between the Yankees and Orioles by making some incredible moves to avoid a tag at home. The Yankees left fielder was trying to score from first on a two-out double by Robinson Cano when the throw home clearly beat him. Ichiro swung out wide to avoid catcher Matt Wieters, and then he leaped...
BALTIMORE - Chris Davis had a two-run single, and Mark Reynolds added an RBI single while starter Wei-Yin Chen threw 6 1/3 solid innings as the Baltimore Orioles defeated the New York Yankees, 3-2, in Game 2 of their American League Division Series on Monday night. The win enabled Baltimore to tie the best-of-five series at one game apiece. The series now shifts to New York for...
BALTIMORE -- The Baltimore Orioles had record-setting success in one-run games during the regular season, and that continued Monday night against the New York Yankees. Chris Davis had a two-run single, Mark Reynolds added an RBI single and Wei-Yin Chen threw 6 1/3 solid innings as the Orioles defeated the Yankees 3-2 in Game 2 of their American League Division Series. The win...
Ichiro Suzuki made one of the most acrobatic plays of the postseason in the first inning of game two in the Yankees and Orioles series Monday night. Robinson Cano doubled down the right field line and this happened: Thanks to mlb.com for the videoThe post appeared first on Reading Between The Seams.
MLB News

Delivered to your inbox

You'll also receive Yardbarker's daily Top 10, featuring the best sports stories from around the web. Customize your newsletter to get articles on your favorite sports and teams. And the best part? It's free!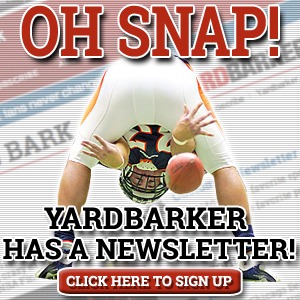 Latest Rumors
Best of Yardbarker

Today's Best Stuff

For Bloggers

Join the Yardbarker Network for more promotion, traffic, and money.

Company Info

Help

What is Yardbarker?

Yardbarker is the largest network of sports blogs and pro athlete blogs on the web. This site is the hub of the Yardbarker Network, where our editors and algorithms curate the best sports content from our network and beyond.