Found May 29, 2012 on Fox Sports:
PLAYERS:
Dwyane Wade
,
Aaron Rodgers
,
Vince Lombardi
,
Adam Jones
,
Aaron Henry
,
Hank Aaron
,
Jackie Robinson
,
Bob Gibson
,
Matt Kemp
,
Buck Showalter
TEAMS:
Miami Heat
,
Green Bay Packers
,
Baltimore Orioles
,
Oakland Raiders
,
Los Angeles Dodgers
Twitter avatars may not be windows to the soul, but they reveal something about the people behind those 140-character witticisms. Consider Dwyane Wade, the Miami Heat star. His 3.1 million followers see a professional photo: tailored suit, pocket square, designer watch, perfect lighting. He looks like a stud, and he is. Aaron Rodgers picked a perfectly-angled snapshot from his proudest news conference: Super Bowl MVP hardware in hand, Vince Lombardi Trophy in the foreground. For his, Baltimore center fielder Adam Jones chose a picture from the cellphone camera of Jeff Lantz. Lantz is not an award-winning portrait photographer, with a deep expertise in edges and shadows and framing. He is the Orioles media relations manager, and he took the photo in an ordinarily-lit VIP room behind home plate at Camden Yards. It includes Jones, in a simple Orioles pullover, and a regal 78-year-old wearing a coat and tie. Henry Aaron. "The first time I met him," Jones said Monday, with more than a hint of awe in his voice. "It was at Frank Robinson's statue (dedication) in Baltimore. I got a ball from him, too. That's Hank Aaron . "Jackie Robinson, Hank Aaron, Willie Mays, Frank Robinson, Larry Doby, Bob Gibson ... as a black man, I owe a lot to what they did, with what they had to deal with, to put me in a situation where I don't have to endure that. I'm always grateful for that. I couldn't even imagine the things they were hearing in the '50s, '60s, '70s. They let their bat do the talking." Jones signed a six-year, $85.5 million extension with the Orioles over the Memorial Day weekend. It's the largest contract in franchise history. And no one needs to tell Jones what it means -- the history, the responsibility, the promise. He understands all of that as instinctively as he retreats on a routine fly ball in center field. Sure, the money is great. That is obvious. He's now the second highest-paid center fielder in baseball after the Los Angeles Dodgers' Matt Kemp, and that sounds about right for a man who would finish second or third in American League MVP balloting if a vote were held today. To Jones, though, the contract represents more than lifelong financial security: It is a license, granted by the team, to build a career worth remembering. Jones, 26, can't have the same impact as Robinson and Aaron, because the segregation they conquered no longer exists. But he can carve a place in history to call his own, because he has superstar talent and a substance-over-style mentality. That's what Tony Gwynn, one of Jones' mentors, meant when he sent him a text message over the weekend: "Congrats on the contract. Now see how great you can be." Aaron, the enduring and dignified home run king, gave Jones similar encouragement the day they met. "I like the way you play the game," the Hall of Famer told him. Monday afternoon in Toronto -- the city where Jones made his big league debut as a Seattle Mariner six years ago -- I asked what he might do, so that successive generations look upon him with some of the amazement he felt when meeting Aaron. "One thing they're going to know about me is I played the game hard as hell," Jones said. "At the end of the day, people remember that. They remember how you played the game. "I've got three hours every day to go out and play as hard as I can. And I do it." Jones would like to expand his charitable efforts in Baltimore and in his hometown San Diego. He's speaking with the Jackie Robinson Foundation about sponsoring a student's college education. He wants to help inner-city kids purchase baseball equipment. He's already working with the Boys & Girls Clubs of America and YMCA. "That's my main focus, because I grew up with both," Jones said. "They've helped me be the man I am today." Jones is a respected leader, with resounding endorsements from his peers and manager Buck Showalter. The Orioles ought to find that reassuring, given the risk that accompanies any deal of this magnitude. They didn't merely buy Jones' statistics, impressive though they may be. They wedded themselves to his character. That is why it was wise. Case in point: Jones wasn't in a particularly good mood when our conversation began Monday afternoon, even though he had received his mega-million payday roughly 24 hours prior. "We lost the series (to Kansas City)," he explained. "That's on my mind. Obviously, I know there's been focus on the contract. I'm glad it's over. I've got more important things to focus my energy on ... and that's this ballclub. We've got to get back on track." The Orioles, even after dropping six of their last eight, are tied for first in the American League East. The business of handling heightened expectations is rather new to them. Their last winning season was in 1997, and they are coming off four consecutive last-place finishes. In Jones, however, they have a winner. Not in the sense that he has won championships in the major leagues. (He hasn't.) But he strives to do so in word and deed. Jones is one of the game's few legitimate five-tool talents, and his performance this season has offered a number of ways to prove it -- the .307 batting average, the .935 OPS, the 14 home runs, the 31 RBI, the eight stolen bases. But his refusal to feel overwhelmed by any moment, no matter how big, is one of Jones' foremost attributes. Even as his agent and the Orioles exchanged contract proposals worth tens of millions of dollars, Jones put together the longest hit streak by an AL player this season. It reached 19 games in Monday's 6-2 loss. Jones singled through the right side -- in his final at-bat. Jones told me Monday that he doesn't get nervous during games. I've heard athletes make similar statements before, usually with a false bravado. But when Jones said it, I believed him. There was perspective in his voice -- the kind that comes from admiring Aaron for reasons other than those 755 home runs. Jones later amended his statement, admitting to a few butterflies in his stomach when the Baltimore crowd gave him a standing ovation before his first at-bat Sunday. "That was one of the closest feelings (to getting nervous) I ever had," he said. "My stomach felt queasy. I got goose bumps." The chance at lasting greatness will do that to a man.
Original Story:
http://msn.foxsports.com/mlb/story/Ba...
THE BACKYARD
BEST OF MAXIM
RELATED ARTICLES
Rumblings began on Friday morning that the Orioles and center fielder Adam Jones were close to finalizing an extension that would keep the O's star in Baltimore for the foreseeable future. This news sort of came out of nowhere, and for O's fans it was absolute music to our ears. Jones has been a guy who has been outspoken over the years about his displeasure with losing, and...
Adam Jones is ecstatic about one particular baseball transaction during the last week. No, its not his six-year, 85.5 million extension with the Baltimore Orioles. It was the Detroit Tigers decision to call up outfielder Quintin Berry, Jones best friend since they were 5 years old and attending Webster Elementary School in San Diego. The two are so close that Jones is the godfather...
Contrary to a lot of reports about the 85.5 million, 6-year deal Adam Jones signed with the Baltimore Orioles, he is worth every penny. Some critics have been calling out the Orioles for throwing too much money at Jones, saying that Jones isn't worth the big cash. That's definitely not the case. Before signing the extension, Jones was in the last year of his contract and loosing...
Forget the club record six-year contract. All of Baltimore belongs to Adam Jones. The Orioles' center fielder proclaimed Sunday that Baltimore is now his town after signing a six-year, $85.5 million contract extension, buying out his final contract year and adding five years onto Jones' Orioles career. Jones, 26, staked the claim while also suggesting he may be on the...
Baltimore Orioles general manager Dan Duquette said Sunday the team's signing of outfielder Adam Jones to a long-term deal says how much it is committed to building a winner. "We're telling Oriole fans we're committed to this player, we're committed to putting a winning team on the field and we're committing to providing hope to rebuilding our fan base...
Baltimore's Adam Jones is the latest to join the parade of young stars getting locked up to long-term extensions. The Orioles held a news conference Sunday morning to formally announce that they had signed the 26-year-old outfielder to a six-year, $85.5 million extension -- a deal that surpasses the six-year, $72 million contract Miguel Tejada signed prior to the 2004 season...
Adam Jones is ecstatic about one particular baseball transaction during the last week. No, it's not his six-year, $85.5 million extension with the Baltimore Orioles. It was the Detroit Tigers' decision to call up outfielder Quintin Berry, Jones' best friend since they were 5 years old and attending Webster Elementary School in San Diego. The two are so close that Jones is the...
It was a monumental day for the Baltimore Orioles on Sunday, as Adam Jones finally signed his new deal and held a press conference; however, they could not defeat the Royals on Sunday. Kansas City would win by a score of 4-2, and Baltimore could not take the three game series. They are tied with the Tampa Bay Rays for first place in the American League East with a record of 29-29...
The Baltimore Orioles have agreed to six-year, $85.5 million deal with center fielder Adam Jones according to Dan Connolly of the Baltimore Sun. He adds that the deal includes a no-trade clause, but no option. Back on Friday, we learned that both parts were close to an agreement, and that it was on the six-years and $85 million range. Until Friday, Jones was hitting .311/.357/.601...
The American League East is brutally competitive this year. It always is. That isn't news. This is: For the first time since realignment in 1994, each of its five teams will wake up on June 1 with a winning record. "This division's hard as hell, man," Baltimore star Adam Jones said, "and it's getting better." No team -- not the Yankees, not the...
As I'm writing this, the Dodgers and Orioles are both in first place, with neither team expected to make a major splash in the off-season (though our very own Thomas Wayne did predict a major improvement for the O's this season. The Orioles currently sit at 29-19 (though they're losing to the Blue Jays as I write). The bats have been there, with 5 regulars posting OPS+'s...
The Baltimore Orioles have hit a bit of a rough patch. Facing the struggling Toronto Blue Jays might help them get back on track. The visiting Orioles look to avoid matching a season high with their third straight loss Monday night by handing the Blue Jays a sixth consecutive defeat. Baltimore (29-19) held a two-game lead atop the AL East on May 19 while riding a five-game winning...
MLB News

Delivered to your inbox

You'll also receive Yardbarker's daily Top 10, featuring the best sports stories from around the web. Customize your newsletter to get articles on your favorite sports and teams. And the best part? It's free!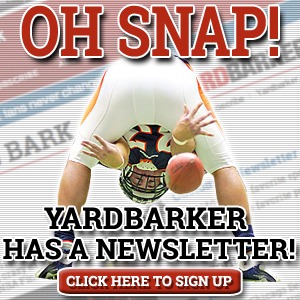 Latest Rumors
The Backyard

Today's Best Stuff

For Bloggers

Join the Yardbarker Network for more promotion, traffic, and money.

Company Info

Help

What is Yardbarker?

Yardbarker is the largest network of sports blogs and pro athlete blogs on the web. This site is the hub of the Yardbarker Network, where our editors and algorithms curate the best sports content from our network and beyond.