Found April 24, 2012 on Brewers Bar:
PLAYERS:
Jed Bradley
,
Brooks Conrad
,
Yadiel Rivera
,
Lee Haydel
,
Chris Ellison
,
Bobby Stone
,
Roidany Aguila
,
Ender Inciarte
,
Fernando Rodriguez
,
Nick Shaw
,
Reggie Keen
,
Cody Hawn
,
Michael Walker
,
Shea Vucinich
,
Peter Lavin
,
Albert Cartwright
,
Brandon Tripp
,
Jim Murphy
,
Anthony Hewitt
,
Edgar Duran
,
Hector Neris
,
Jordan Whatcott
,
Denny Almonte
,
Nick Franklin
,
Joseph Dunigan
,
Rich Poythress
,
Eric Campbell
,
Chris Pettit
,
Francisco Martinez
,
Jesus Sucre
,
Gabriel Noriega
,
Domnit Bolivar
,
Andy Gonzalez
,
Jason Jaramillo
,
Juan Sanchez
,
Carter Capps
,
Kyle Heckathorn
,
Darren Byrd
,
Logan Schafer
,
Caleb Gindl
,
Erick Almonte
,
Taylor Green
,
Sean Halton
,
Martin Maldonado
,
Eric Farris
,
Edwin Maysonet
,
Jarrod Dyson
,
Johnny Giavotella
,
Tony Abreu
,
Clint Robinson
,
David Lough
,
Kevin Kouzmanoff
,
Irving Falu
,
Anthony Seratelli
,
Mark Rogers
,
Brian Baker
,
Jim Henderson
,
Johnnie Lowe
,
Ryan Verdugo
,
Brandon Sisk
TEAMS:
Milwaukee Brewers
,
Houston Astros
,
Seattle Mariners
,
Kansas City Royals
It's been a few days off here in our On the Farm reporting and I apologize for that, but let's get into the heat of things as they stand right now and not dwell on something that can't be undone.  It was a banner day, but not in the good sense, as all four Minor League teams in the Brewers organization went down to defeat yesterday.Brevard County put up ace Jed Bradley yesterday as the Manatees looked to put aside a four game losing streak against Clearwater.  Early season performances would lead you to believe Bradley would be the perfect candidate to break the streak, but it wasn't too be last night.  He had his worst outing of the season as the 'Tees went down 8-7 in a 12 inning thriller, which happened to be the closest game for any of the Brewers affiliates yesterday.  Bradley allowed 7 runs (4 earned) on 8 hits in his 5 innings of work.  He did manage to strike out 5 but also didn't factor into the decision thanks to some good late innings hitting from ...
Original Story:
http://www.thebrewersbar.com/2012-art...
THE BACKYARD
BEST OF MAXIM
RELATED ARTICLES
MILWAUKEE -- A .332 batting average. A staggering 33 home runs and 111 RBI. An NL-leading .597 slugging percentage. The fans at Miller Park had heard all of these stats before in reference to their beloved star outfielder Ryan Braun. But on Sunday, they got their chance to hear it over the loud speakers in Milwaukee with a special title attached: MVP. There was no talk of controversy...
MILWAUKEE Last April -- before he was an MVP, before a positive drug test had ruled the news and before a certain big cleanup hitter packed up and left for Motown -- Brewers left fielder Ryan Braun was busy having one of the best months of his career at the plate. Through 17 games the same amount of games the team has already played in 2012 Braun was batting an incredible .373...
Milwaukee Brewers left-hander Chris Narveson will have surgery on the torn rotator cuff in his throwing shoulder and miss the rest of the season, he said Tuesday. ''I'll be ready for next year,'' he said before the team's game with the Houston Astros. ''It's six to nine months.'' He made the decision to have surgery after receiving a...
Milwaukee Brewers left-hander Chris Narveson didn't expect Los Angeles specialist Lewis Yocum to disagree with the first diagnosis that his torn rotator cuff would require surgery. But one can always hope. Instead, Yocum agreed with Brewers team physician William Raasch, and Narveson will undergo season-ending left shoulder surgery, followed by an arduous six- to-month rehab...
Ryan Braun was given his National League MVP trophy in a ceremony before Milwaukee hosted the Colorado Rockies on Sunday by Robin Yount, another Milwaukee MVP award winner. Braun received a brief standing ovation when he was introduced following a video tribute. Standing outside the Brewers dugout, he was given the Silver Slugger award as the NL's top hitting left fielder from...
MILWAUKEE Milwaukee Brewers reliever Kameron Loe knew he could always count on hearing his grandfather's voice at his baseball games. From little league through his college days as a pitcher at Cal State-Northridge, Loe's grandfather Howard Pound would always be there, always delivering his typical cheer from within the crowd. "Hubba, hubba!" Pound would yell...
Doug Melvin and the Milwaukee Brewers orchestrated one of the more controversial trades last winter, sending stud prospect Brett Lawrie to Toronto in return for right-hander Shaun Marcum. Lots of people spent the off-season lamenting the move, especially since Lawrie exploded onto the big league scene last season with a .293/.373/.580 line in his first 43 games and Marcum imploded...
Starters: MIL - Zack Greinke: 6 IP, 2 R, 8 H, 2 BB, 9 K, 1 HR (115 pitches, 71 strikes)HOU - Lucas Harrell: 5 IP, 5 R, 5 H, 3 BB, 1 K, 1 HR (86 pitches, 53 strikes) MIL Highlights: Ryan Braun: 3-4, 2B, HRJonathan Lucroy: 2-3, BB HOU Highlights: Carlos Lee: 3-5Jed Lowrie: 2-5, HR Notes: - Zack Greinke didn't have anything near his best stuff, but was still able to turn...
The Milwaukee Brewers' weekend at home didn't go as well as they wanted. Giving the ball to Zack Greinke could help the defending NL Central champs get back on track. The Brewers will try to win their 18th consecutive game at Miller Park when Greinke starts as they open a series with the Houston Astros on Monday night. After winning two of three against the Los Angeles...
MLB News

Delivered to your inbox

You'll also receive Yardbarker's daily Top 10, featuring the best sports stories from around the web. Customize your newsletter to get articles on your favorite sports and teams. And the best part? It's free!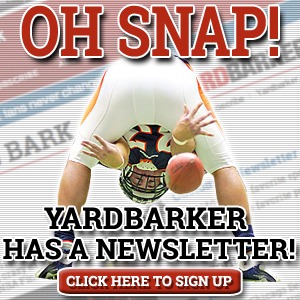 Latest Rumors
Best of Yardbarker

Today's Best Stuff

For Bloggers

Join the Yardbarker Network for more promotion, traffic, and money.

Company Info

Help

What is Yardbarker?

Yardbarker is the largest network of sports blogs and pro athlete blogs on the web. This site is the hub of the Yardbarker Network, where our editors and algorithms curate the best sports content from our network and beyond.