Found January 20, 2012 on Waiting For Next Year:
PLAYERS:
Michael Cuddyer
,
Josh Willingham
,
Carlos Beltran
,
Shelley Duncan
,
Jason Donald
,
Aaron Cunningham
,
Ryan Spilborghs
,
Carlos Pena
,
Casey Kotchman
,
Derrek Lee
,
Carlos Lee
,
Roberto Hernandez
,
Matt LaPorta
,
Shin-Soo Choo
,
Carlos Santana
TEAMS:
Colorado Rockies
,
Minnesota Twins
,
St. Louis Cardinals
,
Cleveland Indians
,
Chicago Cubs
,
Tampa Bay Rays
,
Pittsburgh Pirates
,
Houston Astros
,
Boston Red Sox
Oh how I love writing pieces on the Tribe and their seemingly never-ending search for that middle of the order bat. Wait, I should rephrase it, because it has changed so many times.
When the season ended, it was "the search for the right-handed, middle of the order, run-producing, power bat." Then as a month or two went by and the options of right-handed bats on the free agent and trade market were either too expensive (Michael Cuddyer), or not to the Indians liking (Josh Willingham). So the search moved to the "middle of the order, run-producing, power bat." That's when we entered the Carlos Beltran portion of our program. The switch-hitting Beltran took $26 million over two years in St. Louis on December 22nd, and the Tribe moved on yet again.
The turn of the calendar to 2012 brought the "search for a middle of the order, power bat."  With the interest in Beltran brought the "the bat doesn't necessarily have to be right-handed" thought process. Sure, the Tribe is left-handed heavy, but their bench will be rife with right-handed options like Shelley Duncan, Lou Marson, Jason Donald, Aaron Cunningham (and now Ryan Spilborghs). The names that moved to the front burner in that discussion included a trio of first baseman - Carlos Pena, Casey Kotchman, and Derrek Lee.
As I wrote nine days ago in ranking these three options, I felt as though Carlos Lee, an on-the-market trade option who the Astros would LOVE to dump, was the guy I think would be the best fit. But realistically, I thought the route they would go would be to sign Pena.
That all changed this morning. With the Indians dealing with the fallout from the Fausto Carmona mess, the Tampa Bay Rays were busy signing Pena to a one-year, $7.25 million contract. Pena played with the Rays two years ago and enjoyed his time there. According to CBS Sports's Jon Heyman via Twitter:
hear indians tried hard for pena. carlos wanted to go back to rays. it wasnt about $. (nobody goes to tampa for $)
So round and round we go again. Now with Pena off the board and Kotchman looking like the "next man up," the search has become "find a first baseman, with a glove, and a bat, who doesn't necessarily have to hit in the middle of the order, or hit right-handed, or have much power, as long as he is a better option than Matt LaPorta."
SIDE NOTE – the enormity of LaPorta's failure cannot be understated. He has put the Indians in a huge hole at not just first base, but in the right-handed power department. 
Kotchman fits that bill. I am trying real hard to sell myself on him. He is a gold-glove caliber first baseman, which is obviously a positive. The fact that he is a high contact, gap to gap hitter is also attractive. He only K'd 66 times in 563 plate appearances last season, which was the best of his seven year career. The 2011 .306/.378/.800 numbers are something you would sign up for all day. As I've said before, what worries me is the Indians lack of power. Adding a guy like Kotchman wouldn't help. In 500 AB's, he drove in just 48 runs and hit just 10 homers. LaPorta can certainly do that (not that he could go .300/.378/.800 though). Lastly, the former Rays/Angels/Braves/Mariners/Red Sox will be just 29 on opening day and won't cost nearly as much as the $7.5 million Pena received from Tampa Bay.
OK, I feel a little better about him, but I'm still not high on Kotchman. Put it this way – the Rays had a chance to bring back Kotchman, where he was solid last year, but instead chose to sign Pena. Adding Casey to the Tribe lineup, you'd most likely be hitting him seventh, whereas a guy like Pena or Beltran would have been slotted right between Shin-Soo Choo and Carlos Santana in the cleanup spot.
Nothing is set in stone or a done deal, the Kotchman talk is pure speculation on everyone's standpoint, but when the Indians were seriously considering Pena, the other name floated with him as a fallback option was always Kotchman. It feels as though the Tribe will move in his direction.
But if Chris Antonetti is listening (i'm sure he isn't), I implore you, go call Houston and talk to them about Carlos Lee.
El Caballo has long been expendable in Houston and the rebuilding Astros would LOVE to get rid of his albatross contract of $18 million for 2012. It has been reported that the Astros would eat half just to get him off their books. If you were willing to give Pena $8 million for one year, why not $9 million for one year of Lee? Lee has that right-handed middle of the order power the Indians need and want. He played mostly first base for the Astros last year and is still very durable for age 36. He is coming off of a .275/.342/.788/18 HR/94 RBI in 155 games for a horrific Astros team last season.
There, I've said my piece on the search….again…..And im sure I will do it once more before pitchers and catchers report to Arizona next month.
Original Story:
http://www.waitingfornextyear.com/201...
THE BACKYARD
BEST OF MAXIM
RELATED ARTICLES
First baseman Carlos Pena is heading back to Tampa Bay. Pena agreed to a one-year contract worth $7.25 million to join the Rays, Sports Illustrated's Jon Heyman reported on Friday. The 33-year-old Pena played four seasons in Tampa Bay before heading to the Chicago Cubs last season. Signed to a one-year deal worth $10 million, Pena batted .225 with 28 homers and 80 RBIs with...
Carlos Pena is returning to the Tampa Bay Rays. Early Friday afternoon, the 33-year-old free agent, who played in 2011 for the Chicago Cubs, signed a one-year, 7.25-million deal to resume his role as the Rays first baseman. Pena hit .225 for Chicago with 28 homers and 80 RBI last season, following his final year with Tampa Bay in 2010 when he batted .196 with 28 homers and 84 RBI...
Carlos Pena is coming back to Tampa.  He and the Rays have reportedly agreed to a one-year, $7.25 million deal.  And while this may strike some fear in the hearts of Red Sox Nation, I think the reign of Carlos the Powerful is done. While Pena is good with the glove, and can still hit a few home runs, his bat isn't nearly as mighty as it once was.  Go take a look at his stats...
Carlos Pena will return to the Tampa Bay Rays after the first baseman agreed to a one-year deal after spending last season with the Chicago Cubs.
Carlos Pena is a Ray once again.
The Tampa Bay Rays spent most of the offseason under the radar. They signed Matt Moore to a long-term extension, added Fernando Rodney to their bullpen, and made a trade for Burke Badenhop. I know you are stimulated. Well, they finally got off the sidelines and into the game by adding first baseman Carlos Pena. Pena will help immediately by filling the first base hole...
Carlos Pena is headed back to the Rays on a one-year/$7.25 million deal, Jon Heyman is reporting today. That's less than the $10 million he made with the Cubs last year. The Pirates never even feigned interest in Pena this winter (at least not as near as I could tell), and so it's probably not worth wondering what they would've had to pay him to come to Pittsburgh. Between...
Inside is a look at how the Rays look on paper after the announced signing of free agent first baseman and former Ray Carlos Pena.
The Rays have agreed to a deal with Carlos Pena that will bring the powerful first baseman back to Tampa Bay, Jon Heyman of CBS Sports tweets. Yahoo's Tim Brown reported earlier this morning that the Rays were "in pretty deep" with the Scott Boras client.
MLB News

Delivered to your inbox

You'll also receive Yardbarker's daily Top 10, featuring the best sports stories from around the web. Customize your newsletter to get articles on your favorite sports and teams. And the best part? It's free!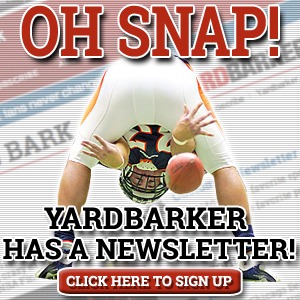 Latest Rumors
Best of Yardbarker

Today's Best Stuff

For Bloggers

Join the Yardbarker Network for more promotion, traffic, and money.

Company Info

Help

What is Yardbarker?

Yardbarker is the largest network of sports blogs and pro athlete blogs on the web. This site is the hub of the Yardbarker Network, where our editors and algorithms curate the best sports content from our network and beyond.