Found June 20, 2013 on Fox Sports Detroit:
PLAYERS:
Jhonny Peralta
,
Andrew Bailey
,
Miguel Cabrera
,
Jim Leyland
,
Jose Valverde
,
JJ Hardy
,
Justin Verlander
,
Elvis Andrus
TEAMS:
Detroit Tigers
,
Boston Red Sox
,
Chicago White Sox
,
Baltimore Orioles
,
Texas Rangers
DETROIT -- Jhonny Peralta turned while rounding third base and the noise of the fans at Comerica Park was deafening. Seconds earlier, the Detroit Tigers shortstops two-run homer off Andrew Bailey had turned defeat into a 4-3 victory over the Boston Red Sox. Now he was headed home and the first player waiting in front of the circle of joy at the plate was Miguel Cabrera. Peralta could not stop smiling. Its a good feeling, he said Thursday night in the clubhouse. To see everyone at home plateHitting a home run there that is the best you can feel. Peralta began the night with the third-highest batting average in the American League. Hes hitting .329, and has more doubles (21) and a higher on-base percentage (.385) and slugging percentage (.496) than any AL shortstop. Shoot, his slugging percentage is higher than Detroit cleanup hitter Prince Fielders. And yet Peralta is third in All-Star Game voting at his position. He flies under the radar quite a bit here and probably nationall...
Original Story:
http://www.foxsportsdetroit.com/mlb/d...
THE BACKYARD
BEST OF MAXIM
RELATED ARTICLES
The short lived Jose Valverde return/experiment for the Detroit Tigers appears to be over. According to Jon Heyman of CBS Sports, the Tigers designated for assignment the 35-year old closer after a stretch of bad outings allowing 11 runs and 6 home runs in 7 1/3 innings. It also appeared more and more likely that Valverde would be shown the door after manager Jim Leyland commented...
DETROIT -- If you listened to Doug Fister after Friday's game, you probably thought he had just pitched the worst game of his career. If you then looked at his box-score line, you'd be even more convinced. Fister didn't get out of the fourth, allowing six runs on 11 hits and a walk in 3 13 innings. "I just didn't do my job," Fister said. "I didn&...
40-31, 1st place, 4 games ahead of Cleveland, winning streak at 1. Matt Tuiasosopo was supposed to start in LF yesterday, but was held out because of "intercostal" something or other. Is that a religious injury of some kind? I'm not sure what this means for the upcoming games, but I don't like it. Meanwhile, Avisail Garcia was "sent down" to Toledo to make room for Jose...
DETROIT - Chase Salazar got to live out a childhood dream for many people Friday when he put on a Detroit Tigers No. 24 uniform and played the body double for slugger Miguel Cabrera during a commercial shoot for FOX Sports at Comerica Park. While other extras told him they had spent six hours trying to perfect Cabrera's swing in hopes of being selected, Salazar got the part...
DANA WAKIJIFOXSPORTSDETROIT.COM DETROIT -- The move that Tigers fans were hoping for happened Friday. Tigers president and general manager Dave Dombrowski announced the team was designating closer Jose Valverde for assignment. Dombrowski said they asked Valverde if he'd be willing to go to Triple-A Toledo if he cleared waivers but did not receive a definitive answer from him...
Eric D. Schabell Contributing Writer The new sheriff rolled into town on his horse, gently bringing her to a stop outside of the stadium. He peered up at the bright sun from under his dusty black hat, squinting slightly and surveyed the scene around him. This town was ready for a new law man, a strong and dominating type of law man needed to put the riffraff in its place. No more...
As in it takes an entire lifetime to build the ratios; an entire fantasy season. It takes only an inning to destroy them. My WHIP, my ERA, and the rest of my ratios will never be the same. I feel like my virginity was taken from me today, and now I'm about to have twins.
By DAVE HOGGFOXSPORTSDETROIT.COM The Tigers have a new closer and his name is Joaquin Benoit. Jim Leyland made the announcement before Thursday's series opener with Boston and one day after Jose Valverde's latest pitching mound meltdown. Valverde allowed four runs in his first 10 pitches against the Orioles, including a long homer by Chris Davis. "Right now, I'm...
DETROIT - Miguel Cabrera, baseball's incredibly underexposed superstar, got a little taste of the Hollywood life Friday morning. Cabrera took part in a movie-like production for a 90-second commercial to promote the launch of the Fox Sports 1 television network. He's one of the top athletes featured in the spot that will be aired for the first time July 16 during FOX'...
Shane Victorino homered and hit three singles, driving in five runs to lead the Boston Red Sox to a 10-6 win over the Detroit Tigers on Friday night. Miguel Cabrera hit a three-run homer for Detroit, which nearly rallied from a 6-1 deficit but couldn't come through against the Boston bullpen. Jon Lester (7-4) allowed five runs and nine hits in 5 2-3 innings, but he won for the...
There can be no argument that the best 1-2 hitting punch in Major League Baseball is Miguel Cabrera and Prince Fielder of the Detroit Tigers. The scary thing now about the defending American League champions is they have an argument for the best 1-2 pitching punch in the game, as well. That's because Max Scherzer has gone to a new level and might be even filthier than Justin Verlander...
MLB News

Delivered to your inbox

You'll also receive Yardbarker's daily Top 10, featuring the best sports stories from around the web. Customize your newsletter to get articles on your favorite sports and teams. And the best part? It's free!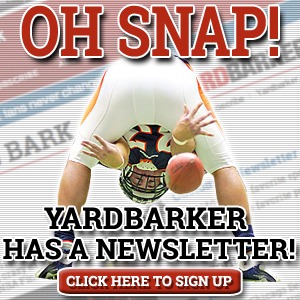 Latest Rumors
Best of Yardbarker

Today's Best Stuff

For Bloggers

Join the Yardbarker Network for more promotion, traffic, and money.

Company Info

Help

What is Yardbarker?

Yardbarker is the largest network of sports blogs and pro athlete blogs on the web. This site is the hub of the Yardbarker Network, where our editors and algorithms curate the best sports content from our network and beyond.