Found January 15, 2013 on Hall of Very Good:
When it was first announced that Pete Rose and his fiance Kiana Kim were going to be the stars of their own TLC reality series...I was skeptical.I mean, would a show about baseball's all-time hit king and a former Playboy model be all that interesting?Turns out...yes.  Yes, it is.And here's why.After just a couple of minutes, you learn that Rose is exactly the dirty old man you figured he would be.  And, Kim, well...she's every bit the plastic future-trophy wife you'd expect.  But, beneath all that, they both seem to genuinely care about each other and, honestly, that's what you want from a show that, among other things, is showcasing the differences between a 71-year-old and his much younger wife-to-be.I just wish someone would cut the cord between Kim's daughter Cassie and her cell phone.  Oooooh, kids these days!Hit King...I know you're reading this.  Perhaps fodder for a future episode?  Hint.  Hint.  So, in case you missed it, enjoy "Pete Rose: Hits and Mrs." online while you still can.  And, yeah, my favorite part...the monogrammed "Hit King" collared shirts.  Super classy.  I want.
Original Story:
http://www.hallofverygood.com/2013/01...
THE BACKYARD
BEST OF MAXIM
RELATED ARTICLES
follow @HookTSB on twitter   If you haven't heard, Charlie Hustle has a new reality TV show on TLC called Pete Rose: Hits & Mrs.  I haven't watched it (and don't plan on tuning in), but you can't deny his fiancée is crazy hot. 40 years his junior, Playboy model Kiana Kim apparently had no idea Pete Rose played baseball when they first met.  Awesome.  Check out...
We tuned in for the sneak peek of Pete Rose: Hits and Mrs last night on TLC. I was fully expecting it to be the latest headshaker in the line of headshake-inspiring activities that we've come to expect from Rose. In fact, the program was quite mundane. The episode I watched contained: Multiple references to how sorry he was for his mistakes A short scene in a batting cage, but...
Pete Rose's reality show Hits and Mrs. debuts tonight on TLC at 10 ET/9CT.  While you'll be able to hear some of Pete's great words of wisdom, you'll probably enjoy the show more for the chances to see Pete's hot wife, 31-year-old Kiana Kim.  Kim posed for Playboy 4 years ago and it's easy to see why The Hit King, 71, would be just a bit attracted to her. In the first...
I don't want to be the guy who tells Donald Trump how to conduct his business...but sometimes (correction: all the time?) dude has the market cornered on random.Case in point.  Thursday morning, while the rest of the country is talking about Manti Te'o and/or Lance Armstrong...he drops this revelation.Now, I'm not going to lie...I'm a fan of both men, but c'...
                                                 One man who may know a thing or two about what Lance Armstrong is going through right now is baseball's hit king, Pete Rose.Rose made an appearance on NBC's Today show Thursday morning and offered some of his thoughts on Armstrong's reported admission to doping, which is scheduled...
You've been sitting around the house, eating greasy pizza, watching the NFL playoffs and avoiding your annoying girlfriend or wife. You haven't moved off the couch in 48 hours and your photo died, rendering your Twitter account worthless. Meanwhile, sports smack-talking maniacs have been using social media and other outlets to vent on fellow combatants. Athletes are fighting...
MLB News

Delivered to your inbox

You'll also receive Yardbarker's daily Top 10, featuring the best sports stories from around the web. Customize your newsletter to get articles on your favorite sports and teams. And the best part? It's free!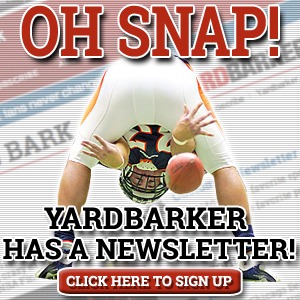 Latest Rumors
Best of Yardbarker

Today's Best Stuff

For Bloggers

Join the Yardbarker Network for more promotion, traffic, and money.

Company Info

Help

What is Yardbarker?

Yardbarker is the largest network of sports blogs and pro athlete blogs on the web. This site is the hub of the Yardbarker Network, where our editors and algorithms curate the best sports content from our network and beyond.