Found April 13, 2013 on Raise the Jolly Roger!:
According to Kristy Robinson and Rob Biertempfel, Phil Irwin will get the call to the majors to make his major league debut tomorrow afternoon against the Reds. He will replace Wandy Rodriguez, who will miss the start due to his strained left hamstring. Irwin posted very strong numbers in the minors last season (mostly in Altoona). The big righty was promoted to Indy at the end of the season and pitched well there, and turned some heads in spring training for a while this year as well. Just as he seemed to be getting some attention as a dark-horse rotation candidate, he had a bad outing and was sent to minor league camp. He recovered to deliver a strong start in his first and only outing with Indy this year. Year Age Tm Lg Lev W L ERA G GS CG SHO IP WHIP H/9 HR/9 BB/9 SO/9 SO/BB 2009 22 State College NYPL A- 1 2 2.12 10 7 0 0 29.2 1.112 8.2 0.3 1.8 9.7 5.33 2010 23 West Virginia SALL A 6 3 3.35 23 20 0 0 113.0 1.053 7.9 0.7 1.6 8.8 5.55 2011 24 2 Teams 2 Lgs AA-A+ 13 4 3.14 25 24 0 0 140.2 1.137 8.8 0.8 1.4 7.0 4.95 2011 24 Bradenton FLOR A+ 5 0 2.02 10 10 0 0 53.1 1.106 7.9 0.5 2.0 6.8 3.33 2011 24 Altoona EL AA 8 4 3.81 15 14 0 0 87.1 1.156 9.4 0.9 1.0 7.1 6.90 2012 25 3 Teams 3 Lgs AA-AAA-A+ 8 7 2.83 23 21 3 1 130.1 1.097 8.2 0.6 1.7 8.1 4.88 2012 25 Bradenton FLOR A+ 1 0 1.80 1 1 0 0 5.0 0.400 3.6 0.0 0.0 10.8 2012 25 Altoona EL AA 4 7 2.93 18 16 3 1 104.1 1.093 8.4 0.6 1.5 7.2 4.88 2012 25 Indianapolis IL AAA 3 0 2.57 4 4 0 0 21.0 1.286 8.6 0.4 3.0 12.0 4.00 2013 26 Indianapolis IL AAA 1 0 1.50 1 1 0 0 6.0 0.833 6.0 0.0 1.5 7.5 5.00 5 Seasons 29 16 3.00 82 73 3 1 419.2 1.096 8.3 0.6 1.6 8.0 5.12 AA (2 seasons) AA 12 11 3.33 33 30 3 1 191.2 1.122 8.8 0.8 1.3 7.1 5.63 AAA (2 seasons) AAA 4 0 2.33 5 5 0 0 27.0 1.185 8.0 0.3 2.7 11.0 4.13 A+ (2 seasons) A+ 6 0 2.01 11 11 0 0 58.1 1.046 7.6 0.5 1.9 7.1 3.83 A (1 season) A 6 3 3.35 23 20 0 0 113.0 1.053 7.9 0.7 1.6 8.8 5.55 A- (1 season) A- 1 2 2.12 10 7 0 0 29.2 1.112 8.2 0.3 1.8 9.7 5.33 Provided by Baseball-Reference.com: View Original Table Generated 4/13/2013. Irwin is well known for an excellent curveball (GIFs here, here, and here), but doesn't quite have the stuff to project as a top-of-the-rotation guy. Still, his good control and solid numbers across the board certainly make him deserving of a shot in the majors…and if he can come anywhere close to replicating his minor league numbers, the 21st-rounder from Ole Miss could find his way into the rotation for quite a while. If Rodriguez is OK after missing just the one start, Irwin will probably go right back down to AAA, but if he holds his own I don't see many reasons why the Bucs should keep Jonathan Sanchez around instead of him. Irwin will probably take Bryan Morris' place on the 25-man roster (unless Wandy goes on the DL, which doesn't sound likely at this point). Morris was called up yesterday to replace Chris Leroux, who was DFA. Morris is another promising pitcher that's been solid in Altoona and Indy recently and I like him much more than Leroux, but he'll probably be back in Indy after tonight's game.
Original Story:
http://raisethejollyroger.com/2013/04...
THE BACKYARD
BEST OF MAXIM
RELATED ARTICLES
Phil Irwin will make his major league debut today for the Pittsburgh Pirates, the club announced this morning. Irwin won 29 games in five seasons of minor league competition, and while wins and losses are not necisarily a good barometer for the developmental process in the minors, Pirates manager Clint Hurdle said Irwin's presence made his teammates better which translated to success...
The Pittsburgh Pirates recalled right-hander Phil Irwin from Class AAA Indianapolis on Sunday and he was set to make his major-league debut by starting against the Cincinnati Reds. The Pirates optioned infielder/outfielder Josh Harrison to Indianapolis to clear room on the roster for Irwin. Irwin, 26, won his only start with Indianapolis this season, allowing one run in six innings...
Remember at the start of the year when the Pirates had a lot of starting pitching depth? Kyle McPherson had just missed out on the fifth starter role. Phil Irwin had some impressive outings in Spring Training, and looked like he could also be an early season option. Everyone hoped that Gerrit Cole's demotion to Triple-A would only be a formality for a few weeks until he gained...
Garrett Jones is one of the biggest pull hitters in baseball. (Photo credit: David Hague) The Pirates did not need much help to hit into outs over the first week of the season, they were doing a good job all by themselves. Cubs manager Dale Sveum decided to make life a little more difficult for one of the Bucs' best hitters, Garrett Jones. On Opening Day, Sveum shifted his infield...
After a fairly improbable win last night that required a Johnny Cueto injury and a million or so Reds left on base, the Pirates have a chance to sweep the Reds this afternoon. They're going to have to do it with a pitcher making his big league debut, as Phil Irwin's been called up to make Wandy Rodriguez's start as Wandy recovers from his hamstring injury. I talked about...
WOW. We've got an early candidate for the best win of the season. The Pirates worked their way out of a 5-0 hole in dramatic fashion on Sunday afternoon to complete a sweep the hated Cincinnati Reds. That is awesome. Phil Irwin's major league debut didn't go too well. He was visibly nervous and rattled in the first two innings, struggling with his control (which he almost never...
Three pitchers are going tonight, who didn't give up an earned run in their season debut, Kris Johnson, Stolmy Pimentel and Tyler Glasnow. Indianapolis has a doubleheader today. The second game is a make-up of the Thursday night rain out. No starter has been announced for the second game as of yet. West Virginia completed their Thursday night game prior to yesterday's regularly...
Reds (5-6) at Pirates (5-6) 1:35 PM–PNC Park, Pittsburgh MLB.com Gameday TV: ROOT The Bucs go for a sweep of the Reds this afternoon, which would obviously be awesome. They've won 4 of 5 while Cincinnati has lost 4 in a row, so momentum is on the Bucs' side for sure. They may need it today with a tough matchup on the mound, but hey, they beat Cueto last night (well, kinda)...
Michael McKenry hit a huge 2 run home run to propel the Pirates to a sweep of the Reds The Pittsburgh Pirates finished off an impressive 3 game sweep of my dark-horse favorites to contend for the World Series, the Cincinnati Reds. The series provided a spark for the Pirates and it is looking as if the bats are about the come to the level the pitching has been at to open the...
When starting pitcher Corey Kluber struck out Jerry Sands to open the top of the seventh inning of Sunday afternoon's game at Huntington Park, the Columbus Clippers appeared to have seized the high ground over the Indianapolis Indians. Five Clippers' tallies over the fourth and fifth innings had cooled off hot Indianapolis starter Andy Oliver. Columbus' 5-2 lead presented a...
Table of Contents Here's the table of contents for today's edition of the Daily Notes. 1. Featured Game: Cincinnati at Pittsburgh, 13:35 ET 2. Today's MLB.TV Free Game 3. Today's Game Odds, Translated into Winning Percentages Featured Game: Cincinnati at Pittsburgh, 13:35 ET Regarding This Game, Who's Starting It for Pittsburgh In terms of who's starting this game for...
Jeff Locke against Johnny Cueto?  Good luck.  Even I wasn't feeling too optimistic about this game.  However, Jeff Locke's Pirates proved me wrong, and I'm sure I wasn't the only one.  Cueto left after just 4.1 innings with an injured arm.  I won't be happy about the injury, but the timing worked out well for…
Pirates News

Delivered to your inbox

You'll also receive Yardbarker's daily Top 10, featuring the best sports stories from around the web. Customize your newsletter to get articles on your favorite sports and teams. And the best part? It's free!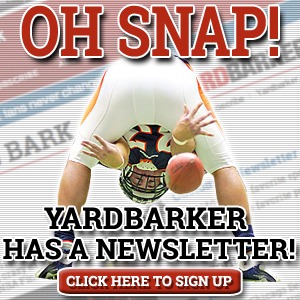 Latest Rumors
Best of Yardbarker

Today's Best Stuff

For Bloggers

Join the Yardbarker Network for more promotion, traffic, and money.

Company Info

Help

What is Yardbarker?

Yardbarker is the largest network of sports blogs and pro athlete blogs on the web. This site is the hub of the Yardbarker Network, where our editors and algorithms curate the best sports content from our network and beyond.