Found June 03, 2012 on isportsweb.com:
Pitching deep into almost every game, Cole Hamels of the Philadelphia Phillies is among the best.  What other premier starters are out west?  The Apocalyptic Horsemen Stats are in my daily coverage. TAL'S HANDY STATS   WELCOME, NEWCOMERS: I am alternating a game-day 2012 ERA For The NL East and a 2012 ERA For The MLB 5. See link section below. In each publication, the number after the title will be based on the quantity of outcomes played by the Phillies. Top Performance Yesterday: Matt Cain Pictured At Home During 8 Solid Innings Against The Cubs In The Turn-Back-The-Century Game, Wearing 1912 Uniforms   Check out Philadelphia Phillies storyline: The southpaw rattler   REASONING For The Stats: These numbers are a glimpse over the pitching coach's shoulder, because they warn of difficulty ahead. The rule of thumb is that the bullpen load should be no more than 33.3%, which is a 6-complete average per scheduled outing. That is why going a distance into the game is 6.1 frames or more, which is 70.4%. The added detail of 1 out per contest is 54 innings over the long summer's course. This also shows the mound masters that give the relievers a well deserved night off, but there is a rust factor due to lack of backend chances. If there are any questions, please ask.   Note:  All old ERA tables are automatically updated. STARTING & RELIEF PITCHING: CLUBSP INNSP ERSP ERASP PERRP PERRP INNRP ERRP ERA Phillies353.11393.5473.0%27.0%131.0674.60 Halos340.21243.2871.07%28.93%138.2563.64 Brewers305.01464.3164.2%35.8%170.1824.33 Giants338.11283.4171.13%28.87%137.1493.21 Yankees312.21654.7568.0%32.0%147.1442.69   TOTAL PITCHING & STARTS OF 6.1 INNINGS OR MORE: CLUBINNERERAARMSCONVGMSPER Phillies484.12063.836305455.6% Halos479.11803.385305455.5% Brewers475.12284.326175332.1% Giants475.21773.355295354.7% Yankees460.02094.095255248.1%   KEYS: ABRVS.MEANING ARMSPitchers With 6.1 Innings Plus CONVConverted Start Of 6.1 Innings Or More LastLast Conversion ResultOutcome Of Last Start UpdateNext Start Or Status Change Note:Listing is in order of conversion, including time of day. SESeason Ending   STARTERS WITH OUTINGS OF 6.1 INNINGS OR MORE: NOTE:  Click entries button to open more than the visible 10. CLUBHURLERCONVLASTRESULTUPDATE 01PHLHalladay8 of 115/17DL'ed 01SFVogelsong8 of 095/29 01NYYSabathia8 of 116/01CONV 01PHLHamels8 of 116/02 5:44 PMCONV 01SFCain8 of 116/02 9:06 PMCONV 06LAAHaren7 of 115/29Late Day 06LAAWilliams7 of 096/01 11:53 PMCONV 06SFBumgarner7 of 116/01 11:58 PMCONV 09LAAWeaver6 of 115/23 DL'ed 09NYYKuroda6 of 116/02CONV 11PHLBlanton5 of 095/14 Day 11LAASantana5 of 115/15 11MILGreinke5 of 115/20 Short 11LAAWilson5 of 125/23 12:19 AMShort 11PHLLee5 of 085/25 11NYYNova5 of 105/30 11MILMarcum5 of 116/02 CONV 18MILGallardo4 of 115/25 18NYYPettitte4 of 045/29 20SFZito3 of 105/28Late Day 20SFLincecum3 of 115/30 22PHLWorley2 of 074/30DL'ed 22NYYHughes2 of 105/12Day 22PHLKendrick2 of 075/26Short 25MILEstrada1 of 065/07DL'ed 25MILWolf1 of 105/21 Short 25MILFiers1 of 015/29Day     LINK-UP BELOW: There are previews–time permitting–of my next storyline at Tal's Handy Caps on Facebook.  Join for notification of future glimpses, which will be almost daily.  You'll also know immediately when my isportsweb post goes up.  It might be worth your while because there are delays of 2 hours on most feeds. Check out my previous publication (The Cannot-Miss Three) and the 61 storylines–so far–for 2012 on the Phillies page or my author archives, where there is an excerpt photo. Tal's Handy Stats is daily coverage. I am alternating the 2012 ERA For The NL East and the 2012 ERA For The MLB 5. Thank you, to all who bookmarked the Phillies page. TAL'S HANDY LINKS   TAL'S HANDY CAPS on Facebook (time problem lately) Philadelphia Phillies storyline: The untouchable jewels Philadelphia Phillies storyline: Beast no. 58 (Horsemen stats) Philadelphia Phillies Tal Venada Philadelphia Phillies: 2012 ERA for the NL East at game 53  
Original Story:
http://isportsweb.com/2012/06/03/phil...
THE BACKYARD
BEST OF MAXIM
RELATED ARTICLES
We find ourselves at the end of another mediocre week from the Phillies.  The Phillies took two of three from the Mets before giving up two of three to the Marlins.  Lucky for us, mediocre baseball seems the slogan of the National League East so the Phillies are still not that far off.————————–The Good, the bad, the ugly (Wild Thing)Chase Utley is on the move...
Jose Contreras is going to the DL and it is retroactive to his appearance in the 7th inning of tonight's game. He is scheduled for an MRI this weekend. Conteras could not even record an out before falling to the ground in pain and agony after throwing a pitch. At first the Phillies reported that he had left the game with elbow soreness, but if you saw it on TV you could tell...
Phillies reliever Jose Contreras has torn a ligament and a tendon in his right elbow and will likely miss the rest of the season. Contreras was injured Friday. An MRI scan Saturday showed he tore his ulnar collateral ligament and flexor pronator tendon. The 40-year-old Contreras had right elbow surgery last year. He reinjured the elbow in the seventh inning Friday night while facing...
Roy Halladay came to the Philadelphia Philles for 2 of the 3 prized youngsters in the vault.  That was in 2010, when they were making noise in the high minors.  If they were ready for the 2011 campaign, where are they? TAL'S HANDY CAPS   CAP-SIZE HINDSIGHT   Penthouse Occupancy for the  6-4 triumph:  4 The Chrystal Champagne Toast is a salute to Jonathan Papelbon. Cinco...
Other than three grounds-crew members, Roy Halladay was the lone soul on the field early Sunday morning at Citizens Bank Park. He ran sprints on the warning track, which probably offered little solace for the weeks of rest ahead. If Halladay's bad shoulder forces an absence of eight weeks, as suggested, it could make him a free agent one season sooner than expected. Halladay signed...
Ryan Howard acknowledges this: He won't be stealing bases the way he used to. In other words, the Philadelphia Phillies' burly slugger thinks he's the same player he was before tearing his left Achilles' tendon. Howard will begin a rehab stint Thursday night, a day after Chase Utley returned to the Phillies' lineup. The 2006 NL MVP hasn't played since getting...
Philadelphia Phillies (28-25) vs. Miami Marlins (29-23)Cole Hamels (8-1, 2.43) vs. Ricky Nolasco (5-3, 4.26)Time: 4:05, Citizens Bank Park TV: CSN Weather: Partly Cloudy, 74 Media: Twitter and FacebookInjury Update: Jose Contreras has been placed on the 15-day DL with what the team is calling a strain of his right elbow. He is scheduled for an MRI. Michael Schwimer has been recalled...
The Phillies offense was at its worst on Sunday against Carlos Zambrano and the Miami Marlins. They played their 55th straight game without both Ryan Howard and Chase Utley. Manager Charlie Manuel slotted journeyman Hector Luna into the cleanup spot of his batting order. The team's lone extra base hit was a bunt double by Juan Pierre. It wasn't a surprise, then, that...
The rumors of the death of the Philadelphia Phillies are premature. Even with their multitude of injuries and sub-standard play, the returning division champions are still very much alive in the NL East.
Every day Charlie Manuel winds down with an ice cold PBR, a nice chew and his dog. He sits on his porch and curses every child at play, woman running on the side walk or couple walking their dog. It's hard to have time for Twitter when your life is a mirror image of Clint Eastwood's character in Gran Torino, so it comes as no surprise that Manuel struggles through half of the...
PHOTO: APIn a rain soaked game that featured a rain delay and some thoughts of a possible postponement, the Phillies defeated the Marlins 6-4 after they really got to Marlins starter Mark Buehrle. Even with the rain pouring down all night, the Phillies offense was able to put up six runs and scattered fourteen hits.KENDRICK IN AND OUT OF TROUBLEKyle Kendrick got himself in and...
MLB News

Delivered to your inbox

You'll also receive Yardbarker's daily Top 10, featuring the best sports stories from around the web. Customize your newsletter to get articles on your favorite sports and teams. And the best part? It's free!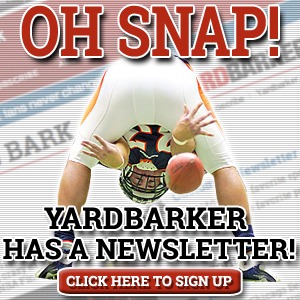 Latest Rumors
Best of Yardbarker

Today's Best Stuff

For Bloggers

Join the Yardbarker Network for more promotion, traffic, and money.

Company Info

Help

What is Yardbarker?

Yardbarker is the largest network of sports blogs and pro athlete blogs on the web. This site is the hub of the Yardbarker Network, where our editors and algorithms curate the best sports content from our network and beyond.