Found June 06, 2012 on isportsweb.com:
Cliff Lee of the Philadelphia Phillies is the best 2 in the NL East.  Our immediate rivals have what level of strength behind their 1-slot hurler?  The Apocalyptic Horsemen Stats are in my daily coverage.
TAL'S HANDY STATS
WELCOME, NEWCOMERS:
I am alternating a game-day 2012 ERA For The NL East and a 2012 ERA For The MLB 5. See link section below. In each publication, the number after the title will be based on the quantity of outcomes played by the Phillies.
Top Performance Last Night: Tim Hudson Pictured In The 9th Of His CG, SO 5-Hitter At Marlins Park
Check out Philadelphia Phillies storyline: Trade deliberations
REASONING For The Stats:
These numbers are a glimpse over the pitching coach's shoulder, because they warn of difficulty ahead. The rule of thumb is that the bullpen load should be no more than 33.3%, which is a 6-complete average per scheduled outing. That is why going a distance into the game is 6.1 frames or more, which is 70.4%. The added detail of 1 out per contest is 54 innings over the long summer's course. This also shows the mound masters that give the relievers a well deserved night off, but there is a rust factor due to lack of backend chances. If there are any questions, please ask.
Note:  All old ERA tables are automatically updated.
STARTING & RELIEF PITCHING:
CLUBSP INNSP ERSP ERASP PERRP PERRP INNRP ERRP ERA Phillies371.01493.6272.6%27.4%140.1684.36 Braves323.21494.1466.3%33.7%164.2663.61 Fish352.21453.7071.2%28.8%142.2613.85 Nats319.21052.9666.4%33.6%161.2573.17 Mets333.21373.7066.9%33.1%165.1914.95
TOTAL PITCHING & STARTS OF 6.1 INNINGS OR MORE:
CLUBINNERERAARMSCONVGMSPER Phillies511.12173.826315754.4% Braves488.12153.966225540.0% Fish495.12063.745335560.0% Nats481.11623.035205337.7% Mets499.02284.116245642.9%
KEYS:
ABRVS.MEANING ARMSPitchers With 6.1 Innings Plus CONVConverted Start Of 6.1 Innings Or More LastLast Conversion ResultOutcome Of Last Start UpdateNext Start Or Status Change Note:Listing is in order of conversion, including time of day. SESeason Ending
STARTERS WITH OUTINGS OF 6.1 INNINGS OR MORE:
NOTE:  Click entries button to open more than the visible 10.
CLUBHURLERCONVLASTRESULTUPDATE 01MIASanchez9 of 126/05CONV 02PHLHalladay8 of 115/17 DL'ed 02PHLHamels8 of 116/02 5:44 PM 02ATLBeachy8 of 116/02 5:56 PM 05MIABuehrle7 of 115/26 05NYMGee7 of 116/04 CONV 07NYMSantana6 of 116/01 07NYMDickey6 of 116/02 07MIAZambrano6 of 116/03 07PHLLee6 of 096/05 CONV 11WASZimmermann5 of 115/12 Short 11PHLBlanton5 of 115/14 11MIAJohnson5 of 115/20Night 11WASGonzalez5 of 115/27 11WASJackson5 of 105/29Night 11MIANolasco5 of 116/02 11ATLHudson5 of 086/05CONV 18ATLMinor3 of 104/30 18WASStrasburg3 of 116/02 18ATLHanson3 of 126/03 21PHLWorley2 of 084/30Pitch Count 21ATLDelgado2 of 105/14Night 21NYMNiese2 of 115/23 21PHLKendrick2 of 075/26Night 25NYMPelfrey1 of 034/21 SE DL'ed 25WASDetwiler1 of 095/03 25NYMBatista1 of 045/14
LINK-UP BELOW:
There are previews–time permitting–of my next storyline at Tal's Handy Caps on Facebook.  Join for notification of future glimpses, which will be almost daily.  You'll also know immediately when my isportsweb post goes up.  It might be worth your while because there are delays of 2 hours on most feeds.
Check out my previous publication (Limited Possibilities) and the 62 storylines–so far–for 2012 on the Phillies page or my author archives, where there is an excerpt photo.
Tal's Handy Stats is daily coverage. I am alternating the 2012 ERA For The NL East and the 2012 ERA For The MLB 5. Thank you, to all who bookmarked the Phillies page.
TAL'S HANDY LINKS
TAL'S HANDY CAPS on Facebook (time problem lately)
Philadelphia Phillies storyline: Trade deliberations
Philadelphia Phillies storyline: Dead heat? (Horsemen stats)
Philadelphia Phillies: 2012 ERA for the MLB 5 at game 56
Original Story:
http://isportsweb.com/2012/06/06/phil...
THE BACKYARD
BEST OF MAXIM
RELATED ARTICLES
I think I know why Phillies fans drink so much at games. Cliff Lee gave up the lead in the eighth and the Phillies could not comeback, losing 2-1 to the Dodgers on Tuesday night.OH, CLIFF -Cliff Lee basically had to be perfect tonight and for the most part, he was. Except for one lousy pitch. And that's what this season has become. It has become a joke. It has become a season of...
Phillies left-hander Cliff Lee was one pitch away from handing over a 1-0 shutout to Jonathan Papelbon, who has converted all 15 of his save chances this season. But Lee left a 2-2 curveball hanging to Dodgers third baseman Elian Herrera and watched the ball travel all the way to the left-field wall, scoring two runs. Lee exited with his winless streak intact at nine games. Despite...
If April showers bring May flowers, then what does June bring? The only thing I know for sure is that for Cliff Lee, June has not yet brought him a win. That is 9 starts, a 2.92 ERA and a 0-3 record. Yikes. And it is not that Lee has not deserved a win; the Phillies offense has simply not scored for him. In Lee's 9 starts, the Phillies have scored a total of 16 runs while he was...
(Philliedelphia/Danielle Wilson) Cliff Lee in June, 2011: 5-0, 0.21 ERA.  Lee's month of June last year was quite frankly the greatest month I've ever seen a pitcher have. I'm sure Cliff Lee was tired of losing or getting a no-decision, so he pitched like his dominant self tonight. However, the offense would continue to fail him.  Hunter Pence has been struggling...
Cliff Lee is still winless on June 5th.  Granted, he did miss a few starts with an injury, but after eight starts Lee sits at 0-2 with a 3.00 ERA.   Time and time again Lee has been plagued by poor run support from the Phillies lineup.  The Phillies once again look to their traditional lineup against right-handed pitchers. The good news is that this means Juan Pierre will be...
Another pitching gem by Cliff Lee is wasted as the Phils' lack of run support while he is on the mound continue as the Phils lose to the Dodgers, 2-1. The Phils took the lead in the first as, with a man on third, and with one man out, Hunter Pence hits an RBI single, scoring Jimmy Rollins, who had started the inning off with a double, then moved up to third base on Juan Pierre's...
Elian Herrera hit a two-run double off winless Cliff Lee in the eighth inning and the Los Angeles Dodgers beat the Philadelphia Phillies 2-1 on Tuesday night. Lee (0-3) took a two-hitter into the eighth and was a strike away from getting out of trouble before Herrera hit a 2-2 pitch off the left-field wall to put the Dodgers ahead. Chad Billingsley (3-4) allowed one run and six...
The topic of this is a little silly. Of course Cliff Lee will win a game this year. But the lack of support given to him by the Phillies offense has been comical. Last night, Lee threw the team onto his back, shutting out the Dodgers for seven innings  while allowing just three baserunners, and striking out 12 hitters. Of course, the eighth inning comes along and Lee allows four...
Final: Dodgers 2, Phillies 1. WP: Chad Billingsley (3-4, 3.80) LP: Cliff Lee (0-3, 2.92) SV: Kenley Jansen (8) In his 20th career double-digit strikeout game, Cliff Lee went 7.2 innings allowing six hits and just one walk.  Unfortunately, Cliff gave up a 2-run double to Herrera with two outs in the 8th inning, the game-winning runs for the LA Dodgers. The Phils' only run...
PHILADELPHIA (AP) -- Elian Herrera hit a two-run double off winless Cliff Lee in the eighth inning and the Los Angeles Dodgers beat the Philadelphia Phillies 2-1 on Tuesday night. Lee (0-3) took a two-hitter into the eighth and was a strike away from getting out of trouble before Herrera hit a 2-2 pitch off the left-field wall to put the Dodgers ahead. Chad Billingsley (3-4) allowed...
The following teams have a better record than the Phillies (and no, I'm not including the likes of the Yankees, Reds, Rangers, etc. that were expected to be good).Baltimore Orioles 31-24 Chicago White Sox 31-24Cleveland Indians 29-25Washington Nationals 31-22New York Mets 31-25Pittsburgh Pirates 28-26Philadelphia Phillies 28-29These are sad times my friends.  Roy Halladay...
Sorry Cliff Lee. Thanks Elian Herrera and Juan Pierre. Chad Billingsley says what's up
MLB News

Delivered to your inbox

You'll also receive Yardbarker's daily Top 10, featuring the best sports stories from around the web. Customize your newsletter to get articles on your favorite sports and teams. And the best part? It's free!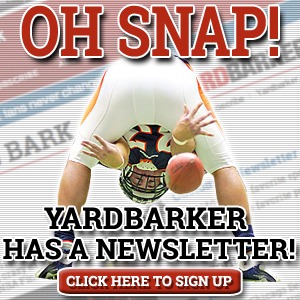 Latest Rumors
The Backyard

Today's Best Stuff

For Bloggers

Join the Yardbarker Network for more promotion, traffic, and money.

Company Info

Help

What is Yardbarker?

Yardbarker is the largest network of sports blogs and pro athlete blogs on the web. This site is the hub of the Yardbarker Network, where our editors and algorithms curate the best sports content from our network and beyond.