Found July 04, 2012 on isportsweb.com:
Vance Worley of the Philadelphia Phillies is the youngster in the rotation.  How do other young divisional studs match-up with him?  The Apocalyptic Horsemen Stats are in my recent coverage linked below.
TAL'S HANDY STATS
WELCOME, NEWCOMERS:
I am alternating a game-day 2012 ERA For The NL East and a 2012 ERA For The MLB 5. See link section below. In each publication, the number after the title will be based on the quantity of outcomes played by the Phillies.
Top Performance Yesterday: Jon Niese Loads Up During 8 Solid Innings At Home Against The Phillies
Check out:  Philadelphia Phillies storyline: What to expect next
REASONING For The Stats:
These numbers are a glimpse over the pitching coach's shoulder, because they warn of difficulty ahead. The rule of thumb is that the bullpen load should be no more than 33.3%, which is a 6-complete average per scheduled outing. That is why going a distance into the game is 6.1 frames or more, which is 70.4%. The added detail of 1 out per contest is 54 innings over the long summer's course. This also shows the mound masters that give the relievers a well deserved night off, but there is a rust factor due to lack of backend chances. If there are any questions, please ask.
Note:  All old ERA tables are automatically updated.
STARTING & RELIEF PITCHING:
CLUBSP INNSP ERSP ERASP PERRP PERRP INNRP ERRP ERA Phillies524.12374.0771.5%28.5%209.01074.61 Braves462.02164.2165.1%34.9%247.11003.64 Fish497.02193.9768.8%31.2%225.01174.68 Nats465.21683.2565.7%34.3%243.10833.07 Mets500.21883.3869.8%30.2%216.11174.87
TOTAL PITCHING & STARTS OF 6.1 INNINGS OR MORE:
CLUBINNERERAARMSCONVGMSPER Phillies733.13444.226448253.7% Braves709.13164.017308037.5% Fish722.03364.195438053.8% Nats709.02513.195287835.9% Mets717.03053.836388146.9%
KEYS:
ABRVS.MEANING ARMSPitchers With 6.1 Innings Plus CONVConverted Start Of 6.1 Innings Or More LastLast Conversion ResultOutcome Of Last Start UpdateNext Start Or Status Change Note:Listing is in order of conversion, including time of day. SESeason Ending IRInjury Replacement PCPitch Count Limit
STARTERS WITH OUTINGS OF 6.1 INNINGS OR MORE:
NOTE:  Click entries button to open more than the visible 10.
CLUBHURLERCONVLASTRESULTUPDATE 01MIASanchez11 of 176/27Short 01PHLHamels11 of 166/30 03NYMDickey10 of 166/30 12:36 AM 03MIABuehrle10 of 166/30 5:46 PM 05NYMGee09 of 156/20 05PHLBlanton09 of 156/25 07PHLHalladay08 of 115/17 DL'ed 07ATLBeachy08 of 136/02 SE DL'ed 07MIAJohnson08 of 156/23 2:02 PMLate Day 07WASJackson08 of 156/23 9:23 PMEarly Day 07PHLLee08 of 136/24Day 07WASZimmermann08 of 166/27Rain Interrupted 13MIAZambrano07 of 166/26Short 13NYMSantana07 of 166/30 13NYMNiese07 of 167/03CONV 16WASGonzalez06 of 146/09 16MIANolasco06 of 146/25 16ATLHudson06 of 116/26 16ATLHanson06 of 177/02CONV 20ATLMinor04 of 156/12 20ATLDelgado04 of 156/17Night 20WASStrasburg04 of 166/20 20PHLWorley04 of 136/21Short 20PHLKendrick04 of 126/28Held Back For ATL 25NYMYoung02 of 056/29 12:03 AMDay 25WASDetwiler02 of 116/29 9:51 PM 27NYMPelfrey01 of 034/21 SE DL'ed 27NYMBatista01 of 045/14IR PEN'ed 27ATLJurrjens01 of 076/22Short
LINK-UP BELOW:
Tal's Handy Caps on Facebook is for notification of posts and any holdups that may occur. It might be worth your while because there are delays of 2 hours on most feeds.
Check out my previous publications (The Answer) and the 70 storylines–so far–for 2012 on the Phillies page or my author archives, where there is an excerpt photo.
Tal's Handy Stats is daily coverage. I am alternating the 2012 ERA For The NL East and the 2012 ERA For The MLB 5. Thank you, to all who bookmarked the Phillies page.
TAL'S HANDY LINKS
TAL'S HANDY CAPS on Facebook 
Philadelphia Phillies storyline: Remedy for an ace
Philadelphia Phillies storyline: The fix for Lee (Horsemen stats)
Tal Venada (Temporarily experiencing a glitch)
Philadelphia Phillies: 2012 ERA for the MLB 5 at game 81
Original Story:
http://feedproxy.google.com/~r/isport...
THE BACKYARD
BEST OF MAXIM
RELATED ARTICLES
Cliff Lee of the Philadelphia Phillies is among the best pitchers in the majors. What west coast hurlers are in that group? The Apocalyptic Horsemen Stats are in my daily coverage. TAL'S HANDY STATS   WELCOME, NEWCOMERS: I am alternating a game-day 2012 ERA For The NL East and a 2012 ERA For The MLB 5. See link section below. In each publication, the number after the title will...
Happy July 4th!!! Did Cliff Lee win a game yet? Is he hurt? It is basically the story of the first half. We all know that Cliff Lee has not been the Lee we saw last season. Phillies have been 7-1 since 2004 on July 4th including two walk offs against the Mets. Cliff Lee and Chris Young were throwing zeros until the fourth inning. Scott Hairston put the Mets ahead with a solo...
I love trade talk and speculation. My favorite point of the baseball season has been the run-up to the trade deadline and, for Phillies fans, it has been amongst the most exciting in recent years. Ryan and Corey have drawn their lines in the sand about where to stand with Cole Hamels: Corey says it's imperative to trade Hamels, Ryan to stand pat. Either way, I love reading the...
The Phillies may have picked up a big win keyed by a late-inning scoring outburst against the New York Mets, but the five-time reigning NL East champions remain 14 games back in the loss column against the Washington Nationals with a record of 36-46. That record also keeps the Phillies eight games out (nine games back in the loss column) of either of the two National League wild...
Roy Halladay is just one of the many pieces to the Phillies puzzle that landed on the DL this season. The good news is that he could be back a little sooner than anticipated.
Philadelphia Phillies (37-46) vs. New York Mets (44-38) Cole Hamels (10-4, 3.08) vs. R.A. Dickey  (12-1, 2.15) Time: 7:10, Citi Field TV: CSN Weather: Sunny, 92 Media: Twitter and Facebook Cole Hamels has been the center of several rumors lately.  You have to wonder if these next few starts are his last in a Phillies uniform.  All Cole can do is go out there and try to get...
Since Cole Hamels last took the mound and was a hard-luck loser to Mark Buehrle and the Miami Marlins, the Phillies have one just once, and trade rumors have swirled around the 28 year-old lefthander.   In 2012 Hamels is currently 10-4 with a 3.08 ERA and will be representing the Phillies in the National League for the annual All-Star game on Tuesday in Kansas City.  This will...
Cliff Lee finally got his first win of the year on Wedneday...but it wasn't easy at all. The Mets took a 2-0 lead into the seventh, and there was potential for another winless Lee today. Chase Utley hit a two-run homer in the seventh to tie the game, Carlos Ruiz hit a go-ahead solo homer, and Lee was still pitching. Then, the Phillies offense went ape. The team scored...
NEW YORK -- A few hours after Philadelphia Phillies manager Charlie Manuel acknowledged his team needed to start winning or face the prospect of having veterans traded, the New York Mets did their part to keep the Phillies' losing streak going. The Mets thumped Philadelphia 11-1 on Tuesday, racking up 15 hits in a rout that sent the Phillies to their sixth straight loss in...
MLB News

Delivered to your inbox

You'll also receive Yardbarker's daily Top 10, featuring the best sports stories from around the web. Customize your newsletter to get articles on your favorite sports and teams. And the best part? It's free!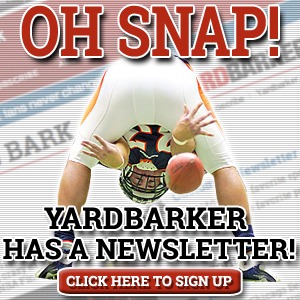 Latest Rumors
Best of Yardbarker

Today's Best Stuff

For Bloggers

Join the Yardbarker Network for more promotion, traffic, and money.

Company Info

Help

What is Yardbarker?

Yardbarker is the largest network of sports blogs and pro athlete blogs on the web. This site is the hub of the Yardbarker Network, where our editors and algorithms curate the best sports content from our network and beyond.