Found October 21, 2012 on isportsweb.com:
After a final month of increased hope, Ryan Howard and the Philadelphia Phillies remained relevant until game number 155.  Did you watch the scoreboard and notice the same dynamic on other 2nd wild-card teams?
TAL'S HANDY CAPS 
WELCOME, NEWCOMERS:
I published after every battle that was not washed out.  I had many summer-long highlights of puzzle pieces, which were especially important after drubbings and defeats.  Please go to my author archives or the Phillies page for my most recent coverage.  Scroll down to Tal's Handy Links at the bottom.  Thank you.
Here Is A Ruf Clue Of The First Storyline For 2013 
Check out:  Philadelphia Phillies storyline: Free-agent arms for immediate relief 
Baseball-Fix Monday Schedule:
Events will dictate the number from 1 to 4 each for November and December. January to mid-February will be every other week, and it will be weekly after that until the year begins.
This is a recent and updated article.  However, my 1st storyline for 2013 will be published on the evening of November 4.
Only on a trial basis due to a strong response, the scheduled articles will be supplemented with updated recent reviews for October, and special fill-ins between main reviews, starting in November. 
TIMEFRAMEMAIN ARTICLESSUPPLEMENTS
October-----2 Updated Recent Reviews
November & December1st Monday Of The MonthThe Other Mondays
January To Mid-FebruaryAlternating Mondays From 1/7The Other Mondays
Mid-February To AprilWeekly-----
(October above includes this one.)  
The General Commands A 1st-Inning Curveball On October 3 In Washington, Finishing 2012 Without Any Lingering Doubts  
2ND OCTOBER
BASEBALL-FIX MONDAY   
The Lower Bar: 
The difference between this campaign and the 102-victory feast is strikingly opposite. That underscores an interesting contrast on the reaction to this phenomenon. This situation created a stir among the fans, the media, the players and other cities. As they drew closer to the new extra berth, the volume increased and the loudness became more pleasurable.
The Rynosaur Strokes A Grand Slam During The 9th On September 20 In Queens  
Fans kept anticipating an end to the valiant run toward the playoffs, but on New York radio, I heard a Mets follower complain that his club should have been the spoiler against the Phils during that series. Sports commentators excitedly opined that the red pinstripes were only 3 games out of it, but then they seem befuddled that it kept going. The locals entered each contest to triumph that day alone, while time expired on the clock. Some nights there was no gain and other evenings there was. The competition realized the height of the mountain before the hometown 9, and breathed a little easier. 
The beauty was the lack of pressure on the stars to even tie for the 2nd wild card, and everybody considered that more than they expected in quite a while. There was no hype-oriented obstacle, which meant they were virtually relaxed and worry-free. It would have been a surprise, if fans were disappointed at the end of 2012. The look ahead is clouded by a sense of foreboding, which is based on a .500 record and the veterans' individual ages. There are some who anticipate that the run of excellence is over.
Jimmy & Chase Scored Consecutive Runs During The 7th On September 29 In Miami  
The top 6 players on this franchise are:  Doc Halladay, Howard, Chase Utley, Cole Hamels, Cliff Lee and Jonathan Papelbon. Doc and Ryno performed with physical limitations for the entire tour. Utley had the last 2 months at full effectiveness, while Lee had the mental burden of bad luck for the first half. Plus, Chooch Ruiz had good health for 75% of the year. However, from July 14, the red pinstripes went 44-30 (.595), which for a full 162 projects to 96-66. Two organizations in the major leagues finished with a better percentage than that:  Washington (98-64) and Cincinnati (97-65).  It is worth noting that both, like the 2011 Phillies, were eliminated from the NLDS in a five-decision series.
Cholley & Rube Smile At The Bank On October 4 Before The Heavy Lifting Begins After The Fall Classic  
Visualization for the off-season, 2013 and next October will not be a 96-win high. Even with an additional right-handed power stick and an 8th-inning set-up man for Cinco Ocho, they will be viewed as a 90-victory squad. Last Monday, I listed a $16.5M ceiling for free agent acquisitions in a table format, which is enough money to fill 2 holes with strong talent. (Click the link at the bottom.) That translates to a 3-team race in the NL East with postseason repercussions and without Chipper Jones. As the years are running out on Cholley's boys, 2013 is the last-hurrah experience versus the youthful exaggeration of end-result ability to decide the division. 
LINK-UP BELOW:
Tal's Handy Caps on Facebook is for notification of posts and any holdups that may occur. It might be worth your while because there are delays of 2 hours on most feeds.
Check out my recent publication (Fielding A Free Agent Bat) and the 121 storylines for 2012 on the Phillies page, where there is an excerpt photo.
Tal's Handy Stats is daily coverage. I alternated the 2012 ERA For The NL East and the 2012 ERA For The MLB 5. Thank you, to all who bookmarked my page.
TAL'S HANDY LINKS 
TAL'S HANDY CAPS on Facebook 
Philadelphia Phillies storyline: Center field of attention (Table Link)
Phillies
Tal Venada (Author Archives)
Philadelphia Phillies: 2012 ERA for the NL East at final game 162
Philadelphia Phillies: 2012 ERA for the MLB 5 at final game 162 
Original Story:
http://feedproxy.google.com/~r/isport...
THE BACKYARD
BEST OF MAXIM
RELATED ARTICLES
Yesterday, our own Pat Gallen outlined for you why he didn't think A-Rod would be a good fit in Philly. The influx of trade rumors now surrounding the former superstar third baseman who is currently having his feet held to the fire by just about everyone in Yankeeland got me to thinking: A-Rod is an aging player with a lot of money left on a long-term deal he'll seemingly never...
The Jimmy Rollins Family Foundation has partnered with Prevent Child Abuse PA to host A Night in Paris at the National Constitution Center in Philadelphia on Monday, November 12, 2012, from 7:00 pm to 10:00 pm. Join us for a romantic evening reminiscent of old Paris! A Night in Paris will be an evening of culinary delights and live jazz to raise funds for Prevent Child Abuse PA....
After a final month of increased hope, Ryan Howard and the Philadelphia Phillies remained relevant until game number 155.  Did you watch the scoreboard and notice the same dynamic on other 2nd wild-card teams? TAL'S HANDY CAPS   WELCOME, NEWCOMERS: I published after every battle that was not washed out.  I had many summer-long highlights of puzzle pieces, which were especially...
PHOTO: AP Jeremy Horst came to the Phillies via the Wilson Valdez trade with Cincinnati, and wasn't really expected to contribute all that much in 2012–but to the surprise of almost everyone, he ended up having an outstanding season for the Phils out of the bullpen. He was down in the minors until June 28 when he and Brian Sanches were called up after Chad Qualls was designated...
Fans, off-season leagues are in full swing and each week we'll take a tour to review the performances of your Phillies players that are in action all over the world.  Read ahead for the full rundown. Venezuelan Winter League- With the Lara Cardenales, outfielder Tyson Gillies, who has steadily concerned both the Phillies organization and its fans with his long list of injury troubles...
David Herndon was not the only recent Rule 5 draft pick by the Phillies to be removed from the 40-man roster.  Today the Phillies also outrighted Michael Martinez to AAA, reports Todd Zolecki.  Unlike David Herndon who was claimed off of waivers, Martinez was not claimed and will remain Phillies property and likely be inventory at AAA. Heading into the offseason, Martinez finds...
The Phillies are now have a schedule for Spring Training in 2013. From the Phillies: The Phillies spring training schedule features 16 great matchups at Bright House Field in Clearwater, Fla., as well as two exhibition games at Citizens Bank Park against the Toronto Blue Jays on Friday, March 29 and Saturday, March 30. The Grapefruit League season at Bright House Field officially...
We knew the Phillies would have some roster decisions to make, and today the Phillies lost yet another pitcher trying to create a roster spot.  According to Phillies beat writer Todd Zolecki, right-handed reliever David Herndon has been claimed off of waviers by the Toronto Blue Jays.  This is the second pitcher the Blue Jays have claimed off of the Phillies in a week.    Just...
Jim Salisbury of CSN Philly looks at which corner outfielders the Phillies are likely to keep or are on their way out.  Among the ones who could be free agents are Juan Pierre, Laynce Nix, and Ty Wigginton. I have a mild interest in Wigginton, but Pierre may be a better fit for the team and he shouldn't be too costly. Here is what Salisbury writes: Juan Pierre For a guy who...
After a season which was mostly lost to an injured elbow, David Herndon will head north. He has been claimed by the Toronto Blue Jays off waivers. Herndon, 27, pitched in just five games in 2012 with the Phillies before suffering a flexor pronator strain in his pitching elbow, which led to Tommy John surgery in June. In 97 career appearances in the big leagues, Herndon is 2-8 with...
Another day, another odd Phillies-Yankees trade proposition. In a Yankees offseason outlook for the New York Daily News, John Harper suggested that the Yanks trade Curtis Granderson to the Phillies for … Darin Ruf. "Granderson makes a lot of sense for the Phillies, who desperately need power, as well as a center fielder, and they're still very much in a win-now mode, trying...
(Photo: Phillies.com) If you're tired of the offseason already, you have just four months to wait for the Phillies to get back in action. This afternoon the Phillies released their 2013 Spring Training schedule. Pitchers and catchers will report to Clearwater on February 12th, while the first full-squad workout will take place on February 15th. The Phillies will open their...
Phillies News

Delivered to your inbox

You'll also receive Yardbarker's daily Top 10, featuring the best sports stories from around the web. Customize your newsletter to get articles on your favorite sports and teams. And the best part? It's free!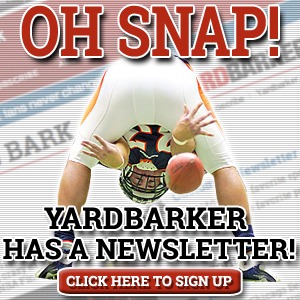 Latest Rumors
Best of Yardbarker

Today's Best Stuff

For Bloggers

Join the Yardbarker Network for more promotion, traffic, and money.

Company Info

Help

What is Yardbarker?

Yardbarker is the largest network of sports blogs and pro athlete blogs on the web. This site is the hub of the Yardbarker Network, where our editors and algorithms curate the best sports content from our network and beyond.