Found May 08, 2012 on isportsweb.com:
Jonathan Papelbon–like his team, the Philadelphia Phillies–woke up recently to discover their similarities. Without Mariano Rivera and Brian Wilson, who is the best closer?  With Ryan Howard and Chase Utley recovering, what clubs are at the top and the bottom of the standings?
TAL'S HANDY CAPS
CAP-SIZE HINDSIGHT
Penthouse Occupancy for the 5-2 outcome:  1
The Chrystal Champagne Toast is a salute to Doc Halladay.
Doc Loads Up During The 2nd At The Bank
John Mayberry Jr. visited the Leather Warehouse during the game's first batter with an out-of-nowhere diving catch, which had that good-omen feeling. Freddy Galvis made 2 sliding plays in the 7th for Doc's defense. His backup on a desperation throw to first stopped a sure extra base from occurring, and he snared a low pop in no-man's land, ending the frame.
Greenhouse Cholley had company immediately right out of the chute. Jimmy Rollins laced a double, took third after a bobble, and he slide across home on Mayberry's sac fly.
The offense sent the opposing starter to the Workhouse, providing a quick exit after only 5 innings on 101 tosses.
WELCOME, NEWCOMERS:
I will publish after every battle that is not washed out. The Phillies finished last summer 42 games over .500, which equaled a year of many positives. I will have many season-long highlights of puzzle pieces, especially important after drubbings and defeats.
SPECIAL REQUEST:
If you were directed here by a feed and this review does not mention yesterday's contest, please go to my author archives or Phillies page for my most recent coverage. (Early morning readers may arrive before the latest post.) Scroll down to Tal's Handy Links at the bottom. Thank you.
Chooch Scores In The 2nd
NITECAP INSIGHT
Remaining At The Top:
Papelbon picked the worse time for me to write about him, while Phillies fans are deflated from his last 3 outs of work.  Up until now, my commentary and the results on the field have not clashed, but over 162 it cannot be avoided.  That said, I would rather have him than the alternatives, and most of the natives will see it that way after they calm down.
CLOSERTEAMERASAVESOPPS.PCT. Jonathan PapelbonPhillies2.95404393.0% Mariano RiveraYankees1.94495589.1% Brian WilsonGiants3.32374288.1% Craig KimbrelBraves2.25556485.9% John AxefordBrewers2.19525496.3%
Ty Wigginton Is Out In The 8th And The Catcher Is Knocked Out Of The Game
I'll begin with the fallen warriors of the 9th brigade after the musical-chairs hot stove. Ryan Madson hasn't thrown a changeup since leaving Philly during even a spring-training frame. The replacement for Paps at Fenway Park is Andrew Bailey, who may return in August. So, the tune was in the air before Madson landed on the floor, while Bailey had the stool pulled from under him. Among the batch of free agents, Heath Bell has been a disaster and Francisco Cordaro accepted set-up money. Bell has blown more than he's saved, while Cordero is locking down by default.
Rivera's farewell tour is on hold. He is now done for '12, and the Yankees are endeavoring to slip under the $189M competitive-balance tax of 2014, which could put his comeback in limbo. Entering the year, Papelbon and Wilson were the top 2 in that order respectively after Mo. The Beard is also on the shelf for the entire campaign. Cinco Ocho is the last survivor on more than 1 level, and is first among hammers in the majors.
TEAMCLOSERTEAMCLOSERTEAMCLOSER PhilliesJonathan PapelbonCardinalsJason MotteGiantsSantiago Cassilla BravesCraig Kimbrel BrewersJohn AxfordDiamondbacksJ.J. Putz FishHeath BellReds*Sean MarshallDodgersKenley Jansen NationalsHenry Rodriguez**BucsJoel HanrahanRoxRafael Betancourt MetsFrank FranciscoCubs @Rafael DolisPadsHuston Street*** Cubs @*James Russell AstrosBrett Myers
@ = Team with co-closers
* = Left-Handed
** = Replacing a hammer on the DL
*** = On the disabled list
TEAMCLOSERTEAMCLOSERTEAMCLOSER Yankees David Robertson TigersJose ValverdeHalos*Scott Downs Red SoxAlfredo AcevesTwinsMatt CappsRangersJoe Nathan RaysFernando RodneyWhite Sox*Chris SaleMarinersBrandon League Blue JaysFrancisco CordoroIndiansChris PerezA'sGrant Balfour Orioles Jim JohnsonRoyalsJonathan Broxton
Kentucky Joe Pictured During His Gem In Atlanta On May 3
PRECAP PITCH
Joe Blanton:
He fired a CG 3-hit SO his last time out, which is the best performance from the 2012 rotation.  That was his second sparking effort in 5 chances with 2 other decent ones.  He draws their 5 for the moment, which gives him a huge advantage.
STARTERRECORDTMSTARTERRECORDDAY & TIME 2RHP Joe Blanton3-3, 2.83 ERAMets RHP Miguel Batista0-1, 6.92 ERATuesday, Night 3LHP Cliff Lee0-1, 1.96 ERAMetsRHP Dillon Gee2-2, 4.50 ERAWednesday, Night 1RHP Vance Worley2-2, 2.84 ERAPadsLHP Clayton Richard1-4, 4.89 ERAFriday, Night
Miguel Batista Works During His Last Start On April 23 At Home Against The Giants
Miguel Batista:
He is the fill-in arm of their staff with Mike Pelfrey out for the duration.  In his only scheduled showing, he was clobbered for 8 knocks, 3 free passes and 8 all-earned runs.  Those 3.2 innings and 77 pitches were his longest outing during this tour.
DELIVERY = PITCHER'S 2012DEFINITION OF SEASON Over The TopExcellent 3-Quarters SidearmGood SidearmAbove Average Short Arm Approximately Average SubmarineBelow Average
Quality number of the pitcher:  1 – 5
Slot on his club:  1 – 5
Ranking is 1 to 5 & 15 for the less adventurous.
HURLERJoe BlantonMiguel Batista NUMBERA FourA Five CLUB SLOTFiveFive FOR 2012Over The TopSubmarine '12 RANKING1st of 5 Categories5th of 5 Categories LAST STARTGyroball Forkball LAST HIGH OR LOW1st of 15 Categories12th of 15 Categories
PITCHINNER - R- HPITCHINNER 1Gyroball9 (CG)0 - 0 - 310Screwball64 2Fastball9 (CG)0 - 011Knuckleball53 3Cutter9 (CG)312Forkball0 - 4.2Monstrosity 4Split Finger7213Eephus Pitch0 - 2.2Disaster 5Curveball7314*Palm BallEjected 6Sinker6.1315*Spit Ball**Ejected+ 7Slider62*Breaking BallInjured 8Changeup63*FoshRain Interrupted 9Slurve52** = Suspended* = A 2nd Pitch Also
STATS
APOCALYPTIC
HORSEMEN
DOC HALLADAY DOC'S LINE: 7 INN, 5 H, 2 R, 2 ER, 1 BB, 7 K & 107 DARTS
ACEW - LERAINN+CONVCG SOBADINNHRERBBIBBSO Total7 - 42.727.011 of 16001112.291353419098 Halladay3 - 23.287.006 of 07001049.142181811036 Lee0 - 11.967.002 of 03000023.014050502018 Hamels4 - 12.467.003 of 06000040.135121106044
MAC:
The program acronym is for Methodical Algorithmic Computerization or Mac.  That is the feed system that has dogged me an entire month, but it allows me now to probe for a compatible solution.  This only involves readers who were directed here from Fox Sports.  The 2 links–Radar updated to May 2– in this section were recently passed over by a computer's judgment.  Does the national-and-all-major-sports machine understand Phillies commentary better than local fans?  I discovered that the buttons and lights objected the most to the storyline when I submitted only that part.  So, when the electrodes decide a Nitecap Insight isn't to their liking, I'll give my transferred readers a viewing opportunity the next day.  I'll keep score of acceptable to rejected submissions, because I don't want a large readership excluded or my time wasted.
TAL'S HANDY SCOREBOARD
COMPUTER ALGORITHM VS. TAL:
TAL 1 – MAC 0
Philadelphia Phillies storyline: under the radar
Philadelphia Phillies storyline: burn rate
ROUND THREE:  
If the algorithm okays this article for a full audience, Philadelphia Phillies storyline: mean street east is tomorrow's review.
LINK-UP BELOW:
There are previews–time permitting–of my next storyline at Tal's Handy Caps on Facebook.  Join for notification of future glimpses, which will be almost daily.  You'll also know immediately when my isportsweb post goes up.  It might be worth your while because I have seen delays of 2 hours on feeds.
Check out my recent publication (The Height Of The Wall) and the 43 storylines–so far–for 2012 on the Phillies page or my author archives, where there is an excerpt photo.
Tal's Handy Stats is daily coverage. I am alternating the 2012 ERA For The NL East and the 2012 ERA For The MLB 5. Thank you, to all who bookmarked the Phillies page, because feeds are erratic at times.
TAL'S HANDY LINKS
TAL'S HANDY CAPS at Facebook
Philadelphia Phillies storyline: the opponent's value
Philadelphia Phillies: 2012 ERA for the NL East at game 29
Original Story:
http://isportsweb.com/2012/05/08/phil...
THE BACKYARD
BEST OF MAXIM
RELATED ARTICLES
Cole Hamels says he was just trying to bring back some old-time baseball. Major League Baseball says he was being dangerous. Hamels was suspended for five games Monday after hitting Bryce Harper with a pitch in Sunday night's game. Hamels said after the game that the beaning was intentional, as he was trying to welcome the 19-year-old phenom to the big leagues. Many welcomed Hamels...
Cole Hamels admits it: He plunked rookie phenom Bryce Harper on purpose. ''I was trying to hit him,'' the Philadelphia lefty said. ''I'm not going to deny it.'' That startling bit of honesty came after Hamels nailed the Washington teen with a fastball in the small of the back his first time up during the Phillies' 9-3 win Sunday night. The...
This is where we talk about Cole Hamels trying to lose the giant ***** street cred he's built up via multiple ***** photoshoots over the last few years. It's where Cole proves he's an old school, Bob Gibson style pitcher who doesn't like young punks like Bryce Harper walking into his sport and going balls to the walls. So of course Hamels thinks plunking Harper is the way...
Philadelphia Phillies pitcher Cole Hamels has nothing against Washington Nationals phenom Bryce Harper. After intentionally plunking Harper in the first inning of a Phillies' 9-3 win over the Nationals last night, Hamels came out and stated "I was trying to hit him. I'm not going to deny it." Nothing personal, bro. It was a sort of throwback way of welcoming...
Cole Hamels has been suspended five games for intentionally hitting Bryce Harper in the back, and the debate is raging over whether or not he deserved it. Not if Harper deserved to be hit, mind you, but whether or not Hamels deserved a suspension. NESN Nation's Dan Duquette asked our Twitter followers whether or not there's a place for intentionally throwing at players in...
The world watched Bryce Harper on ESPN Sunday night, and they got the show one can expect when watching a rookie phenom when Harper stole home on a Cole Hamels pickoff attempt to first base. Harper got on base via a hit by pitch courtesy of Hamels, who said after the game that he went after him intentionally. Watch the video below of Harper stealing home before the MLB has it removed as usual.
Suspended Major League Baseball has suspended Cole Hamels, of the Philadelphia Phillies, for intentionally hitting Bryce Harper in the first inning of last night's game. Without Hamels' own admission, it is highly unlikely that any suspension would have been rendered. After yesterday's game, Hamels openly admitted that he threw at Harper. Without his admission, MLB would have...
Jayson Werth said that Phillies' fans yelled and booed him as he got carted off the field last week after breaking his wrist against the Phillies last week. "After walking off the field feeling nauseous knowing my wrist was broke and hearing Philly fans yelling 'You deserve it,' and, 'That's what you get,' I am motivated to get back quickly and see to it personally...
New York Mets (16-13) at Philadelphia Phillies (14-16) Miguel Batista (0-1, 6.92) vs. Joe Blanton (3-3, 2.83)Time: 7:05 Citizens Bank Park TV: CSN Weather: Showers, 63 Media: Twitter and FacebookMike Rizzo was fined. So that's fun.As for tonight's game, Carlos Ruiz moves up to the 5-spot in the order. He has been  their most consistent – and most awesome – offensive...
Aaron Altherr, OF, Philadelphia Phillies Current Level: A- 2012 Top 15 Prospects Ranking: 15th Current Value: Monitor Closely The organization lacked a first round pick in the 2009 draft and its first actual pick (second round, 75th overall), outfielder Kelly Dugan, hasn't done very much. The club still found a lot of talent, though, with the likes of Brody Colvin (7th round),...
PHILADELPHIA - Jordany Valdespin gave his mom an early Mother's Day present. Valdespin's pinch-hit three-run homer off Jonathan Papelbon in the ninth inning was his first hit in the majors, and it led the New York Mets to a 5-2 victory over the Philadelphia Phillies Monday night. "I called my mom before the game and said if I get in the game I'd get a hit for...
PHILADELPHIA -- The New York Mets, who have made a habit of late-inning heroics so far this season, struck again Tuesday night, scoring all of their runs in the last three frames to beat the last-place Philadelphia Phillies 7-4. The Mets (17-13), who erased a 4-0 deficit, won their fourth straight game and came from behind to earn a victory for the 10th time this season. On Monday...
Phillies News

Delivered to your inbox

You'll also receive Yardbarker's daily Top 10, featuring the best sports stories from around the web. Customize your newsletter to get articles on your favorite sports and teams. And the best part? It's free!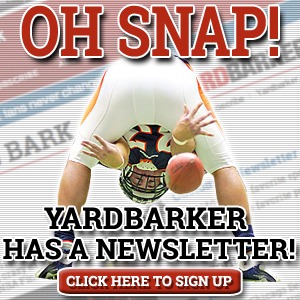 Latest Rumors
The Backyard

Today's Best Stuff

For Bloggers

Join the Yardbarker Network for more promotion, traffic, and money.

Company Info

Help

What is Yardbarker?

Yardbarker is the largest network of sports blogs and pro athlete blogs on the web. This site is the hub of the Yardbarker Network, where our editors and algorithms curate the best sports content from our network and beyond.